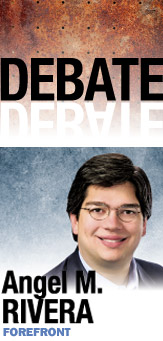 Question: Which Indianapolis neighborhood most needs the city's attention?

Answer: In a speech last month, former Mayor Bill Hudnut said crime, education and economic development often go hand-in-hand in determining the future of a generation of citizens within a neighborhood. He's right, and the public and private sectors must work alongside neighborhood leaders to chart the right course.

In the 1990s, former Mayor Steve Goldsmith targeted seven of the city's long-neglected urban neighborhoods to infuse millions of dollars in improvements to streets, sidewalks, parks, housing and public safety facilities. He implemented a strong community policing program, and worked alongside neighborhood leaders to help attract private-sector and philanthropic investment to strengthen other important neighborhood assets and institutions.

This approach helped spark the revitalization and rebirth of important neighborhoods like Fountain Square, Fall Creek Place and Haughville, among others.

It is again currently under way in Martindale-Brightwood, a few miles northeast of downtown. The area's sad combination of blight and crime grew beyond what the neighbors could tackle alone, and now the city is making a large investment in reversing this trend.

A walk through the streets there showed a pattern of crumbling infrastructure, missing chunks of sidewalks, and boarded-up homes. When I asked a city official for the number of abandoned houses in this neighborhood, he answered, "between 300 and 450."

The actions Ballard has undertaken along with other public and philanthropic entities offer tremendous potential for growth.

First, a year ago, Martindale-Brightwood was one of the high-crime areas targeted by the police department for a "surge," boosting patrols that resulted in a significant decline in violent crime.

Next, Martindale-Brightwood is one of many neighborhoods all over the city benefiting from the RebuildIndy program, funded from the sale of the water and sewage companies. In 2011 alone, 15 RebuildIndy projects are scheduled in Martindale-Brightwood to improve streets and sidewalks. Many of these projects sat on capital improvement lists for years. Ballard has persistently led the effort to use these funds in the areas that need it most, like Martindale-Brightwood, and the neighbors are reaping the benefits.

That same water deal is funding a major increase in efforts to demolish or rehabilitate abandoned properties. At least 20 abandoned homes in Martindale-Brightwood have been demolished or rehabilitated, and an additional 75 to 100 are targeted for demolition. Urban gardens are planned for some empty lots.

There are also eight mayor's charter schools in and around this neighborhood. Parents in this area now have a greater selection of school options for their children. The library is part of this, too. The library played an important role in jump-starting the revitalization of Fountain Square, and many of us hope this library can play that role, also.
Neighborhoods are not islands. They affect not only those who live there, but also those who travel through or live in surrounding areas. West of Martindale-Brightwood is Fall Creek Place, many parts of which have been rehabilitated over the past 15 years until the decline in the real estate market. South, the Super Bowl Legacy Project, with millions of dollars in public and private investment, is attempting to transform the near-east side into one of the nation's largest revitalizations efforts.
If these other neighborhoods catch the next upward trend in real estate values and attract families, Martindale-Brightwood could be poised to benefit.

Indianapolis has proved that successful collaboration between the public sector and philanthropic organizations generates great opportunities.•

__________

Rivera is an at-large city-county councilor. Send comments on this column to ibjedit@ibj.com.