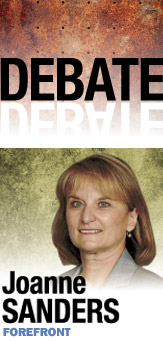 Question: Which Indianapolis neighborhood most needs the city's attention?
Answer: When I began writing this piece, I struggled with a means by which to determine a formula for "neighborhood most in need." From my perspective, it was obvious that what was lacking was a definition of "neighborhood."
As an at-large city-county councilor who has served all of Marion County for the last 12 years, I reviewed my experience to determine how I defined my neighborhood. Where did my "vicinity" or "area" begin and end? When I asked someone where they lived, I would always relate it as being nearer rather than farther from my "vicinity" or "in my neighborhood." Upon reflection, it became clear to me that my neighborhood is Indianapolis.
The dictionary defines "neighborhood" as "a district where people live." That certainly defines Indianapolis—one made up of nine townships and hundreds of organizations within and across its geography—many of which choose to use the term "neighborhood" in whatever moniker to best describe their placement.
Geographically, each place could be defined by as little as one block and as much as several square miles. The design of the townships gives the illusion of spokes to a central hub—reinforcing the impression that certain connectivity is inevitable.
Even with the imposition of unified government (regardless of the political motivation), there was an underlying need to infer a single unit, and thus the moniker of Unigov. Many of the above areas were devitalized over time as an interstate cut through them or a development project lobbed off a major intersection or area that once served as an entrance to what they considered their "place." Or corporations and mom-and-pop shops fled the area, leaving vacant or abandoned buildings and the surrounding residents without hope of employment or a future. What followed was the destruction of a sense of community.
In this context, I am speaking about community philosophically—the coming together of people from all walks of life to provide the energy that makes a neighborhood work and allows a collaborative culture to emerge. It could be argued that throughout its history, Indianapolis has seen several iterations of collaborative culture. Generally, these arose due to events that may or may not have left a permanent footprint on our neighborhood, or around large development projects that may or may not have benefited the greater good. It's that sense of culture that we need to recapture.
We need to apply the tactics of a collaborative culture to the reconstruction of our neighborhood—Indianapolis. Whether it's clean, safe water or sewers; jobs, job training or employment services; the need for early childhood development or higher education; abandoned or affordable housing; safe, well-lit streets and sidewalks; public transportation; protection from home invasion or vandalism; or ready access to fresh, nutritional food, not one single area of our collective neighborhood is without the need for attention.
Our residents shouldn't have to compete over these quality-of-life issues. Yet, these are the very issues whose funding programs are being cut at the state and federal level, leaving local government to dole out what little we have in response to so much.
Indianapolis is my neighborhood and I choose to address its need to create a sense of community—a collaborative culture that invites new faces into the group, allowing for a wide range of input regardless of socio-economic background. Where is the next generation of civic leadership and civic engagement? Who will fill the vacuum of corporate citizenship created by multinational corporations? The stakes are high as we confront our future. The question looms large: "Which neighborhood is most in need of attention?" Indianapolis—our collective neighborhood.•
__________
Sanders is an at-large city-county councilor. Send comments on this column to ibjedit@ibj.com.
Please enable JavaScript to view this content.