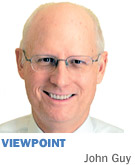 A peculiar feature of contemporary American political thought is the absence of progressive ideas. Today, a political leader who proposes a higher appropriation to clean streets would be criticized. If he proposed going to the moon, he would be impeached.
In the 1950s, like today, public diatribes were common—against communists, blacks, socialists, gays, rock-and-roll and Hollywood. Despite that negative environment, President Eisenhower was able to successfully promote the most massive highway construction program in the history of any nation, and he did not shy from publicly imagining universal health care.
In contrast, everything is negative today, and nothing from the mouths of leaders is positive. Here are the negatives:
• Anti-tax, even though federal taxes are historically low. From property-tax caps to estate-tax exemptions, every viable source of revenue is under attack, and every tax deduction and credit is sacrosanct.
• Anti-health-care reform, with no proposed alternative.
• Anti-government. No domestic program is immune. The declared ideal is "limited government," although no nation with a growing population and, perhaps more significant, increasing concentrations of people, can reduce government services. The anti-tax/anti-government mood is causing reduced library services, larger class sizes and even elimination of half a police force in Camden, N.J.
• Anti-big-projects, such as highways, rapid-rail service and tunnels.
• Anti-public-broadcasting. The only traditional national American news medium gaining attention by the public (higher ratings) is National Public Radio. All others, especially newspapers, are losing ground to the bite-size transmissions on the Internet. In Germany, England, and here, public broadcasters are respected, perhaps best demonstrated by the choice of moderators in our recent presidential debates.
• Anti-Islam, or perhaps equally accurate, fear of Islam, expressed in public, and in an increasing volume of unsolicited e-mails. For more than nine months, friends have forwarded me anti-Islamic e-mails, never expressed by their own words but, instead, by attaching or copying diatribes of others, always unknown authors with no proven credibility.
• Anti-right-to-choose, which, in effect, is asking government to enforce personal moral decisions. One can only wonder what penalties would be for individuals, couples and providers who make "wrong" choices.
• Anti-teachers, articulated in criticism of their compensation and in proposals to publicly rank performance based on standardized tests. The only activity in which people are publicly ranked is athletics. We do not print rankings of public leaders, business executives, doctors, lawyers, airline and ship captains, soldiers, firefighters and hard-working laborers, for what should be an obvious reason: People in the lower half of any ranking, tens of millions of them, people for whom replacements do not exist, will be insulted, and their self-esteem will suffer. People are not consumer products.
• Anti-civil-rights-of-homosexuals. How anyone can be hurt by allowing others to marry is simply beyond me.
• Anti-immigrants. As beautifully documented by the movie "A Day Without a Mexican," where would we be without Latinos and all the other wonderful people who have built this nation, from Irish to Hispanics, from Christians to Jews and Muslims, as well as atheists, Moonies and Buddhists? The American experience is rich because it is diverse. Immigrants work hard, pay taxes and provide meaningful services.
With time, and understanding, I believe America will return to its optimistic roots.•
__________
Guy is a local certified financial planner and author of "Middle Man, A Broker's Tale."
Please enable JavaScript to view this content.