I usually second-guess my weekend T-shirt-and-jeans uniform when visiting a restaurant where lunch isn't an everyday offering: That tends to shout "fancy," in my book.
Nevertheless, my bestie and I risked disapproval to try Michael's Southshore on a lazy Sunday afternoon. We were pleasantly surprised to find an inviting dining room whispering, "Come, eat, stay." So we did.
Located at the end of a strip mall at the corner of Oaklandon and Fox roads near the southern tip of Geist Reservoir, Michael's (11705 Fox Road, 723-3808) proves that class and comfort don't have to be mutually exclusive—in décor or food.
The dark wood, sand-colored stone and etched glass give Michael's an upscale vibe that's instantly mitigated by a friendly staff and down-to-earth clientele that calls to mind a neighborhood eatery. A peek at the familiar-yet-inventive menu made us wish it was our neighborhood.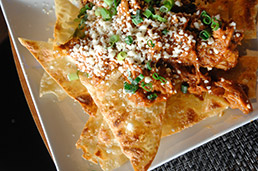 Asian BBQ Chicken Nachos at Michael's features wonton chips, teriyaki-coated chicken, and crumbled fresco-blanco cheese. (IBJ Photo/ Perry Reichanadter)
Rather than arm-wrestle over which yummy-sounding appetizer to try—the contenders were homemade potato chips topped with gorgonzola and pancetta versus pan-fried mozzarella balls with a tomato-basil coulis—we took our helpful server's advice and started with the Asian BBQ Chicken Nachos ($9).
A twist on the traditional pile of tortilla chips, melted cheese and assorted other goodies, this variation features fried wonton "chips" with shredded chicken coated in a
sweet teriyaki sauce, chopped scallions and crumbled fresco-blanco cheese. The puffy wontons kept some crunch even as they soaked up the sauce, and the abundant toppings saved us from the dreaded naked-chip syndrome. Those poor nachos didn't stand a chance.
Mood set, we stuck with the weekends-only lunch menu (rather than the Sunday-only brunch offering) and moved on to sandwiches: Curried Apple Chicken Salad ($8) for me, and the Southshore Sirloin Burger ($10) for my friend.
Served on soft, chewy naan, the chicken salad was inspiring—the pita-like bread offering a slightly sweet contrast to the mild kick of the curry. Chopped apples added some texture to the chicken, and the arugula and tomato tied everything together. The generous portion of apple jicama slaw I chose as my side dish was equally impressive, its light, citrusy dressing keeping my fork moving long after I was full.
Michael's namesake burger was another winner. Charbroiled and cooked to moist perfection, the chopped steak was adorned with crumbled gorgonzola, crispy pancetta and the aforementioned arugula and tomato. It may be a fancified bacon cheeseburger, but you don't have to visit the dry cleaner after a particularly juicy bite. The giant pile of nachos still on her conscience, my friend opted for a side salad with what tasted like house-made ranch dressing. It was good, but she still second-guessed her decision to eschew the homemade chunky apple sauce, which our server warned her was a small portion. If only she'd known we'd be eating our body weight in wontons …
We left full, with doggie bags and a to-try list for our next visit. I might even wear something other than jeans. Elastic-waist pants are a lot more forgiving.•
—Andrea Muirragui Davis
__________
 Second in a month-long series of reviews of restaurants that sound wet—just like spring in Indiana.
Please enable JavaScript to view this content.