Spring cleaning isn't something I look forward to. For some, that annual purge of "stuff I haven't worn in forever" is cleansing, and a way to feel more in control of one's life. For me, it's a time I stare blankly at my over-populated closet and brimming dresser drawers and decide I still love everything. I then begin another year of finding creative ways to stash an endless stream of new purchases.
Last year, the ever-hungry clothes monster claimed the space beneath my bed, too.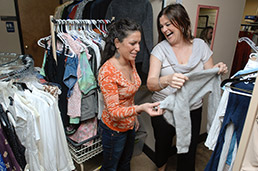 Shop owner Lynn Burrows, right, says the hardest part of her job is rejecting garments. "I understand people have a deep connection with their clothes," she said. (IBJ Photo/ Perry Reichanadter)
But the other day when I entered my walk-in closet (a former storage space I converted last spring) to hang my newest purchase, I found myself without a hanger for it. And that, I'm afraid, was the straw that broke the clothes horse's back.
While donating is always a great—and green—option for disposing of closet rejects, it's tough for me to abandon my cast-offs that way. I picture them being roughly sorted into bins and getting a 75-cent tag stapled to them.
Rather, I like to picture them in a nice, curated consignment shop like The Toggery on Broad Ripple Avenue. Celebrating her 25th year in business, owner Lynn Burrows is used to greeting reluctant consigners like me.
Her patient, British accent makes it easier to hand over the goods, sure, but looking out over the 4,000 square feet of clean, organized and new-looking used things is reassuring. I imagine it's a bit like dropping your old dog off at a farm; you know he'll be happy there.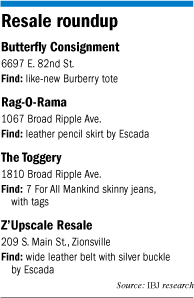 According to Burrows, demand for resale and consigned goods is at an all-time high, evident by the 500 people who attended her 25th anniversary tent party earlier this month. In four hours, Burrows took in $8,000, nearly double the sales of a typical Friday, her busiest day of the week.
"Buying used clothing has become more acceptable since the economy took a fall," she said.
In fact, so many consigners were spending their earnings in the store that, this year, Burrows implemented a store credit option, so no money need be exchanged.
The move from her original space three years ago tripled the store's square footage and revenue along with it, which Burrows reported as $600,000 in 2008.
The Toggery consigners receive 50 percent of the sale price. Items remain in the store for 90 days. After that, the consigner may either reclaim the item or the store donates it to charity.
The ideal consignment relationship is win-win-win. The consigner gets a cleaner closet. The shop owner makes a living. And you (and I) get great goods at bargain prices.
Like what? See the box above for a list of the resale and consignment shops I trust most, along with the goodies I found there recently.
Best of luck with your own closet quests.•
__________
If you'd like to share your own style ideas or know anyone who's making waves in the fashion community, contact Poshadlo at gposhadlo@ibj.com. This column appears monthly.
 
Please enable JavaScript to view this content.