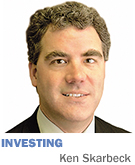 The potential for rising inflation has become a central topic of debate among government officials and investors. The Federal Reserve's stimulative monetary policy and surging commodity prices have investors searching for havens to protect their future purchasing power.
Fed officials have generally relied on the consumer price index and excluded "the volatile food and energy sectors" to determine the key indicator to where inflation is headed. That measure was up 1.1 percent in February.
Of course, in the real world, oil prices have risen 70 percent since last summer and other commodities are up 40 percent, so the "headline" inflation number, which includes all consumer prices, is sure to rise above 2 percent in the coming months.
The European Central Bank, or ECB, has just raised interest rates for the first time since 2008 in an effort to stem a rise in inflation. And in the United States, presidents at a few of the regional Fed banks have been vocal about moving U.S. interest rates higher.
Yet, recent remarks by other Federal Reserve officials have downplayed concerns over inflation. In comments, New York Fed President William Dudley said: "We think that it's important not to overreact to a rise in headline inflation because the increase in commodity prices is probably going to be temporary rather than persistent."
Fed officials also point to excess capacity in the economy and elevated unemployment as reasons wage and price inflation will remain muted for the foreseeable future. Likewise, some economists think the ECB is making a mistake raising rates, considering that European economic growth is slowing and that money-supply growth has been a relatively modest 4 percent.
As much as Federal Reserve Chairman Ben Bernanke would like to think he can pull in the reins at the right moment, the beast of inflation is difficult to control. Warren Buffett recently quipped, "Inflation is the kind of thing, when it gets started, you don't particularly notice it. It's a little like a guy jumping out of a 50-story building. The first 45 stories, he really doesn't notice a lot of change in his circumstances, but eventually you hit the ground."
Historically, the government has often relied on growing our way out of the debt. This time, however, slower growth and an unwillingness to tackle the United States' ballooning unfunded entitlements has tenured investors worried. They fear that inflating away the value of our debt may become the default option to deal with the country's debt burden.
Pacific Investment Management Co. LLC's Bill Gross has been relentless in driving that point home. In his April Investment Outlook he wrote, "Unless there is significant entitlement reform, this country will default on its debt—not in conventional ways—but by picking the pocket of savers via a combination of inflation, currency devaluation and low to negative real interest rates."
Consider the impact inflation has on purchasing power. If you have $1,000 today and put it in the cookie jar, a 4-percent inflation rate per annum would leave you with purchasing power of $664.83 in 10 years. This is why inflation is viewed as a hidden tax on wealth.
Investments that provide a hedge against inflation can help to preserve wealth. Next time, we'll take a look at some of those investments that may assist investors in offsetting the ravaging effects of inflation.•
__________
Skarbeck is managing partner of Indianapolis-based Aldebaran Capital LLC, a money management firm. His column appears every other week. Views expressed are his own. He can be reached at 818-7827 or ken@aldebarancapital.com.
Please enable JavaScript to view this content.