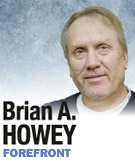 While there will be tweaks, the nine new Indiana congressional districts unveiled by Indiana House and Senate Republicans sets up some interesting dynamics for the next decade.
The most interesting will come in the new 6th congressional district that just about everyone expects to be vacated by U.S. Rep. Mike Pence for a 2012 gubernatorial run. The new 6th—which runs from Muncie to the Ohio River and over to Madison—is littered with former congressmen and hopefuls.
David McIntosh has a mailing address in Pendleton—now part of U.S. Rep. Dan Burton's 5th District—but he calls Muncie "home" and is expected to make a Dan-Coats-style comeback. But McIntosh won't likely clear the field. He'll find former aide Luke Messer down in Shelbyville, which comes as some relief to Burton.
Messer came within 2,500 votes of Burton in the 2010 Republican primary. The incumbent got only an anemic 29 percent of the vote, and Messer has much of his campaign apparatus at his fingertips.
Who else might be in that field? Well there's Travis Hankins, who finished second in the 2010 9th District primary behind U.S. Rep. Todd Young, who went on to hammer Democrat Baron Hill in the general. Another former 9th District nominee is State Sen. Jean Leising. There's Kevin Shaw Kellems, a former aide to Vice President Cheney and Defense Secretary Donald Rumsfeld.
Henry County Councilman Nate LaMar and former Wayne County Sheriff Matt Strittmatter have established committees. There's also Versailles City Councilwoman Dee Dee Benkie, who sits on the Republican National Committee and has been a steady guest on Fox News, and Don Banks Jr., a U.S. Senate candidate in 2010. And, of course, there's Mike Sodrel, who has a pad on Grandview Lake near Columbus, and made a late entry into the 9th District race last year.
"We could have one of those 12-candidate primaries," one GOP source told me.
Many expect Burton to seek another term. If McIntosh moves out, Burton might still have to contend with Brig. Gen. John McGoff, the former Marion County coroner who gave Burton a scare in 2008. The new 5th is also home to Brose McVey, a 2010 candidate who ran and lost to the late Julia Carson in 2002. Also living in that district is former Reagan speechwriter Peter Rusthoven, former congressman Steve Buyer and Burton's presumed heir apparent, State Sen. Mike Delph.
The other mystery to unfold is in the new 2nd District, where Democrat Joe Donnelly defeated former State Rep. Jackie Walorski by a few thousand votes in 2010. Walorski told Howard County Republicans last month that it was only "600 days" until the next election.
Donnelly finds the new 2nd District without Democratic Kokomo and Michigan City, and with Republican areas of Elkhart and Kosciusko counties added in. He reported raising a robust $360,000 for the first quarter, but there is widespread speculation he will opt for the Senate race against Dick Lugar or Treasurer Richard Mourdock.
The new 8th District looks to be competitive. Freshman Republican Larry Bucshon finds Republican-leaning Warren, Putnam and Fountain counties gone and he's picked up Democratic-leaning Spencer, Dubois and Perry counties. Warrick County Democratic Chairman Terry A. White of Newburgh had already announced. Former congressman Brad Ellsworth and 2010 nominee Trent Van Haaften are also in that district.
The intriguing district might be the new 7th. Since McVey lost to Julia Carson in 2002, Republicans have shied away from the Carson Show. But U.S. Rep. Andre Carson loses Democratic stronghold Pike Township, finds a depopulating Center Township, and added into the mix are the Republican townships of Decatur, Perry and Franklin. Former State Rep. Jon Elrod and others will be sniffing around that new district.
The 7th is also home to freshman 4th District Rep. Todd Rokita, who is expected to move or seek re-election in the new 4th, which includes Hendricks County and splays to the northwest, including the Lafayette area.•
__________
Howey is a third-generation Hoosier journalist who publishes Howey Politics Indiana. Send comments on this column to ibjedit@ibj.com.
Please enable JavaScript to view this content.