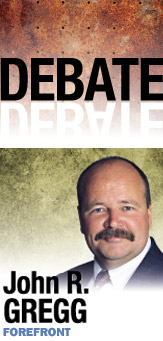 Since December, I have traveled from Lake County to Madison and from Fort Wayne to Mount Vernon, and the message has been clear: Hoosiers want jobs. Hoosiers have had enough of the bickering and back-room deals on Capitol Hill and Capitol Avenue, and bickering has never created a single job.
Independent of party affiliation, Hoosiers looked on with frustration earlier this year as wedge issues and political paybacks brought our Legislature to a grinding halt.
And no matter where one aligns, the entire episode would have been avoided if the priorities in the Statehouse reflected the priorities of Indiana voters: jobs. Had there been a single piece of legislation that helped create a single job for a single worker, my fellow Democrats would have never considered leaving in the first place, much less for any length of time.
Jobs have never once materialized out of the smoke rising from political powwows. It takes leaders who listen, people on opposite sides of the aisle willing to work together and compromise, to create an environment in which businesses can thrive and expand.
Such an environment is cultivated through shedding party labels and engaging in meaningful discussion with industry leaders and Hoosier workers, small businesses and international corporations, universities and local governments in every corner of Indiana. It takes an understanding of the priorities of businesses and the workers that call Indiana home, while at the same time doing everything we can to out-work, out-innovate, and out-hustle our competition.
Hoosiers want action, and we deserve it. Action takes both courage and cooperation, and we've seen too little of both. Government must seek cooperation between labor and management, unions and manufacturers, captains of industry and team captains in a factory—because that's what it takes to create jobs.
Hoosiers are tired of the finger pointing and the focus on settling old scores. It seems like an awful lot of folks have forgotten that, to get a deal done, both sides need to say something other than "No." We want a state government that represents all Hoosiers, not just corporations at the expense of labor or vice versa.
Hoosiers have the skills, work ethic, determination and education to be the best workers in the world. It's time that Indiana's leaders commit themselves to taking the next step in becoming the worldwide leader in life sciences, health care, educational entrepreneurship, research and medical-device manufacturing. Trying to catch up with our neighboring states while allowing the middle class to disappear isn't going to get us there. Good enough isn't good enough anymore.
Hoosiers want to be part of America's energy independence and want a state government that promotes clean coal technology. Hoosiers want a state government that is at the forefront of innovation on clean natural gas. Hoosiers want a state government that promotes renewable energy sources such as wind farms and methane gas as a necessary and essential component of our energy portfolio.
Not every state is blessed with the same natural resources Indiana is, and we ignore these riches—and the investment, revenue and jobs they attract—at our own peril.
In plain language, Hoosiers are saying to our governor, the Legislature and the politicians in Washington, quit fighting, quit bickering and quit wasting precious time posturing on the issues that have never generated a single paycheck.
Get back to the business of Indiana's future.
Take action, have some courage, cooperate and get Hoosiers back to work.•
__________
Gregg is a partner in Indianapolis law firm Bingham McHale and a former Democratic speaker of the Indiana House of Representatives. Send comments on this column to ibjedit@ibj.com.
Please enable JavaScript to view this content.