There's a blissfully funny sequence in the first act of the Indiana Repertory Theatre's production of "The 39 Steps" (running through May 14). In it, our hero, Richard Hannay (Matthew Brumlow) is forced to share a train compartment with a pair of fellow travelers (Rob Johansen and Tom Aulino).
Also in the scene, if I recall correctly, are a pair of conductors (Rob Johansen and Tom Aulino), a newsboy (Rob Johansen), a police officer (Tom Aulino), and a nun (Rob Johansen).
The pleasure of the scene comes in part, of course, from the dexterous character switching of the two multi-tasking actors. Hats fly. Jackets are switched. And all of it is kept, miraculously, crystal clear. We know who is who even when that same who was a different who just milliseconds earlier.
The train sequence—which includes a climb through the window and a wind-swept chase across the train tops—is filled not only with the giddy how-will-they-pull-this-off tension, but also by the way playwright Patrick Barlow and director Peter Amster have hooked us into the familiar-but-fun spy plot (inspired by the Alfred Hitchcock film and the John Buchan novel). As silly as the antics are, we want to know what happens to the hapless Hannay, whose evening at the theater ended with a dead woman in his lap.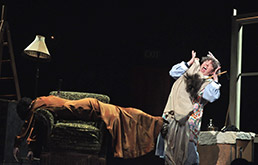 A body is discovered—but the actress returns in multiple parts—in IRT's "The 39 Steps." (Photo Courtesy Indiana Repertory Theatre)

On the run from the police and toward an explanation of the title's 39 steps, Hannay takes his seat on the train and high hilarity results.
In contrast, there's a sequence in the second act where Hannay has now been joined on the run by his leading lady (Sarah Nealis, who also played the murder victim).
They are, of course, cuffed together and an obstacle is wheeled on from the wings that, for some unexplained reason, Hannay tries to awkwardly maneuver through. He never communicates with his partner about the strategy for getting past it and he never takes the steps necessary to extricate himself once he's entangled. Every step seems to complicate things further until, inevitably, he's got her hand emerging, puppet-like, through his legs.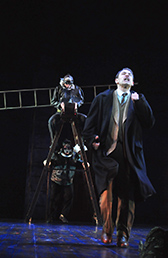 A "North by Northwest"-style chase is just one of the many Hitchcockian moments in "The 39 Steps" that movie buffs might recognize. (Photo Courtesy Indiana Repertory Theatre)
Yes, it gets laughs. But the sequence is so deliberately structured to get to this point that the joy is gone.
By this time, too, the plot has run its course and the production's energy has dissipated considerably, which makes it even harder to pull the audience back to that blissful state. (It almost does, in a fun, but anti-climactic ending.)
Rather than inspired lunacy, this act two sequence has something that looks like inspired lunacy but feels once removed—kind of like the feel of later Marx Brothers films, when the organic anarchy of the boys lost its comedic truth.
The IRT's "39 Steps" ping-pongs back and forth between those two comedic worlds: the funny and the funny-ish.
The play itself, which I'm kind of glad I didn't see in its Broadway production, accentuates that bipolar quality.
The joy of seeing Hannay chased by a makeshift "North by Northwest"-style biplane has to share the stage with shouted-out-and-underlined mentions (not, alas, actual jokes) of other Hitchcock films. The lone woman in the cast is given next to nothing funny to do. And the whole thing stays around about 20 minutes longer than it should.
In a show so clearly sold as a comedic romp, I didn't expect the beauty and charm of last year's "Around the World in 80 Days." But I did expect more consistent invention and laughs. Those gaps are what keeps this fun show from transcending.•
__________
This column appears weekly. Send information on upcoming arts and entertainment events to lharry@ibj.com. Twitter: IBJArts and follow Lou Harry's A&E blog at www.ibj.com/arts.
 
Please enable JavaScript to view this content.