Republic Airways Holdings bought Midwest Airlines and, soon after, furloughed the nearly 400 pilots employed by Milwaukee's hometown airline. It replaced them with lower-paid crews that fly Republic's regional jets.
More than 18 months later, Indianapolis-based Republic has discontinued a health care plan for retired Midwest pilots and their spouses and won't resolve lingering contract disputes, the Air Line Pilots Association alleges in a lawsuit filed April 14 in U.S. District Court for the Southern District of Indiana.
It's the latest labor issue stemming from Republic's 2009 purchase of Midwest, and Denver's Frontier Airlines. The deals created one of the industry's most complicated labor integration challenges, particularly among pilots. Republic's 2,500 pilots are represented by three unions—or four unions and 2,900 pilots if one counts the 400 ALPA-represented Midwest pilots on furlough.
Eventually, one union will represent Republic's pilots. The National Mediation Board on April 7 ruled that Republic's numerous carriers—Frontier, Lynx, Chautauqua, Republic Airlines and Shuttle America—constitute a "single transportation system."
The NMB said it will rule later on which union represents all pilots, and that Midwest pilots are to be included in the single system that survives.
"We're hoping that we can get the pilot groups to get together and unite as one group," said Pat Gannon, head of Teamsters Local 357 in Plainfield.
"It's an interesting integration" involving "a branded, mainline carrier; several fixed-fee-for-service regional carriers; and a defunct carrier," said Robert W. Mann, president of a Port Washington, N.Y., airline consulting firm that worked on integration issues at Republic for the Teamsters.
The Teamsters represent the bulk of Republic Airways pilots—about 1,850 flying for regional carriers Chautauqua, Republic Airlines and Shuttle America.
The second-biggest group is the Frontier Airlines Pilots Association, representing about 600 pilots at the scheduled-service airline Frontier. The Frontier Airlines Pilots Association argued that Frontier shouldn't be lumped in with Republic's other operations because Frontier is a scheduled carrier, flying larger, Airbus planes, while the rest fly on contract for other scheduled carriers.
That leaves the United Transportation Union, which represents fewer than 100 pilots of Lynx—Frontier's soon-to-be-folded regional carrier—and the 400 ex-Midwest pilots represented by ALPA.
Implications unclear
Just which union Republic would prefer to see the National Mediation Board designate as the lone representative of its biggest and most expensive labor pool is anyone's guess. Republic officials did not return phone calls.
"There's a lot of folklore out there as to which of these you'd rather have," said Daniel Petree, a professor of management at Embry-Riddle Aeronautical University in Daytona Beach, Fla.
"If you're a Republic, what you certainly don't want is the current situation" with multiple unions representing pilots. "They either whipsaw you or they're competing to be the most effective representative of the pilots. … When unions compete, they necessarily become more aggressive."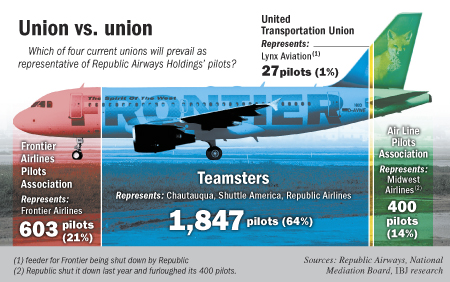 In some ways, an employer might prefer to have three or four unions to deal with, if only to play them off of one another, to play "all kinds of divide and conquer games," said Mark Crouch, an associate professor in labor studies at Indiana University-Fort Wayne.
In many instances, an employer prefers smaller, independent unions to deal with. These often don't have the deep pockets to sustain a fight and may be more flexible, Crouch said.
"Frontier's pilot union represents only a small number of pilots, but they are well-organized," said Kit Darby, CEO of Kit Darby Aviation Consulting in Peachtree City, Ga., and a retired Boeing 767 captain for United Airlines.
Conversely, the giant Teamsters union not only dominates the pilot ranks at Republic but also represents most of the company's flight attendants, mechanics, tool-room attendants, groomers and cleaners, and materials specialists.
The Teamsters' becoming the lone pilot union at Republic could have some interesting implications, Petree noted, to the extent the union could leverage its large presence through an internal pattern bargaining strategy.
In other words, might such a well-entrenched union use a 3-percent pay raise in one category of workers as the floor for increases in another class of workers? That could bring headaches for Republic.
Whether pilots want more of the Teamsters is unclear. The union alienated some of the pilots at Republic's regional airlines. Two years ago, the national headquarters took Local 747, which represented Republic pilots, into emergency receivership after questions were raised about the local's finances and management.
"It appears that the pilot group is dissatisfied with Local 747 because of its leadership's failure to provide any representation with respect to grievances. There is a backlog of grievances that fill up several pages of the Local 747 online [site]," Teamsters President James Hoffa said in a letter to members at the time.
Newly created Teamsters Local 357 now represents pilots.
As for ALPA trying to exert itself to represent Republic's pilot group, it's "theoretically" possible, said Anthony Freitas, a former Midwest pilot and ALPA representative.
"The answer to large airlines with lots of resources is a large union. And ALPA is the largest for pilots by far. There will be very few Midwest pilots working [and thus voting] at the time of any vote," however, Darby noted.
ALPA's lawsuit seeks to force Republic to honor its existing collective bargaining agreement, which includes the retiree health benefits program.
So far, a "handful" of former Midwest pilots have been hired by Republic, Freitas said. "There is hope that the Midwest pilots could be recalled."
Some Midwest pilots have found other flying jobs, in some cases flying for carriers in Africa and the Middle East—reminiscent of former ATA Airlines pilots after the Indianapolis carrier shut down in 2008.
"The vast majority have not found additional flying jobs. … I've got a whole bunch of them that are driving trucks," Freitas added.
Midwest was struggling financially, but many employees saw Republic as their savior. It had already been lending money to the Milwaukee carrier before buying it.
"We really believed when Republic first bought Midwest it was going to be OK for us," Freitas said.
Republic and its financial whiz of a CEO, Bryan Bedford, had other plans. It returned Midwest's Boeing 717 aircraft, with the last one to fly in November 2009. The Boeing jets were replaced with more fuel-efficient Embraer regional aircraft flown by the less-experienced and lower-paid crews of Chautauqua and Republic Airlines, which fly on a contract basis for large, scheduled carriers.
Integration lengthy process
Since Republic Airways entered the branded scheduled-service business nearly two years ago, it has made more progress in integrating its management across the various carriers. Pilots have been integrated to the extent of a single seniority list, an extraordinarily difficult process given the dissimilar types of carriers it owns.
But pay scales and benefits vary wildly. Regional jet pilots can make as little as $16,000 a year and upward of $75,000 annually with seniority. Scheduled-service pilots can start around $35,000 and top out above $165,000, with seniority.
Airline consultant Darby said some of Republic's pilot positions are regarded as "very low quality" given the low pay for regional jet pilots and restricted flexibility to fly different planes or as to where they live. "Some of their pilots have figured that out. … This lack of flexibility makes for a very unhappy pilot group over time."
It's unclear which union the NMB will designate to represent pilots or if elections will follow. "From the company's perspective, they would like to get integration done and to move forward," Mann said.
Republic lately is also weathering a storm caused by the rising cost of jet fuel, the price of which has increased 33 percent this year.
Last month, Dahlman Rose analyst Helane Becker downgraded her rating on Republic and eight other carriers to hold from buy, citing rising fuel cost expenses.•
Please enable JavaScript to view this content.