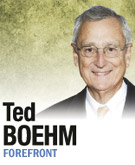 When asked what form of government the Constitutional Convention had produced, Benjamin Franklin famously responded, "A republic, madam, if you can keep it." Our form of government is the platform that supported the creation of prosperity and freedom for our own citizens, and intellectual and moral leadership for the world.
We, like every generation of Americans, owe an enormous debt to those who went before us. Our first obligation is to preserve and protect that platform for future generations. We are at risk of failing to discharge that obligation.
Today, we have a vast array of sources of information and entertainment. Most people rely on a small percentage of them and many of these sources do not present balanced or complete pictures. Unfortunately, in commenting on matters of public concern, some go beyond bias and propagate outright fabrications or wholly preposterous theories.
In the face of this assault on reason and moderation, it is more important than ever that we all have a solid grounding in the fundamental principles of government. To identify and reject abuses of power, citizens need to understand the wisdom in the constitutional limits on the role of each branch of government and the respective domains of federal and state governments. To recognize invasions of the rights of others, they must know the source and limits of individual liberties.
You may have seen some recent polls that report that a third of American adults cannot name the three branches of our federal government. This and other examples of American civic illiteracy are no small problem for all of us.
Voters ultimately choose the people who sit in positions of power. If many of our fellow citizens don't understand the basic principles of our form of government, they can't identify those forces that threaten to undermine them.
Dedicated civics programs can supplement public education. We the People has been federally funded for many years. It involves primary and secondary school students in competitions on constitutional subjects.
Indiana's program, supported by the Indiana Bar Foundation, is nationally recognized as one of the best. Indiana judges often serve as judges in the competitions all over the state, culminating in championship finals in Indianapolis.
But funding for We the People was eliminated in the national budget recently adopted by the House of Representatives and remains questionable at this writing. Private support from the Indiana Bar Foundation is also constricted because its income is significantly tied to short-term interest rates currently near zero.
Even if federal funding for We the People is restored, or the state chooses to fill that gap, that program and others of its kind, at least in their current form, depend on teachers willing to spend the extra effort to coach a team. Not every school enters the competition, and the program can serve only a small percentage of a school's population.
Broader and deeper understanding is required and can be achieved only if public education strengthens its civics programs for all students.
I share the concern many others have voiced for the current dismal state of public education. There is no question that we need to do better in the fundamentals of language, math and science.
But civics cannot be allowed to fall by the wayside as collateral damage in the education wars. Another generation without the mooring of a solid understanding of the importance of the rule of law and the structure of our government is a risk we can't afford to take.•
__________
Boehm is a retired Indiana Supreme Court justice who previously held senior corporate legal positions and helped launch amateur sports initiatives in Indianapolis. Send comments on this column to ibjedit@ibj.com.
Please enable JavaScript to view this content.