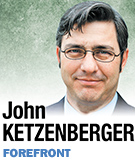 Bill Cook and Tim Durham are both small-town Hoosiers we've heard a lot about lately. They created and ran businesses. Both owned gigantic yachts.
And there the similarities end, because they also represent the right way and the wrong way to conduct business.
Bet you can figure out which is which, but please indulge me for a few minutes. I hope by the time you're through with this string of words, you'll have a greater appreciation for Cook's exemplary life and less tolerance for those who sully the pursuit of business.
Most of you know about Cook's medical device business in Bloomington. You've heard about the 10,000 employees, most of whom are well-paid and loyal to the company. Much has been said since Cook died April 15 about his commitment to the preservation and reuse of historic buildings.
And you've probably heard about the allegations that Durham used a company he acquired, the now ironically named Fair Finance, as a personal wealth generator. You've heard about the charges in U.S. District Court here that Durham and his associates plundered $200 million from the conservative bank and left many of the 5,000 or so depositors in northeastern Ohio who counted on those funds flat broke.
Polar opposites, night and day, good and bad.
In this bailout era, though, it's not always so clear. How many times have you heard someone say of the bankers who so corrupted their business that it brought the world economy low, "What's the big deal? Everyone was doing it."
Egad! That's what people said of Richard Nixon and Watergate. It's been a long slide, then, toward a point where honesty and integrity and the sense that what's good for the community is good for business are remarkable.
On second thought, I'd better be careful encouraging people to take into account what's good for the community. Somebody will tag me as a socialist or a communist.
Strike that. No cowering here. It's just a Golden Rule principle.
Cook was no softie. He craved wealth and the power that came with it. That was the difference between gold leaf and gold paint in the French Lick Springs Hotel, as the well-known tiff between Cook and Bob Lauth shows. It meant Cook could shake hands with Pete Dye to design a championship golf course near West Baden without talking price.
Yet Cook understood and was humbled by the responsibility that accompanied this power. He knew the names of people who stitched aortic grafts, sorted towels at the building's gym, and dished food at the cafeteria.
These folks were shy when Cook was with us; they positively gushed about Cook when he wasn't. The mutual respect was tangible.
The jobs created within Cook's many and varied companies produced wealth that ripples through Bloomington and Indiana and the world. Cook took wealth for himself, no doubt, but not before he made sure the companies and the employees had what they needed, and we're all the better for it.
Is there a clearer definition for business success and how it can be good for the community at large?
Durham, meanwhile, spends hours with his Miami attorney preparing a defense against charges he bilked thousands of unsuspecting investors to prop up failing businesses and line his pockets. While Durham and his pals partied on a yacht, those investors apparently were paying the bill with their modest life savings.
Butler University's new president, who is leaving his post as dean of the business school at Villanova University, articulated how important it is to return to the standards embodied by Cook that are overshadowed in this cynical era.
"I really do feel passionately that you have to always put business decisions in the context of what is really best for the overall good of society," James Drake told The Indianapolis Star. "In some ways, we have lost [that]."
Cook never lost sight of that principle; apparently, Durham and many others have.
With whom do you want to associate?•
__________
Ketzenberger is president of the Indiana Fiscal Policy Institute, a not-for-profit dedicated to non-partisan research into the state's tax policies and budget practices. Send comments on this column to ibjedit@ibj.com.
Please enable JavaScript to view this content.