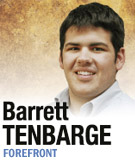 When it comes to Hoosier politicians making national political headlines, Gov. Daniels has been Indiana's star in recent months. However, for the majority of the past 34 years, it was his political mentor making news in Washington, D.C.: Sen. Richard Lugar.
Widely recognized as one of our nation's best senators, Lugar has come under fire from the right and is now facing a primary challenge from State Treasurer Richard Mourdock. Though I have enormous admiration and respect for Mourdock, I stand firmly behind Lugar for the good of this nation and this state.
While jobs and economy are the issue du jour, our government's No. 1 job is to keep this nation safe. And just when everyone was forgetting that, the "Arab spring" reminded us why we need representatives like Lugar. The immense complexity of foreign affairs requires the experience and expertise that only he offers. With Hoosiers facing skyrocketing prices due to foreign instability, they have a vested financial interest in keeping Lugar in Washington.
Lugar is also very much a fiscal conservative, despite claims to the contrary. He voted against President Obama's health care and financial reforms, and has long been the Senate's clarion voice on reforming agriculture subsidies so that they help actual farmers instead of being corporate welfare for agribusiness. The two votes fiscal conservatives are most upset about are for the TARP program and the financial rescue of the auto companies.
These controversial and difficult votes are precisely why Lugar deserves to be re-elected: He put his country ahead of politics and ideology. These bills, while flawed and difficult for fiscal conservatives to swallow, were nonetheless vitally important to keeping the world economy from collapsing. Fiscal conservative darling Rep. Paul Ryan cast identical votes to Lugar for the exact same reasons. No one who voted for those bills enjoyed doing so, but we elect men like Lugar to make tough choices on our behalf.
The most important reason I am voting for Lugar is that he understands politics is the art of the possible. Governing is about compromise and working with those who disagree with you to solve problems. Real governing requires statesmanship, and Lugar is one of this nation's great statesmen. Henry Clay, another of this nation's great statesmen, once said, "Politics is not about ideological purity or moral self-righteousness, it's about governing. And if you cannot compromise, you cannot govern."
That is why Lugar works with Democrats on issues like nuclear proliferation and illegal immigration. Rather than refuse to engage those who disagree with us out of a desire "to stand firm" and "stop Obama," solving problems requires being willing to compromise. Conservatives reject wishful thinking and impracticality when it comes to grand liberal policy schemes, then refuse to compromise. In doing so, we look silly, immature and hypocritical.
One of my favorite positions of Lugar is his view on judges. He takes the Senate's constitutional duty of "advise and consent" seriously, but also believes elections should have consequences. Whether he agrees with the president or not, his job is not to vote on judges based on how much he agrees with them but rather to vote for those who are qualified to hold the job. How refreshing is it that a politician decides to vote on principle, rather than engage in the petty partisanship of his political opponents?
I have enormous respect for Mourdock and I sincerely hope he continues to serve Hoosiers in public office regardless of the outcome of this primary. However, I am voting for Lugar because I still believe in statesmanship and that Washington needs more of it, not less.•
__________
Tenbarge is a sophomore business student at Indiana University, where he is active in student government and the IU College Republicans. Send comments on this column to ibjedit@ibj.com.
Please enable JavaScript to view this content.