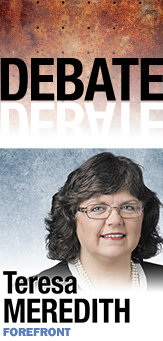 Question: How will education reform affect teacher compensation?
Answer: What's the real purpose of teacher compensation reform?
Many questions remain following the Legislature's attempt to reduce the investment in children through a clever disguise of education reform. Teacher evaluation and compensation were key topics of the reform discussions this legislative session—discussions that have yielded more questions than answers.
• Who will teach the high-ability students?
If the definition of a highly effective teacher is one whose students accomplish 1-1/2-year's growth in a single academic year, how is that growth measured? Students in advanced curriculum programs who are well above level might not achieve that much growth each year. Does that mean those teachers are not highly effective?
• Who will teach the most developmentally challenged students?
Many students in special education programs do make tremendous growth, but not always in a formally measurable way. If growth is determined by standardized state assessments, teachers of the most challenged students may be doomed.
• Who will receive the compensation for an educational foundation?
If students excel at 1-1/2-year's growth in high school, will the teachers who laid the foundation be compensated for the success? Students do not come to high school science or math classes without some educational foundation. It takes a team of educators to set the groundwork for lifelong success.
• How sustainable is Indiana's merit program?
When former Florida Gov. Jeb Bush spoke at the Indiana Education Roundtable in 2009, he indicated Florida ran out of money to fund its merit program. Proponents of merit pay in Indiana have not presented a plan to make it sustainable long term.
• Should the Board of Education be formed like other state professional boards?
The Professional Standards Advisory Board has been removed and the State Board of Education will be given the authority to finalize teacher and principal evaluation rubrics and model salary schedules. Will the board replace local school boards? How can it set realistic salary schedules and evaluation instruments for every school corporation when every community is different? What happened to local control?
• Will counseling be available to help students cope with increased pressure to perform well on state testing?
I fear that test anxiety will increase for students.
• So what is the real purpose of this reform?
If a school has a superior staff, test scores and achievement levels, the principal could be rated as needs improvement or ineffective because there are no teachers in the lowest categories—a quandary that leads educators and administrators down a competitively destructive path and leads me to ask—what is the real purpose of this reform?
• Who will teach the children?
As a parent and a teacher, I do not want ineffective teachers in my children's schools or in the classroom next to me. Yet with the parameters placed on educators with the reform measures, experienced educators will hesitate to accept teaching positions in schools and classrooms where success is not guaranteed.
Our best students will not choose teaching—not for the traditional negative pitfalls like low pay, lack of respect and high-stakes testing—but because of the unattainable goals and relentless attacks on a career designed to make a difference. Many who chose to study education are changing majors. Who will be left to teach my children?
Questions remain. Details are missing. In the end, the unintended consequences may be that Indiana is left without the high-quality teachers it needs to prepare our students for success.•
__________
Meredith is vice president of the Indiana State Teachers Association and has taught for more than 18 years in Indiana schools. Send comments on this column to ibjedit@ibj.com.
Please enable JavaScript to view this content.