The head of the continent's largest producer of bottled water told Indiana recycling advocates his industry should take more responsibility in the reuse of plastic bottles.
Kim Jeffery, president and CEO of Nestle Waters North America, cited inefficiencies in state-run bottle recycling programs as contributing to a low recycling rate.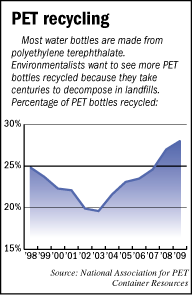 About 70 percent of all bottles are pitched; most wind up in landfills.
"Our recycling rate for these containers is very low. It's about 30 percent for all beverages in America … . Today, we have a fragmented, outdated system of recycling in America," Jeffery said in an address to the Indiana Recycling Coalition's annual conference on May 11.
Many environmentalists revile plastic water bottles.
They take hundreds of years to decompose. And producing the nearly 28 billion plastic bottles purchased each year consumes 17 million barrels of oil, according to Tappening.com, a group that encourages consumers to shun bottled water.
Nestle Waters has a 35-percent share of the bottled water market in the United States, with a 42-percent share of the PET (polyethylene terephthalate) segment.
Its brands include Poland Spring, Arrowhead, Deer Park and Nestle Pure Life. Among Nestle's 27 plants in North America is a 300,000-square-foot facility in Greenwood.
Jeffery "is the bottled water king of North America," Carey Hamilton, executive director of the IRC, said while introducing Jeffery.
The CEO told the IRC's 270 attendees he doesn't always receive such a warm reception in environmental circles.
He prefaced his talk by noting Nestle's environmental efforts, such as protecting land around its watersheds, its LEED-certified facilities and the use of less plastic in packing than many of Nestle's competitors.
He also noted bottled water's benefits as a healthy alternative to sugar-laden soft drinks that can contribute to obesity and diabetes.
His goal: a 60-percent recycling rate by 2018 for all beverage containers sold in the United States.
"This was a very ambitious goal and some people thought we were crazy to try to do it, especially the people in Switzerland for whom I work," Jeffery said.
While about half of Americans have access to a curbside recycling program, roughly only half of those recycle regularly, he said.
Even worse is the "away from home" recycling rate, which is something less than 12 percent, he said.
About 10 states—Indiana is not among them—have traditional bottle deposit laws in place, where retailers collect empty bottles. But many of these laws are 30 years old and were set up to address litter.
Jeffery envisions a new approach where producers assume more responsibility. He pointed to a recycling program in Manitoba that Nestle has helped fund. Consumers pay a 2-cent fee per each bottle of water they buy, which goes to further support the initiative.
Recycled plastic winds up in everything from baby seats to sweaters to new plastic bottles. Oddly, it costs more—about 20 percent more—to use recycled PET than it does virgin material. Some blame a lack of recyclable material on hand and insufficient infrastructure to recycle it.
Nestle Waters used up to 50-percent recycled plastic in bottles made at one of its East Coast plants. It cannot realistically use a higher percentage because of the higher cost.
"Recycled material for PET packaging is never going to be a viable business unless it's cheaper than virgin resin," he said.
Within the next year, Nestle plans to construct a plant somewhere in North America that can produce 40 million pounds of recycled PET, which would represent about 10 percent of the company's annual need, Jeffery said.•
Please enable JavaScript to view this content.