IndyCar Series officials are looking beyond this year's centennial running of the Indianapolis 500 on May 29 to an even more pivotal event next year—the launch of a new engine and chassis package—that could change the face of open-wheel racing.

Earlier this month, IndyCar officials unveiled their new car, which will hit the track for testing this fall. The chassis made by Italian manufacturer Dallara was unveiled with two potential setups, one for oval racing and one for road courses.

Most racing insiders agree the new chassis and engine package will be paramount in drawing more fans and sponsors and higher television ratings for the series.

"I think this is an important development because it ushers in a new era of competition among manufacturers," said Tony Cotman, president of Indianapolis-based NZR Consulting, which is overseeing the development of the 2012 car. "I think these changes are really going to spice things up."

Part of what will spice things up is the addition of two engine manufacturers—Chevrolet and Lotus—to compete alongside Honda, which previously supplied all teams with the same engine.

Cotman wants the new car to be tested on two road courses in September, followed by two short ovals and then at the IMS in October. After minor redesigns, he'd like teams to start getting their cars by December.

Dallara will make all the new chassis, but IndyCar officials are hoping two to four other firms will supply aero kits, which will alter the look and aerodynamics of the cars. The question of when to introduce the aero kits is the subject of some controversy within the series.

Cars customized with the aero kits are expected to appeal to fans, and the kits will also provide some new branding opportunities. But maximizing their effect on speed and performance is expected to cost time and money. Team owners say both will be in short supply as they integrate the new chassis and engine into their operations.

Only Dallara is prepared to supply aero kits that will be ready when the race season opens next March, but Chevrolet and Lotus have expressed an interest in supplying them eventually.

IndyCar Series CEO Randy Bernard is trying to determine if other aero-kit makers will join the series next May or not until the beginning of 2013.

Texas Motor Speedway President Eddie Gossage said team owners and series officials risk alienating fans if they delay introduction of multiple aero kits.

Gossage said he conducted fan surveys last year through the Internet and at IMS and Texas Motor Speedway, and the results clearly showed fans wanted different aero kits and various looks to the cars competing on the track.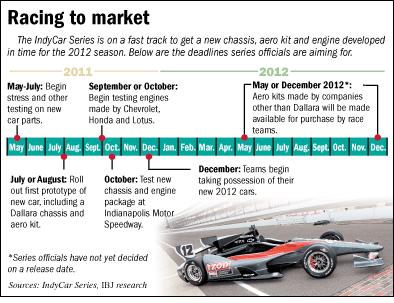 But Dennis Reinbold, owner of locally based Dreyer & Reinbold Racing, said team owners need more time to "sort through things" before bringing on the new aero kits.

"Obviously, the fans are in favor of rolling out the new aero kits in 2012, and we have to be sensitive to that, but we have to be sensitive to team costs as well," Reinbold said.

Though series officials have worked to limit expenses, the 2012 costs are not inconsequential.

Each new chassis will cost just under $400,000. Engine leases will be $690,000 annually. Aero kits will cost $70,000 each.

While owners said it will cost $1.5 million to $2 million to field a one-car team next year, including a primary car and backup equipment, Cotman estimates it will cost slightly less than that.

The capital outlay likely means there will be fewer entries in the 2012 Indianapolis 500. So far this year, about 45 cars are set to qualify for 33 starting spots. Four of those are Reinbold's.

"With the changes and expenses, we won't be able to enter four cars next year," Reinbold said. "But these changes are good innovations, and we welcome them."•