The city has lagged in making payments to not-for-profit developers executing a huge federal program to rehab neighborhoods, putting a strain on those groups and setting Indianapolis behind in spending its share of the money.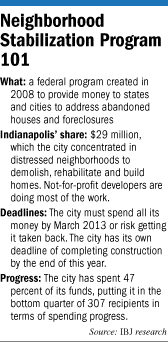 Indianapolis received $29 million through a 2008 initiative, dubbed the Neighborhood Stabilization Program, to help cities tackle the foreclosure crisis. The city spread its share of the funds—an unprecedented federal infusion for neighborhood redevelopment—among eight developers to use for demolition and rehabbing and building homes.

Those developers include for-profit groups such as The Whitsett Group LLC, and not-for-profits such as Indy-east Asset Development Corp. and Englewood Community Development Corp., which are heavily involved in the massive renovation of the city's near-east side. Grants to those groups ranged from $1.3 million to $5.5 million.

Construction on many of those projects is under way in neighborhoods already in transition from blight.

But the developers say recouping money from the city to pay their contractors has been a cumbersome and frustrating process. Payment for the monthly claims they submit for the work in many cases has taken about eight weeks to arrive.

That's slow even by the standard of most federal projects, which typically take about half that time. In some cases, the delays have slowed projects and complicated an already difficult financial picture for the developers.

Several developers and contractors involved in NSP spoke to IBJ about the issue on the condition of anonymity because they are reliant on the city to fund their projects.

The delay in payments also has affected Indianapolis' rate of spending its $29 million. As of May 9, the city had spent about 48 percent of its NSP dollars, putting Indianapolis in the bottom 15 percent of 307 grant recipients in terms of spending.

The federal government can take back money that isn't spent by its March 2013 deadline.

Experts who aren't involved in the city's effort say delayed payments are particularly tough for developers to weather.

"Clearly it's a problem," said Alan Mallach, a senior fellow at the Brookings Institute who studies community development and urban revitalization.

"A lot of [not-for-profit developers] are on very thin financial margins because of the economy. They're getting squeezed from all directions these days."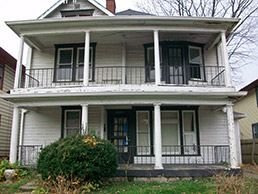 Going 'down the chain'

A credit crunch caused by the sour economy has made not-for-profit developers' financial situations particularly tough.

Some local developers, who rely on such financing to leverage federal dollars for their projects until houses sell or units are rented, have seen their lines of credit shrink to one-sixth of what they were pre-recession.
In those cases, developers can't rely solely on credit to finance projects when payments are delayed, so they have to ask contractors to wait for payments—in some cases up to 60 days.

In turn, those contractors must delay their own payments or rely on credit to pay subcontractors doing work.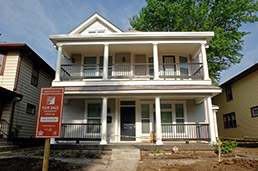 Mapleton-Fall Creek Development Corp. rehabbed the house at 2950 Park Ave. with some of the city's federal grant dollars.
In some cases, the local contractors—many of them small businesses with limited resources—have to slow down or temporarily stop working on projects. That has delayed progress on completing them.

"If it starts to go down the chain, it's really problematic," Mallach said. "You're dealing with smaller contractors who are not well-capitalized."

It also can cause contractors to raise bids in anticipation of having to borrow money and pay interest to cover payments to subcontractors. But developers say that hasn't been drastic because many companies are so eager for work.

Delayed projects and higher bids have been less a problem for developers that have secured strong lines of credit through banks or charitable groups. But they have another concern: interest costs that could threaten to put their projects over budget.

One local development group is awaiting roughly $1 million in payments from the city and has had to draw on its credit to ensure contractors are paid within 30 days.

Interest rates on the credit line are low—just under 4 percent. But those involved with the group say the interest costs will be significant and might end up pushing the project over budget.

If that's the case, developers either have to try to sell the houses for more—which would be tough to pull off in the weak housing market—or tap funds that normally would go toward other neighborhood development projects.

Developers also worry the delayed payments could impair their ability to secure additional financing. Speculation that payments are not moving quickly can create a perception that projects are unstable.

"It threatens confidence," said one leader at a not-for-profit development group. "In the market, confidence is everything."

Need for scrutiny

City officials running the program acknowledge payments have moved more slowly than usual, and say a myriad of factors have contributed.

For one, the city's accounts payable department is completing a transition from the city controller's office to the county auditor's office that began earlier this year. Processing of payments across city departments has slowed during that transition, said Jennifer Fults, administrator of community economic development for the city's Department of Metropolitan Development who is overseeing NSP.

But the city also has had to learn the nuances of the NSP program and its newly created regulations.

"When you get into the real world of how real estate works and how these transactions transpire, you get scenarios that weren't addressed in the regulations," Fults said. "This program is much more black and white as far as the regulations go" compared with other federal grants.

Three project managers the city hired with part of its NSP grant review the claims, and a city employee does a final review.

Fults said that employee, whose background is in planning rather than federal grant work, often catches mistakes overlooked by project managers.

In some cases, though, developers say the rigorous enforcement has seemed extreme. In one case, for example, the city required the developer to resubmit a claim for tens of thousands of dollars in which documentation was a few dollars off the amount reported.

If a developer submits multiple claims at once, a mistake in one claim holds up the remainder of the claims from being processed, which adds to the delay.

In addition, some of the city's reporting requirements are more rigorous than federal standards. For example, developers must report on their monthly claims minority-, women- and veteran-owned business participation. Under federal rules, those numbers are reported annually.

Fults said her office is required to provide the reports to Mayor Greg Ballard's Department of Women and Minority Business Development, but developers say it adds to the time they spend in the process of preparing claims.

And even with rigorous requirements, some developers say the process could be handled more efficiently.

"Devoting more people to claims processing would go a long way," one development group leader said.

An official at one developer that also has received money from the state's NSP program said the state's process has moved more smoothly because the agency spent time on the front end creating forms and documents laying out what developers needed to do.

Fults said processing times have improved as the accounts payable transition wraps up.

The federal agency administering the NSP grant recently stepped in to offer the city technical assistance.

Among the issues that have received attention is additional training for project managers on what issues to flag in claims.

That could help the process move more quickly, but Fults maintains it's necessary to be stringent about enforcing the rules.

"We have to do our due diligence," Fults said. "In the end, we're going to be able to pass an audit or a monitoring visit."•