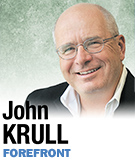 The sun must be setting.

That's the time when small figures cast large shadows.

For 35 years, Richard Lugar has represented Indiana in the U.S. Senate. In that time, he has been a leader in the areas of foreign affairs, nuclear disarmament and agriculture, to list only a few of his areas of expertise. He has had success in so many areas because he has an increasingly precious commodity—credibility. Even people who disagree with him—as I often do—respect his judgment, his work ethic and his commitment to making government work.

He has been one of the greatest senators in American history. He stands shoulder-to-shoulder with Daniel Webster, Henry Clay, Robert Taft and Ted Kennedy.

And now he is fighting for his political life.

State Treasurer Richard Mourdock, another Republican, has challenged Lugar for the Republican Senate nomination next year. Mourdock appears to be leading.

I've met Mourdock only a couple of times. He seems like a pleasant enough fellow, but I think it's safe to say that, when he retires from public life, no one will be building statues in his honor. He will not stand shoulder-to-shoulder with the greats.

Why, then, has Mourdock racked up so many endorsements from Republican county chairmen? And why do some tracking polls seem to give him a lead over Lugar in these early days?

Mourdock's candidacy is fueled in large part by the Tea Party movement, which in theory is supposed to be an expression of outrage over tax policies and the growing national debt.

The howls of protest from the people who lead the Tea Party, though, were silent during the years when America was led by their hero, Ronald Reagan. The national debt quadrupled in the eight years the Great Communicator was in office.

The howls exploded in a fury when Bill Clinton was president, even though Clinton managed to balance budgets and start paying down the debt.

They largely went silent again when George W. Bush racked up one massive deficit after another, largely because he decided to push through some ill-advised tax cuts while plunging into an expensive war in Iraq.

Those enraged voices began snarling again when Barack Obama took office and attempted to resuscitate an economy in which, in some states, the jobless numbers had shot up to 20 percent or more and the Dow had dropped to 6,600— slightly more than half of its current level.

Rage, by definition, is not rational.

For that reason, Lugar is ill-equipped to deal with the Tea Party. He is an eminently rational man. His career has served as a testament to the power of reason.

Lugar speaks in well-ordered paragraphs, stacking them up almost promiscuously on top of one another so that even his conversation seems to resemble an essay. He does not like to raise his voice.

The Tea Party's major complaint with Lugar seems to be that he can work with people—even those who disagree with him—and get things done. The argument that he isn't a conservative is nonsense. His voting record in the Senate tracks closely with the record of that renowned liberal, the late Sen. Jesse Helms, R-N.C.

In some ways, Lugar's troubles parallel those of Obama, who has come under almost as much fire from the left wing of his party as Lugar has from the right wing of his.

Perhaps this is a product of the time. Businesses increasingly go after smaller, more targeted niche markets. Media outlets speak to more carefully focused audiences.

Maybe political parties now seek more narrow constituencies that are easier to persuade to march in lockstep.

If so, we will be poorer for it.

When the sun goes down and the shadows grow large, it can be hard to maintain perspective.

Small things can loom larger than they really are.

Just ask Dick Lugar.•

__________

Krull directs Franklin College's Pulliam School of Journalism and hosts the weekly news program "No Limits" on WFYI-FM 90.1. Send comments on this column to ibjedit@ibj.com.