Indianapolis Art Center CEO Carter Wolf is drawing fire from some quarters over a staff shakeup that Wolf says is needed to grow enrollment at the Broad Ripple not-for-profit.
Wolf fired longtime vice president and program director Dave Thomas in March, and he expects to hire a replacement in June. Wolf is counting on the new director to help combat negative enrollment trends, draw more outside groups to use the center's studios during the day and keep 120 artist-instructors happy.
Wolf
Wolf says the center is already making progress, and that the change was worth the negative reactions from staff and students who were close to Thomas.
"My biggest fear is losing relevance," Wolf said. "If we keep doing what we've always done, and the public changes, where are we?"
Thomas' second-in-command in education, Anne Minnich-Beck, resigned several weeks after his departure. This month, glass instructor Lisa Pelo resigned as department head and wrote to the board with complaints about how Wolf was handling a studio renovation, a project started under Thomas.
Morris Profeta, a 72-year-old retiree who takes painting and assists in the ceramics studio, said he was so disturbed by the departures of Thomas and Beck that he wrote a letter to the board of directors. "I think it was the wrong thing to do because these two were so instrumental in running the show," he said.
Pelo's letter to the board prompted Wolf to pull her teaching contract, but she has no regrets about making her feelings known. "I didn't want this swept under the rug. To be dismissed and pushed aside on a big project … It just turned into a mess."
The art center is most widely known for the Broad Ripple Art Fair, which attracts about 20,000 attendees and was scheduled for May 21 and 22 this year. The center's main mission is teaching visual art, and it holds 530 classes, summer camps and workshops a year at its Broad Ripple facility. The art center also runs an outreach program for kids at area community centers.
Wolf, who took the top post in July of 2009, said the art center has been tweaking its offerings to appeal to working adults and tech-savvy teens. The center will offer more seven-week, instead of 15-week, classes, and Wolf plans to strengthen the digital media department. Among its new classes this summer is one that teaches how to make art with an iPad.
Wolf says his skirmish with Pelo over the glass-studio renovation is the exception in faculty relations. Since Thomas' departure, he said, the center has been working its way through a list of instructors' requests to replace and fix studio equipment, such as print-making presses.
The center is also rolling out a $20,000 award for faculty of the year. Named for Arlene "Skip" McKinney, a student and art center supporter who died last October, the award will allow the instructors—most of whom are working artists—to fulfill professional dreams. Wolf thinks it will help attract top-quality teachers.
The glass studio upgrade is the result of a $100,000 gift from a student who is retired from the glass-making industry. Pelo credited Thomas with landing the gift last fall and said she worked with him on researching new equipment and drawing up specs for a renovation.
Students are eager to get some relief from the studio's furnace-like heat, and they kept asking about the plans, Pelo said. But after Thomas was terminated, Wolf left her out of the loop, she said. When the spring semester ended at the end of April, Pelo expected to prep the studio for a full renovation. Instead, Wolf told her the plan was to simply install a new furnace and ventilation.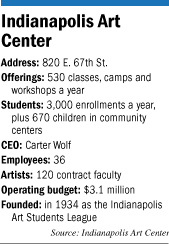 In a May 6 letter to the board of directors, Pelo accused Wolf of ignoring leads on donors who could have financed a full renovation, costing $170,000. "It is my considered and personal opinion that mismanagement, lack of funds and lack of interest in understanding basics has lead (sic) to chaos in this renovation."
Wolf admits that Pelo wasn't included in all of the recent planning, but he said doing the less expensive, basic upgrade was not a last-minute change. He added that it's also in keeping with the donor's wishes.
The first CEO to succeed Joyce Sommers, who retired in 2009 after 33 years, Wolf is unapologetic about ushering in change. "There's certainly a major shake-up in the education department," he said.
The recent personnel change isn't the first since Wolf, 65 took over. Coming in amid the recession, he immediately reduced the 2009-10 operating budget from $3.1 million to $2.9 million. He laid off a full-time gallery curator and eliminated one other position to deal with reduced revenue and unforeseen expenses.
The board of directors supports Wolf, Chairwoman Tanya Overdorf said. "We are still the premier arts-training organization," she said. "I think we'll prove that the change is good, and the art center is going to be better for it."
Full potential
With about 3,000 enrollments a year, the center is holding classes at about half their capacity, and that's not good for the bottom line.
Class fees, which range from $180 to $400, depending on the medium, account for about a third of the center's annual revenue. The current operating budget is $3.1 million for the year that ends Aug. 31.
The goal is to boost enrollment to 75 percent to 80 percent of capacity over the next two years, finance director Doug Halman said.
The center also needs to recruit more schools and corporations to rent its studios during the day, Wolf said. "If we could grow 8 percent a year, that would be a stretch, but we could do it," he said.
Wolf said the art center needs to meet its full potential before it can justify an expansion. The center shelved a quiet fund-raising campaign that began just before the recession. New expansion plans are emerging, and Wolf said there will be a feasibility study sometime this year.
Under a new plan on the drawing board, an existing secondary building called the "cultural complex" would be replaced with new sculpture and ceramics studios. The main building would then be expanded eastward to accomodate space for digital arts, a larger glass studio, storage and a coffee shop.
The art center's small campus, nestled against the White River and Monon Trail, includes a sculpture park. The studios, offices and gallery occupy a low-slung, peach-colored building, which Michael Graves, the acclaimed architect and native son, designed with a nod to industry.
Wolf has ambitions beyond Broad Ripple, too. The art center's outreach programs are in 15 community centers, but he said he sees no reason the center couldn't reach kids at 30 sites, even outside Marion County. Although the art center is well situated to draw students from the north side of Indianapolis and Carmel, Wolf said it should also be trying to reach people in suburbs like Avon.•
Please enable JavaScript to view this content.