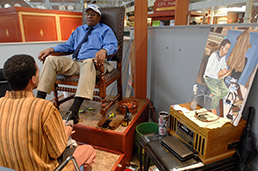 Shoe-shiner Damon Franklin and other City Market tenants are hoping changes boost business. (IBJ Photo/ Perry Reichanadter)
The city's mounting legal bills to cover lawsuits involving Indianapolis City Market are adding to the taxpayer cost of subsidizing the venue and making it tougher for the market to become self-sufficient.

Including the most recent lawsuit involving tenant Enzo Pizza, the city has spent $123,628 in legal fees for lawsuits involving the market since 2008 and about $108,000 in legal settlements.

That's in addition to annual subsidies ranging from about $300,000 to $691,000 to cover operations.

The lawsuits have involved disputes with a few tenants over issues such as rent payments and location of stands.

The expenses have racked up over the last few years as Mayor Greg Ballard has pushed to make major changes at the market in hopes of making the venue's operations revenue-neutral.

The historic market, which houses fresh- and prepared-food vendors and last year added a bar that serves Indiana craft beers, has relied on city subsidies for decades. But because of tight finances, the city in recent years has tried to wean it off government support.

Marc Lotter, a spokesman for Mayor Greg Ballard, said the city is pushing for the market to become self-sustaining "as quickly as possible."

The legal fees don't help achieve that goal, but Lotter said lawsuits are to be expected in the midst of sweeping changes designed to improve the venue's overall revenue picture.



The city is in the midst of a $3.4 million upgrade that includes adding new rest rooms and lighting, and revamping the building's east wing into a bicycle hub. Those changes, to be completed this summer, are designed to make the market more attractive to patrons and potential vendors.

The efforts have required vendor moves that have been at the heart of a couple of recent disputes.

"It's a cost that's incurred as part of the investment to make the market sustainable," Lotter said of the legal fees. "What you're seeing now is a concentrated effort in providing the right business model [and] the right mix of tenants—all to bring the market into a financially stable environment."

Last year, the market spent $651,000 on expenses such as utilities and personnel and brought in $357,000, with the city making up the difference.

Litigious years

The spate of recent lawsuits began with Greek-food vendor Grecian Garden, which sued the city after the previous market manager, Joe Dayan, refused to honor the vendor's contract to rebuild its space in the main market hall following a 2007 renovation.

The city had its own attorneys handle the case, and the restaurant won a settlement of $44,481 in 2009. Dayan also filed a lawsuit alleging wrongful termination after he left the market and settled for $60,000 in a case the city's attorneys handled.

Since then, most of the larger lawsuits involving the market have been handled by Bryce Bennett, a partner at Indianapolis law firm Riley Bennett & Egloff who charges the market a discounted hourly rate of $325.

Samantha Karn, the city's corporation counsel, said Bennett, who is among the business leaders who have accompanied Ballard on some of his international economic-development trips, was chosen based on his expertise.

"Bryce has a really good track record on this type of work and the work he's done for the market," Karn said.

Bennett represented the city in cases such as the 2009 fight with former anchor tenant Constantino's. The market sued the produce vendor after its owners refused to pay $27,000 in rent. The parties reached a settlement in which Constantino's agreed to move out and the city waived the rent payments.

The market moved to evict Grecian Garden last year, charging the restaurant had been late in paying rent and resisted moving to a new stand for the renovation. Market management agreed to drop the eviction and to pay $5,000 for the restaurant's legal fees in return for its agreeing to move.

In the most recent dispute, 19-year tenant Enzo Pizza sued after the market moved the vendor from its east-wing location and offered a slightly smaller stand in the main hall for the renovation. Market management ordered that the restaurant move out by May 27 after the eatery rejected its final lease offer.

Those who have fought the city in these legal disputes attribute the number of lawsuits to a litigious attitude among those running the market—propelled, they say, by the fact that the city picks up the tab for legal fees.

"The amount of legal fees they've paid for the gross business they do seems grossly out of proportion," said Cliff Rubenstein, an attorney with Carmel-based Maurer Rifkin & Hill who represented Constantino's and Grecian Garden in their legal battles. "If there was an owner who had to come out of pocket for the legal fees, it would be looked at a different way."

John Mavrikis, owner of Grecian Garden, said a lack of trust between vendors and market leaders has soured relationships and made lawsuits more likely.

Lawsuits "can be settled with reasonable people at a table saying, 'OK, what is the problem, what do we have going on here?'" Mavrikis said.

In all cases, that's what market management tried to do, said Jim Reilly, the market's executive director. He said he spoke to the tenants about resolving the matters but couldn't reach resolution. The City Market board decides to pursue legal action with the city's backing.

Reilly, who is frequently on the floor of the market interacting with tenants, said he listens and tries to respond to vendors' concerns and holds meetings every couple of months to keep them in the loop about issues such as the renovation.

During his previous tenure as market director from 1994 to 2000, Reilly said, there were no lawsuits. He said the recent cases point more to tenants frustrated under the strain of financial pressures that began with the 2007 renovation, which dampened business for many.

"The lawsuit is the last resort," Reilly said. "The city is getting tired of this stuff."

Brighter picture ahead?

City and market leaders hope as business improves at the market, fewer lawsuits and more revenue will help the venue be sustainable.

Through the end of April, the market has brought in $260,000 this year.

Along with the renovations, market leaders are taking steps to decrease expenses. Reilly laid off one of his six full-time maintenance staff members and reduced hours for others about 7 percent.

Starting in June, Reilly also will cut back his own hours and salary 10 percent, to $72,000. None of the other three administrative staffers have seen cuts yet.

He's also working to add revenue by booking more events and attracting additional tenants. The venue is 60-percent leased, and Reilly's goal is to get it to at least 90 percent by August.

Boosting the quality of tenants also is important, Reilly said. He thinks that will help curb the number of future lawsuits.

"We need to get tenants that know how to market themselves and aren't dependent on us to market for them," Reilly said. "We can't afford to have tenants come in and not succeed."•