The Thursday evening we dined at Sensu, Indy's newest Asian-fusion spot at 225 S. Meridian St., was one of the most pleasant yet this spring, but you would never know it. The late afternoon sun was extinguished completely in the windowless dining space and replaced with a wall of mammoth plasma screens scrolling a trippy loop of nature scenes and city skylines. But at a place that's maybe trying a little too hard to look like it's in Vegas, it would appear that's the point. If you can stand a little techno dinner music and a lot of red mood lighting, this could be your place.
That's because the food is as special as it is pricey. (Non-sushi plates average $20.) Our server brought us a dish of marinated Thai bird chilis, meant to replace the puce glob of wasabi typically served alongside sushi and all things Asian. The ruby sauce was a telling precursor to the meal the six of us were about to share: different, spicy and pretty darn tasty.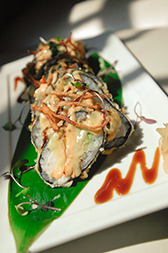 Many Sushi rolls at Sensu come with their own sauce. Soy need not apply. (IBJ Photo/ Perry Reichanadter)
The menu is daunting, as familiar categories like "appetizers" and "entrees" are replaced with more murky ones like "specialty dishes," "cold plates" and "larger plates." The variety makes it hard to know how best to feed everyone if you're dining family style, as we intended and the menu suggests. But as we found out, a few maki rolls, a salad and some sort of plate, be it "hot," "cold," or "large" will more than suffice.
We started with the spicy squid salad off the cold plates menu, a lightly dressed bed of romaine, mint and cilantro, peppered with sautéed (yet still chewy) bits of calamari tentacles. The squid was fresh and light, and could have easily satisfied as a meal itself.
Next was the Toast & Jam from the hot plates menu, which looks very much like its namesake but tastes nothing like it. Toast-shaped, flash-fried shrimp cakes are served with a spicy tuna tartar, meant to be spread like jam. While it's unclear how the down-home play on words fits with the otherwise nightclubby theme, this dish was the star of the evening. The warmness of the shrimp toast matched with the cool, refreshing taste of the tuna made for a delicious snack.
Our three maki sushi rolls, which served as our main course, are nothing like the simple seaweed-wrapped rolls served just two doors down at Sushi on the Rocks. Each roll—we chose the Eagle Eye (scallop), Tatonka (salmon and octopus) and the Gold Coast Crunch (red snapper)—is like a separate meal. The warm, battered taste of the red snapper was a surprise after sampling the cool salmon. The sophisticated combination of flavors in each one is such that the soy sauce on the table becomes a mere formality rather than a salty necessity.
As the last piece of Tatonka sat between us, daring someone to deprive the rest of us one more taste, it was obvious we'd all be back. But we couldn't help but wonder about the nature of Sensu. This nightclub would clearly still be a nightclub without the sushi, but as a restaurant, Sensu is just good sushi in a really dark room.
__________
Fourth in our month-long series of reviews of newer ethnic eateries
 
Please enable JavaScript to view this content.