While his official tenure doesn't begin until September, Krzysztof Urbanski's unofficial coming-out party came May 20-21 when he led the Indianapolis Symphony Orchestra for the first time since being named music director.
To say he was welcomed with open arms is an understatement. Even before he raised his baton, Urbanski was met with an ovation that at moments seemed to rival the Beatles at Shea Stadium.
Clearly, the core ISO audience, as well as the curious maybes, are ready to embrace the young maestro. And, to his credit, Urbanski didn't milk the applause that met his
arrival on stage. "Humble but confident" seemed to be the intended and achieved combination, and with a gentle tilt of the head and a slight sway, he dove right into Felix Mendelssohn's easy-to-love "Hebrides Overture." (Don't let the word "overture" fool you. The piece is complete on its own, not a greatest-hits prelude to an opera.)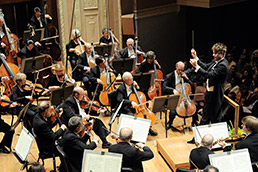 Krzysztof Urbanski, soon to be the youngest music director of a major U.S. orchestra, played well with others during his recent series of ISO concerts. (Photo courtesy Indianapolis Symphony Orchestra)
With a left hand as active as his baton-holding right, Urbanski gave clear and specific focus to individual players in the orchestra. By concert time, much of a conductor's work is done. It's the scholarship, the understanding of the music, the rehearsal, and the connection with the orchestra that shapes much of what happens in performance. But that doesn't mean the conductor doesn't have an influence. Like the guy on the train with a similar title, the orchestra conductor not only needs to keep everything on track, but he also sets the pace for the ride, deciding when to speed up and when to slow down (and, in the orchestra's case, when to soften and when to pump up the volume).
It was a pleasure watching Urbanski dictate those choices through the "Hebrides Overture" and in Mendelssohn's "Symphony No. 4," which launched at a breakneck pace and raced to a finish to close the program. I would have preferred a bit more restraint, but there was no denying the crowd-pleasing power or Urbanski's approach.
In between, he and the ISO players held up their end of Jean Sibelius' "Concerto A in D Minor for Violin and Orchestra," turning over the spotlight to former International Violin Competition of Indianapolis champ Barnabas Kelemen.
As focused as he was on the musicians, Urbanski also demonstrated a mature awareness (I'm assuming it was deliberate, I could be wrong) of the audience.
Opinions vary about the "performance" aspect of a conductor's job. For instance, for some, Urbanski's predecessor Mario Venzago was lively and passionate and a blast to watch. To others, he was cartoonish. Whatever one's perception, enjoyment of a concert undeniably can be influenced by the visual. To put it bluntly, few audience members close their eyes during a full concert.
Urbanski seems to understand the balance. It's unfair to judge by one concert, but on the basis of his work here, I'm looking forward to seeing—and hearing—a lot more from our new maestro in the years to come.
____________
Dance Kaleidoscope, our resident professional contemporary dance troupe, ended its 2010/2011 season safely in its comfort zone, much to the pleasure of its enthusiastic audience.
"The Body Electric," May 19-22, featured a trio of David Hochoy pieces—two from previous seasons and one premiere, all free of gimmicky costumes (OK, women and men wore skirts in one), aren't-we-cute-ness, and marketable musical hits.
"In the Moog," originally staged in 2008, set the DK dancers in motion to the fun-in-small-doses Moog synthesizer resetting of J.S. Bach music that now seems almost indistinguishable from the Main Street Electrical Parade music at Disney World.
"Skin Walkers," from 1999, featured live musical accompaniment by jazz violinist Cathy Morris and keyboardist/co-composer T.H. Gillespie. The dance—with the skirted corps moving to Celtic-flavored original music—stopped well short of "Riverdance" obviousness and retained an internal integrity and clarity of purpose.
While pleasing on the Indiana Repertory Theatre stage, the piece came across more powerfully at this year's "Spotlight" event at Clowes Hall. There, Morris was visible on stage rather than hidden in the pit. At the IRT, the interplay between live music and movement was largely lost, although the work itself held up well and the dancers demonstrated an uncommon sense of togetherness, without an out-of-place star turn to be had.
The highlight of the evening, though, was the premiere. In "Electric Counterpoint," Hochoy found a haunting piece by Steve Reich (recorded by jazz guitarist Pat Metheny) and set it in motion, creating compelling dance drama not from an obvious "plot" or by maximizing the stage time of all his accomplished dancers.
Rather, he accepted that, in this case, movement and mood are everything and more power was to be had with evocative minimalism. Allowing Timothy June and Jillian Godwin to quietly climax the piece was a wise move, foreshadowing interesting work to come.•
__________
This column appears weekly. Send information on upcoming arts and entertainment events to lharry@ibj.com. Twitter: IBJArts and follow Lou Harry's A&E blog at www.ibj.com/arts.
Please enable JavaScript to view this content.