Given the high gas prices of recent years, one might think Hoosiers would stampede to trade their whining for the whine of hybrid cars.
But only about 12,000 hybrids are on the road in Indiana—a puny 1.4 percent of registered vehicles, according to the Center for Automotive Research, an Ann Arbor, Mich., think tank. High price tags and performance trade-offs are two reasons Indiana ranks 22nd nationwide for hybrid registrations.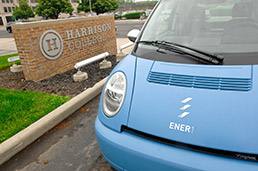 The Think City is made in Elkhart, and its batteries are manufactured near Indianapolis.(IBJ Photo/ Perry Reichanadter)
So does this tepid acceptance signal that more exotic plug-in electric cars arriving on the market will be anything more than a novelty here?
"You can't definitively make that correlation," said Kim Hill, the center's director of sustainability and economic development strategies.
Hill, lead researcher of the recent study "Deployment Rollout Estimate of Electric Vehicles, 2011-2015," said factors such as fleet purchases and the number of plug-in electric vehicle (PEV) entrants in a particular market will be big determinants.
More than anything, however, Hill said incentives at the federal, state and local levels affect how many PEVs wind up in driveways.
While the region is not the leader in PEV momentum—super-green cities such as San Francisco and Portland, Ore., lead the pack—Indianapolis was the most "aggressive follower" city in a study conducted for the Rocky Mountain Institute last fall. The research and education foundation measured momentum in terms of attitudes, planning, infrastructure and education involving electric cars.
Norwegian electric-car maker Think last year made Indianapolis its first launch market for U.S. commercial sales. The rollout was coordinated with Project Plug-IN, an initiative of Central Indiana Corporate Partnership's Energy Systems Network.
The metro area now has 100 Think "City" model vehicles on the road, and the number is likely to triple by the end of the year, according to Energy Systems Network. About half are in corporate and government fleets. Recently, Tom Wood Automotive, one of the state's largest dealers, added the Think brand.
That gives the region one of the highest concentrations of PEV drivers in the nation, said Paul Mitchell, president and CEO of Energy Systems Network's clean-tech initiative.
He figures a couple of things are driving consumer interest in PEVs locally.
One is Think's Indiana connection. Its cars are manufactured in Elkhart and use lithium-ion batteries made in the Indianapolis area by Ener1.
Most compelling, however, is that motorists are "not being held hostage to the falling and rising of oil prices," Mitchell said.
The Center for Automotive Research study said Indiana could have 6,661 electric cars on the road by 2015—based on the adoption rate of hybrids here.
Nationwide, PEV penetration will range from 2 percent to 5 percent by 2020, according to a forecast by BorgWarner CEO Timothy Manganello cited in Hill's study. Nissan CEO Carlos Ghosn projects 10 percent.
Range anxiety
Still, Project Plug-IN has its work cut out in helping the public and corporate fleet operators commit to PEVs.
Early adopters have learned there are drawbacks.
Although the Think City has low-end torque aplenty, accelerating between 40 mph and 65 mph can take more time than one is accustomed to with a gasoline engine.
One of the biggest hurdles to overcome with PEVs, however, is "range anxiety," the fear of running out of electricity.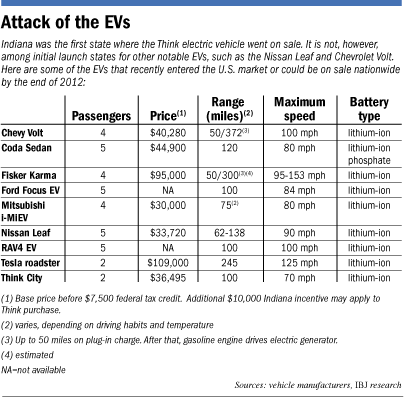 Operating a PEV requires using one's noggin at all times. Driving in bitter cold temperatures with the heater turned on can reduce the Think's range—110 miles under ideal circumstances—to 50 miles per charge.
Summer extremes can be almost as bad—75 miles with the air-conditioning blasting.
It's a little different story with General Motors' Volt plug-in. It has a gasoline-powered generator that kicks in once the batteries are depleted and can extend range to that of a conventional car. Of course, the downside is that one doesn't entirely sever dependence on the gas station.
Skeptics also note that PEVs shine in large, compact urban environments. The Midwest, however, is known for far-flung suburban sprawl that may push PEV range.
Subsidies crucial
Mitchell sees signs Hoosiers are warming to PEVs—quirks and limitations notwithstanding.
Last month, 500 people waited to test drive 17 Volt PEVs at Indianapolis Motor Speedway's first Emerging Technology Day.
"After the overwhelmingly positive reaction to the Chevy Volt … we can only expect more enthusiasm and acceptance of this technology in our region in the years to come," Mitchell said in a blog post following the event.
Test drives are one thing: Buying a PEV is another.
Michigan's Center for Automotive Research noted Indiana has virtually no statewide incentives for buying a PEV. In contrast, Colorado has six, including a state tax credit of up to $6,000.
Locally, however, Project Plug-IN is offering a $10,000 subsidy on the $36,495 Think City sold in the Indianapolis area, thanks to a federal stimulus grant.
That subsidy, plus a $7,500 federal tax credit, knocks down the cost of a Think to just under $20,000.
Mitchell estimates enough grant money remains to subsidize purchases of another 150 to 200 PEVs in the metro area.
About half the Think cars sold locally have gone to corporate fleets of Energy Systems Network partners such as Indianapolis Power & Light Co. and Duke Energy. The state of Indiana also has 15 vehicles in its fleet.
Daily driver
Commuting with a Duke car between his Noblesville home and Duke's Indiana headquarters in Plainfield is employee Lew Middleton.
Even under the Think City's shortest-range scenario (extreme winter driving with the heater running), he can still make the 42-mile trip with electricity to spare.
At work, he plugs into a charging station so the City is fully charged by quitting time. At home, Middleton plugs into a 240-volt charging station—one of 47 the utility has installed in the region.
He's driven the car long enough to appreciate its quirks.
For one, the battery pack's location in the floor improves the center of gravity. The wall of air pressure caused by a passing truck doesn't toss the small car about as one might expect, Middleton said.
He can also hit 65 mph on the interstate, although it reduces range. An economy setting allows lead-foots to enforce miserly driving. A couple of gauges on the dash also tell how much electricity is being used at a given time.
"The neatest thing of all is driving by the gas station," Middleton said.
Infrastructure buildout
Motorists aren't the only ones learning to live with electric cars.
Duke is measuring how much these battery beasts draw from its grid. A device on Middleton's at-home charging station relays information to Duke, which also is crunching data from other charging stations to predict effects of mass-deployment of PEVs.
Under Project Plug-IN, the region now has more than 100 charging stations. Indianapolis Power & Light has installed 32 chargers in homes and businesses, said IPL spokeswoman Crystal Livers Powers.
The first commercial unit for public charging was scheduled for installation in late May at Denison Parking's Merchants Garage downtown. The cost per charge will be $2.50, Powers said.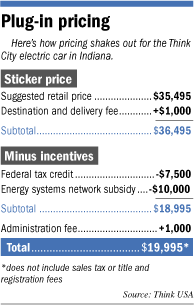 IPL was the first Indiana utility to get regulatory approval for so-called time-of-use rates, which make it cheaper to charge during non-peak hours such as late at night.
Project Plug-IN members are also studying commuting and employment corridors to identify where public chargers might be suitable farther from the city core. If people start to see more chargers available where they work, they're likely to be more inclined to buy such a car, Hill said.
Options growing
Meanwhile, more PEVs are heading to the market.
Chevrolet is selling or about to sell the Volt in California, Connecticut, New Jersey, New York, Michigan, Texas and Washington, D.C.
The vehicles won't be widely available in the Indianapolis area until the fourth quarter, according to Hare Chevrolet in Noblesville. The dealership is fixing to accept orders this summer.
Nissan is selling its Leaf PEV first in Arizona, California, Oregon, Tennessee and Washington. Like the Volt, the Leaf could be in local dealerships late this year.
Toward the end of the year, Ford is expected to begin selling an electric-powered Focus in 19 cities. It's not clear when Indianapolis could see the car, although in April the automaker said Indianapolis was showing substantial progress building infrastructure and enlightening consumers.
Project Plug-IN's goal is at least 1,000 PEVs rolling on local streets by the end of the third quarter next year. The third phase of its pilot anticipates 4,000 plug-in electrics here by the end of 2013.
"We're really hoping to be the lead city in the Midwest," Mitchell said.
Winning the hearts and minds of motorists may take a path mindful of when the first Japanese cars hit American shores decades ago, Hill said.
Back then, the few Toyota dealers were in bigger cities. People in rural areas worried what would happen if their cars broke down. Not until they saw the cars in neighbors' driveways did they begin to have confidence in the models.
Given the plump sticker prices, limited range and limited passenger-carrying capacity, Hill reckons the first PEVs may well find a home initially as a second car in many households.•
Please enable JavaScript to view this content.