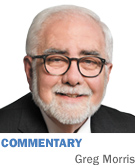 The city is abuzz about how to fill the vacancy caused by Nordstrom's departure from Circle Centre mall. Here's my 2 cents: Dillard's is the perfect department store to fill all 210,000 square feet.
Indianapolis has been ignored long enough. It's time to bring Dillard's here, and the Circle Centre opening presents a great opportunity.
While Indiana has three Dillard's stores (Richmond, Evansville and Clarksville), the chain is most popular in the Southeast and Southwest. Texas has the most stores, 61, while Florida is second, with 42. These two states represent about a third of the approximately 300 stores doing business today. I've always thought of Dillard's being primarily in the South, but the company operates in 29 states and neighboring Ohio has 15 stores—four in Cincinnati.
My family has made a lot of trips to Florida over the years. One activity that's usually on the agenda is a trip to Dillard's. In recent years, we frequent the Dillard's at the Simon Property Group-owned Coconut Point Mall in Estero. That is an awesome mall—and an awesome Dillard's.
What's so special about Dillard's? It reminds me of the old L.S. Ayres department store here in Indianapolis. I'm not talking about Ayres as it was in the final years before it went out of existence in 2006. I'm talking about the Ayres that dominated Indianapolis shopping for decades.
For years, Ayres was considered the best department store in town. It had great variety, great service, great-looking and well-laid-out stores, upscale brands and quality merchandise at affordable prices. That's what I think of when I visit Dillard's in Florida.
Did I mention Dillard's is my wife's favorite department store, and she can get lost in there for at least a couple of hours? It's a sight to behold—the anticipation, the excitement of the hunt, and the satisfaction of finding a great bargain on a name brand.
Dillard's frequently has great sales. Even an occasional bargain hunter like me can score a $795 Hart Schaffner Marx suit marked down three times for around $300, including tax. Ah, that was a good deal this past January. Love that.
Dillard's shouldn't be afraid of Nordstrom's low sales at Circle Centre. Dillard's has a good inventory mix for that location, which serves downtown residents and workers, convention-goers and destination visitors. A Dillard's in Circle Centre would offer a unique enough experience that it would draw plenty of shoppers from the surrounding area.
From an operational standpoint, Dillard's has to be doing more than a few things right. Based in Little Rock, Ark., Dillard's Inc. has annual sales of $6.2 billion. It recently reported record first-quarter profit and earnings per share at a time many retail companies are struggling.
Revenue for stores open at least a year was up 11 percent in April. This is a key measurement of a retailer's health because it focuses on established stores and excludes results from any new or closed locations during the year. In addition, Dillard's stock price has basically doubled in the past 12 months. So, the company seems solid.
I'm a sales guy at heart. So, I've decided to offer my services to the city and the Simon organization to help with this initiative. I'm happy to go to Little Rock and meet with key executives from Dillard's and help get this deal closed. I'll even forgo my customary fees to help out the cause.
I'm telling you this is a good idea. We need to get Dillard's signed up, moved in and settled in time for the holiday selling season. Doesn't that start the end of October these days? We're burning daylight. Let me know how I can help.•
__________
Morris is publisher of IBJ. His column appears every other week. To comment on this column, send an e-mail to [email protected]
Please enable JavaScript to view this content.