In the past, it might have been fairly easy to dismiss the summer in Indy. Once you got past the concerts by touring rockers, the blockbuster summer movies, and Symphony on the Prairie, there wasn't a lot that needed to be planned for.
But Indy is evolving. And summer is no longer a time when an A&E lover has to put esthetics and adventurousness on hold.
Here, then, is the first of what I hope will be many summer A&E previews. Remember to report back on what you see on my You-review-it blog each Monday at www.ibj.com/arts.
New this year
Let's start with the first-timers.
The Center for the Performing Arts in Carmel launches its first summer season, which includes Indigo Girls (July 10), Emmylou Harris (July 13), Michael McDonald and Boz Scaggs (July 17), Lyle Lovett (Aug. 20), and a surprise in the mix—comic actor Martin Short (Aug. 27). Expect the mezzanine seats to sell out quickest. Details at www.thecenterfortheperformingarts.org.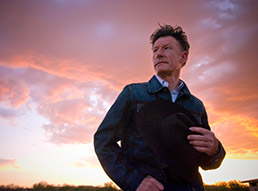 Lyle Lovett (Photo Courtesy The Center for Performing Arts)
Indy will be hosting the ComedySportz World Tournament, with teams coming in from the United Kingdom, Germany and Chicago. New to ComedySportz? It's family-friendly competitive improvisation featuring two teams and a referee. Audience shout-outs are encouraged—although you'll get slapped with a brown-bag fowl if you contribute anything off-color. While the Indianapolis branch of CS performs weekly on Mass Ave, this is the first time the national tourney will be held here. Matches will be held July 20-23 at the Athenaeum. Details at www.indycomedysportz.com.
The summer-ending Rib America Fest (this year featuring The Doobie Brothers, KC & the Sunshine Band and Jonny Lang) gets some finger-licking competition from the new, mid-summer Indy Rock and Roll BBQ. The July 1-3 event, held in the Victory Field parking lot, features Loverboy and the Charlie Daniels Band. Visit indyrockandrollbbq.com for more details.
There may be fewer concerts this season at Verizon Wireless Music Center, but just a bit north on Interstate 69, Hoosier Park is picking up some of the slack with a full music season including Smokey Robinson (July 2) and Lynyrd Skynyrd (Sept. 3). Details at www.hoosierpark.com.
While the withdrawal of Indiana University Theatre from Brown County Playhouse offers one less reason to trek to Nashville, that town's loss is Bloomington's gain. IU Bloomington launches an Indiana Festival Theatre this summer featuring performances of "The Music Man" (June 23-July 9), "The Comedy of Errors" (July 13-30) and "Ah, Wilderness!" (July 20-31). Details at www.indiana.edu.
Festive happenings
Speaking of festivals, the Indianapolis Early Music Festival will be offering its 45th season with performances including Tempesta di Mare (June 26), "Viva Vivali with Ronn McFarlane" (July 10) and Sacabuche (July 24). For a full schedule, visit www.emindy.org.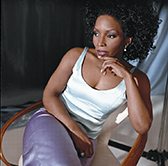 Stephanie Mills (Photo Courtesy Indiana Black Expo)
The July Indianapolis International Film Festival and the August Indy Fringe fest have yet to announce their seasons, but we do know that Indiana Black Expo Summer Celebration Music Heritage Festival includes Heads of State (with Bobby Brown), S.O.S. Band and Stephanie Mills. And that Janet Jackson will be headlining an Aug. 17 concert at the Indiana State Fair. Also on the Grandstand stage, Mercy Me (Aug. 10), Sugarland with Sara Bareilles (Aug. 13), Train and Maroon 5 (Aug. 18), and Lady Antebellum (Aug. 19). Details at www.in.gov/statefair.
And, if all goes to plan, Heartland Actors Repertory Theatre brings back professional outdoor Shakespeare to White River State Park, albeit with a more serious tone than previous years, with "Julius Caesar" (July 29-31).
Keeping the season going
The Phoenix Theatre has never lived by the seasonal notion that shows shouldn't be scheduled into June. This year, that means continuing its just-opened regional theater premiere of "Avenue Q" through at least July 10 (I smell an extension) and running a lesser-known play, the graphic-novel-inspired "With a Bang" opening July 14.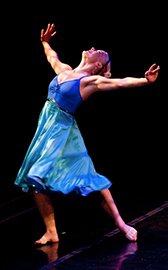 Dance Kaleidoscope (Photo Courtesy Crowe's Eye Photography)
Beef & Boards Dinner Theatre, too, runs all year long, with its currently running "Cinderella" continuing through July 1, followed by "Church Basement Ladies 2: A Second Helping." At Theatre on the Square, the beginning of June is turned over to new Indy company Betty Rage Productions with its "Five Women Wearing the Same Dress." Later in the season comes TOTS' own "Red, White and Tuna." Details at www.tots.org.
Dance Kaleidoscope used to head to Oregon for a chunk of the summer. Now it's staying put—to the advantage of local dance fans who can sample highlights of past shows at Summer Sizzle, July 21-24 at the Indiana Repertory Theatre. Details at www.dancekal.org.
The Cabaret at the Columbia Club also will be keeping the microphone warm all summer with Signature Series performances by Darrian Ford (celebrating the Sam Cooke songbook July 8-9) and Liz Callaway, a standout at the Cabaret's former venue, playing the new room Aug. 26-27. Acts not traveling quite so far include Brenda Williams (June 17), Deb Mullins (Aug. 12-13) and a multi-artist show titled "Bella Latina" (July 29). Details at www.thecabaret.org.
Summer returnees
The Indianapolis Symphony Orchestra's Symphony on the Prairie season begins June 25 with a one-night-only "American Landscapes" program, followed by the traditional "Star Spangled Symphony" patriotic set July 1-4. After that, you can pretty much pick your pops, with appearances by Christopher Cross (July 8-9), Arlo Guthrie (July 22) and Michael Cavanaugh (covering Billy Joel and Elton John tunes Aug. 5). Near the end of summer, ISO-less programs in the series include Lee Ann Womack (Aug. 26-27) and Big Bad Voodoo Daddy (Sept. 3-4). Details at www.Indianapolissymphony.org.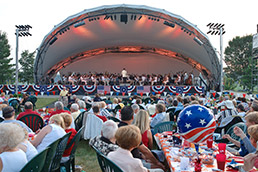 Symphony on the Prairie (Photo Courtesy Indianapolis Symphony Orchestra)
The music has already begun in this summer's Concerts on the Canal Thursday series outside the Indiana History Center. Upcoming performers include Orquesta Bravo! (June 16) and Actors Theatre of Indiana offering "Song We Knew During World War II" (July 28). Full schedule at www.indianahistory.org.
There's also a good chance that a park near you features live music. Go.
Concerts and more
And then, of course, there are headliner concerts.
The Lawn at White River State Park hosts its strongest lineup yet, with Alison Krauss returning on June 9, Florence + the Machine playing 4th of July, O.A.R. on July 22, Ke$sha on Aug. 23, and much more. For a full schedule, visit www.inwhiteriver.wrsp.in.gov. Verizon Wireless Music Center hosts Kenny Chesney (June 24), Styx and Yes (July 19), Journey (Aug. 6) and, of course, Jimmy Buffett (Aug. 25), plus a lot more. Full schedule at www.livenation.com. And if you want to stay indoors, Old National Center will showcase Kenny Rogers (June 25), The Monkees (June 26), Steely Dan (July 15), Jennifer Hudson (July 19), Jerry Seinfeld (June 23), Return to Forever (Aug. 21) and more on the Murat stage. Meanwhile, the likes of Matisyahu (July 13), Yellowcard and Good Charlotte (June 18), and 100 Monkeys (June 29) will play the Egyptian Room. More at www.livenation.com.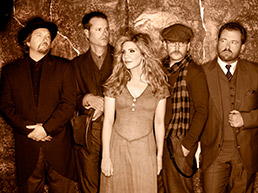 Alison Krauss and Union Station (Photo Courtesy The Lawn)
There's a lot that I've missed, so if you haven't already, sign up at www.ibj.com/newsletters to get my weekly IBJ A&E e-mail blast of critically selected previews plus chances to win tickets.•
Please enable JavaScript to view this content.