John Kohlmeyer's mother had yet to step into a car showroom. She was merely looking for a vehicle online, but already was worn weary as if she'd played the insipid negotiating game for hours.
Online coupons leaped from dealer websites with a startle. Photos of fictitious customers, culled from a stock photo library, had smiles so sickeningly wide that even Norman Vincent Peale would wince.
"There were fireworks going off. Pigs fell from the sky. It was a mess," Kohlmeyer said of his mother's Web encounters.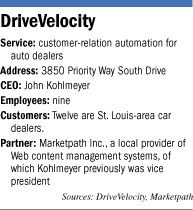 But his mother's necessity became the mother of invention, inspiring Kohlmeyer to create a company to not only overhaul dealer websites but also package all their Web-based customer-relationship tools.
The former vice president of product development at Indianapolis-based Web content management firm Marketpath last year created DriveVelocity, now a nine-person firm.
It's still in the early stages of growth, but has a huge potential market: 30,000 to 35,000 auto dealers nationwide.
So far, DriveVelocity has a handful of customers, including the St. Louis-area dealerships of Lou Fusz Mazda and Lou Fusz Toyota.
Kohlmeyer said he was able to create DriveVelocity virtually without outside investment, thanks to hiring an employee who had extensive dealer relationships in St. Louis.
"We were lucky enough to land most of our initial customers quickly," he said.
The upstart firm has yet to target the Indianapolis market, but has it in sight.
To minimize IT headaches for dealers, DriveVelocity is offering its product as software-as-a-service; it hosts the software rather than the dealer.
Kohlmeyer's former employer, Marketpath, is contributing its Web content management solutions. They enable dealer staff to manage everything remotely and to edit the site.
"The dealer website approach is more about establishing a relationship with the buyer/owner and less about loud sales gimmicks," said Matt Zentz, founder and CEO of Marketpath.
Added Kevin Kennedy, Marketpath's chief marketing officer: "If a customer enters from an e-mail newsletter link, we know who they are and present them a personalized experience on the website."
That might consist of coupons targeted for upcoming service needs.
A dealer also can feature the customer's particular service or sales advisers, along with his vehicle's maintenance history. Or it can showcase the shiny new-car model the customer checked out during a previous visit to the site.
"It really makes the customer feel like they're part of something," said Phil Fusz, principal of Fusz Toyota.
The service includes analytics from Marketpath that allow dealerships to observe customer behavior.
For example, a dealership might send out 20,000 or more e-mails a month to customers. If a customer visits a dealership and turns down recommended service—say brake work—the customer will receive an e-mail with an embedded video of his service adviser describing the importance of brake service.
DriveVelocity may produce 40 unique videos at a dealership—a time-consuming process.
Touting simplification
DriveVelocity's overhaul of dealer websites includes making them more restrained in their use of text and graphics. Typefaces are big and categories organized. It's heavy on telling visitors about the dealership and its team. And there are photos of the actual team—an occasional beer belly and all—instead of some male model pretending to be a mechanic but who wouldn't know whether the wrench in his hand was a crescent or a socket.
Images of new vehicles scroll at the bottom, intended to make searching inventory easier.
The idea is to cut a dealer's website costs and eliminate the need to deal with separate vendors for such things as newsletters, video and e-mail marketing.
Traditionally, a dealer may shell out $12,000 a month buying such services a la carte. While Kohlmeyer said it's too early to break out prices for his overall package, which is still under development, he said it will be compellingly less than what dealers pay now.
"Websites/Web ads absolutely cost dealers a lot of money every month," said Marty Murphy, executive vice president of the Automobile Dealers Association of Indiana, who was not familiar with DriveVelocity.
"Almost every dealer has an Internet service manager now. I'm sure some of the multiple-branded dealers in town spend every bit of $10,000 a month."
Fusz said DriveVelocity also has a sophisticated interface with social media sites. "They're definitely cutting-edge."
Growth plans
DriveVelocity and Marketpath are still quantifying results from its initial customers, something they'll need to nail down before knocking on more doors.
Zentz of Marketpath said preliminary results at Fusz Mazda show page views are up 28 percent, with pages per visit up 42 percent. Kohlmeyer said newsletters have had an open rate of 21 percent, which is considered good in many e-mail marketing campaigns.
Marketpath also gets Kohlmeyer back, in a sense. DriveVelocity is leasing space in Marketpath's offices. The new dealer-services firm has three employees in Indianapolis, with about half a dozen more in the St. Louis area.
Kohlmeyer hopes that, within six months, at least 20 dealers are using DriveVelocity. He's shooting for 50 dealers within 12 months.
The DriveVelocity/Marketpath partnership was a finalist in this year's Mira Awards, bestowed by local technology initiative TechPoint.•
Please enable JavaScript to view this content.