If you thought the education reforms of the past legislative session were sweeping, there's more to come.

Gov. Mitch Daniels and Indiana state schools chief Tony Bennett are moving Indiana toward a system in which each public high school essentially guarantees that its students have acquired the knowledge and skills necessary for college or career-focused post-secondary training.

The effort is in early stages, and will take several years before details are fleshed out—longer than either Daniels or Bennett has left in their current terms in office.

But Bennett already uses the same black-and-white moral language about the idea that he did to push the overhaul of school funding, collective bargaining and teacher evaluations through the Legislature this year.

"We have a moral obligation and an economic development obligation to make sure every child is college-and-career ready," Bennett, who is up for re-election in 2012, said during an interview in May.

Asked whether his agency, the Indiana Department of Education, is working on guarantees for high schools, Bennett smiled and said, "Not yet."

Indiana is by no means alone in focusing on college-and-career readiness. A group of states, using money from President Obama's Race to the Top program, is trying to develop a system of tests culminating with an 11th-grade exam that would determine

if a student was ready to graduate. Indiana is one of 25 states in the consortium, called Partnership for the Assessment of Readiness for College and Careers, or PARCC.

It would not be the first time state officials touted a test—such as ISTEP or the SAT—as a marker for career readiness. But state officials working on the effort say it would be tailored more to needs of this century's economy.

It's not clear how state policymakers would encourage, or perhaps even force, high schools to ensure their graduates are prepared for college and careers. The most likely steps would be to publicize percentages of students passing the 11th-grade test, as is now done with ISTEP scores.

Also, college readiness likely will scount for about 25 percent toward the A-F grades the Department of Education will assign each high school. Readiness will at first be determined by percentages of a school's students passing advanced placement tests and earning college credits through dual-credit programs.

But if Indiana adopts an 11th-grade assessment, it would likely become a key indicator in schools' grades.

Finally, there is some desire at the

Indiana Commission for Higher Education to stop funding remedial courses at Indiana's four-year state universities, meaning they would end their practice of accepting large numbers of unprepared high school graduates. That could put enormous pressure on high schools to get students up to speed to gain admission to those schools.

"Essentially, it's a breach of warranty," Daniels said of the practice during a May 2010 meeting of the Indiana Education Roundtable. "Except that [colleges] or the students themselves have to pay for what wasn't done right the first time."

A high school guarantee could be based on things beyond a standardized test. Daniels and Bennett have expressed interest in a similar readiness guarantee system being created for colleges and universities by Indianapolis-based Lumina Foundation for Education.

Launched in January, Lumina's Degree Qualifications Profile tries to systematize skills students must prove at the associate's, bachelor's and master's levels. Lumina says tests, projects and portfolios all could be used as proof of mastery.

Lumina drew inspiration from Europe, where a bevy of different education systems in the 27 countries of the European Union necessitated a standard description of skills attainment that students must meet—and that employers can rely on.

Whatever system Indiana comes up with, the goal is clear: Curtail or even end the widespread practice of graduating students who require extensive remediation at post-secondary levels.

"It's inevitable because, I think, the question that gets raised is, 'Who pays for the remediation?'" said Dan Clark, executive director of the Indiana Education Roundtable and a former lobbyist for the Indiana State Teachers Association.

Each year Indiana spends $90 million remediating high school students at the college level, according to a study by the Alliance for Excellent Education.

Indiana high schoolers currently are required to pass Algebra I and English 10 exams after completing those courses. A third of students never do and instead apply for a waiver of the requirement in order to still get a diploma.

Such high failure rates—as well as "testing burnout"—could make an 11th grade assessment a tough sell politically, said Derek Redelman, a lobbyist for the Indiana Chamber of Commerce, who favors the guarantee idea.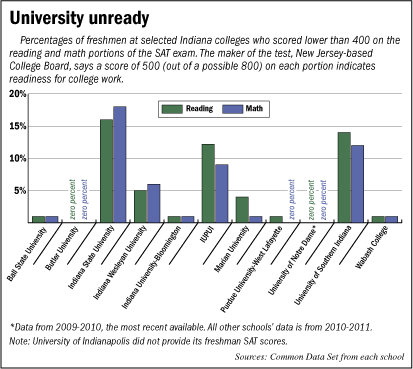 And Teresa Meredith, an elementary teacher in Shelbyville and vice president of the ISTA, worries that a high school guarantee will be yet another initiative that fails to account for the complex challenges schools and teachers face in getting students to learn—challenges that frequently arise from family problems, poverty or some other non-school factor.

"There's a fine line between what you can do in an educational setting and accountability for things that are beyond your control," Meredith said. "That outside influence still plays a huge impact on what goes on with that child at school."

Broad problems

The problem of student unreadiness is widely recognized.

SAT scores of incoming freshmen at Indiana colleges show substantial numbers of them are not ready for college. New Jersey-based College Board, the maker of the SAT, says a student ready for college will score 500 (out of 800) on both the reading and math portions of the test.

But fairly significant numbers of students at several campuses around the state score well below the threshold.

At IUPUI, one of eight students scored less than 400 on the reading portion of the SAT, and one of 11 were that low on the math test.

The numbers were similar at Purdue University's satellite campuses in Calumet, Fort Wayne and northwest Indiana, as well as at the University of Southern Indiana.

At Indiana State University, one of six freshmen scored below 400 on the SAT reading or math tests. And at IU satellite campuses in Richmond and Gary, more than one of five students scored below 400.

By contrast, about one in every 100 current freshmen at Indiana University's Bloomington campus, Purdue University's West Lafayette campus, Ball State University and the state's prestigious private schools scored less than 400 on either portion of the SAT.

And those numbers do not include students enrolled at Ivy Tech Community College, more than 50 percent of whom require remedial courses, according to Ivy Tech President Tom Snyder.

Snyder is focused on college unreadiness because Ivy Tech's research shows the vast majority of students taking remedial classes never graduate. And if they don't graduate, they don't get the training or credential they need to succeed in an economy where even factory jobs require post-secondary certificates and college degrees.

"We have a million workers that aren't really prepared for the work force today," Snyder said of Indiana.

By 2018, 63 percent of all jobs will require post-secondary education, up from just 28 percent in 1973, according to the Georgetown University Center on Education & the Workforce.

Meanwhile, accelerating globalization and rising education standards in other countries are pinching Americans who lack educational qualifications.

"American companies and employers in general are competing in that global marketplace, and they're seeing employees in other countries with skills that are very high or increasing rapidly," said Lumina Foundation President Jamie Merisotis. "Of course, the vast majority of American employers would prefer to hire Americans for those jobs, but they are in business, and they are going to find the most talented employees that they can."

Moving on

The state Legislature OK'd the possibility of an 11th-grade exam in this year's budget bill. An end-of-high school readiness test was first called for in 2006 by the Indiana State Board of Education, but lack of funding prevented any action on the plan. Until now.

The next step in the drive toward launching guarantees will be the formation of a task force by the Indiana Education Roundtable to make recommendations on college-and-career readiness assessments to state leaders.

Indiana could stick with its current system, in which students are deemed ready to graduate if they pass an Algebra I test and a sophomore English test. Also, they take the SAT or ACT, which colleges use for admission decisions.

Or Indiana could change its tests to the new system being developed by PARCC, which would provide one system of tests, taken every year from third through 11th grade. These tests would be based on the new Common Core standards, which Indiana adopted last year, and which are designed to prepare students for knowledge-intensive careers.

The tests would most likely gauge students on knowledge not merely of Algebra I, but of Algebra II, which Clark said is closer to the level students need in order to do professional training or collegiate math.

With a yearly test, educators could see as early as eighth or ninth grade whether a student is on track to be college-ready, said Clark, the Education Roundtable director.

That should give the school time to catch the students up before graduation, with remedial education taking place in high school, where costs are cheaper than at the college level.

And it might even let more advanced students move on to college work earlier, getting on to higher degrees faster.

"I would hope that, in the end, we could squeeze one year out of the high school-college continuum," Clark said.

The downside is that the testing system could come to crowd out other methods of proving student achievement, such as projects or writing portfolios.

"Accountability is a complex issue," said Gerardo Gonzalez, dean of the Indiana University School of Education. "While assessments can and should be used as an integral part of an accountability system, there is the tendency in this country to think that a good test will tell us everything we need to know about student performance or teacher performance or, in this case, college-and-career readiness."•