It's getting tougher and tougher to stay on the Monon Trail through Broad Ripple these days, what with more trailside eateries popping up. If not a fish taco from Monon Food Company, it's a cookie from Renee's. If not a snow cone from the hut at Westfield Boulevard, then it's ice cream from Brics. There's Mexican fare at the popular La Piedad, impeccable fries at Brugge, beers at Broad Ripple Brew Pub and, well, I could go on and on.

In a sense, Fire by the Monon (6523 Ferguson St., 602-8590) has a great location. But is "down the block" close enough to lure walkers when there's so much available "on" the Monon?

It helps that this newcomer emphasizes fresh, wood-smoked meats and produce from Indiana growers. These both helped elevate a substantial Smokey Bear burger ($9.50). The freshness of the meat combined tastefully with a blanket of smoked gouda. And while I prefer crisper bacon, there was so much on the burger that I could remove the fattier pieces and still have enough to flavor. The multigrain wheat bun proved a good choice.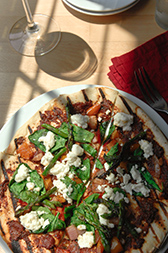 The Veggie flat bread was indeed appetizing, thanks to fresh peppers, sun-dried tomato pesto, spinach and goat cheese. (IBJ Photo/ Perry Reichanadter)
For my vegetarian guest, the River ($9.95) featured flavorful pan-fried salmon with lemon dill aioli, lettuce, tomato and onion—all of which was a bit overwhelmed by a brioche bun. Side choices were sweet potato fries, French fries or beer-battered onion rings (nice to see there's no upcharge for the onion rings). A Nero salad ($4.95/$9.95) proved a bit pricy, but the romaine hearts, smoked grape tomatoes and grilled asparagus got along nicely with the not-too-fiery "firey" chili oil.

Appetizers are limited for now to a soup of

the day and a selection of flat breads. The first few bites of the Veggie flat bread ($7.95) were, indeed, appetizing thanks to fresh peppers, sun-dried tomato pesto, spinach and goat cheese. But such dishes are meant to be enjoyed while hot. Our entrees arrived too soon, distracting us from the flat bread, which had lost much of its charm by the time we got back to it.

Fire by the Monon offers indoor and outdoor dining. While the interior proved friendly and comfortable, it would have been nice if someone had realized the music in the kitchen was louder than the (different) music in the dining room. Details, folks. Details.•


__________

First in a month-long series of reviews of "heated" eateries.