A quiet but prolific local developer who in the late 1990s bought and revitalized two of downtown's most recognizable buildings has filed for bankruptcy after making a doomed bet in Arizona.
Bruce A. Bodner lists assets of less than $1 million and liabilities of $10 million to $50 million in his May 27 Chapter 11 filing in U.S. District Court for the Southern District of Indiana.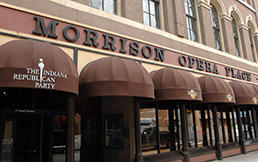 Bruce Bodner bought the Morrison Opera Place building in 1997. (IBJ Photo/ Perry Reichanadter)
Bodner owns CVS stores in Edinburgh, Tipton, Brazil, Kokomo and Anderson; strip centers in Fort Wayne and at 38th Street and Emerson Avenue in Indianapolis; and Morrison Opera Place at the corner of Meridian and Maryland streets. He sold the King Cole Building at Meridian and Washington streets in December 2010.
The local properties kick out about $25,700 per month in distributions to Bodner, court filings show, and each appears to have a reasonable debt level.
Not so for Bodner's lone commercial property outside of Indiana: a 62-acre spread in Avondale, Ariz. where he had hoped to build a more than $100 million mixed-use project anchored by Hollywood movie studios.
Entities controlled by Bodner owe Chicago-based Harbor Properties and Oak Brook, Ill.-based Inland High Leverage Capital a total of $21.6 million for the Avondale Live project, which sits in one of the hardest-hit markets in the housing bust and recession, the bankruptcy filing says. The rest of the properties Bodner lists in the filing carry a total debt load of about $20 million.
Bodner said his eponymously named company, which is headquartered in Morrison Opera Place, is still open for business but had to reorganize after the Arizona project failed to come together as planned.
Undeveloped land in Arizona is fetching a fraction of what it was worth during the boom.
"I made an investment in Arizona in some land, the economy collapsed, and that is what caused the problem," said Bodner, 59.
He declined to elaborate on the bankruptcy filing or say whether the five employees listed on the company website are still working for him.
A state senator in Arizona likely twisted the knife on the Avondale Live project in April, when he killed a bill to renew movie-industry tax incentives that had expired at the end of 2010.
Plans for the $100 million first phase of Avondale Live had called for seven movie studios, a support facility with set-building and wardrobe operations, and a six-story parking garage, The Arizona Republic reported. Later phases would have added space for retail and residential elements.
The project could have created up to 1,000 jobs and brought as much as $300 million per year in economic activity to the western Phoenix suburb, which sits along Interstate 10 about six hours from Los Angeles.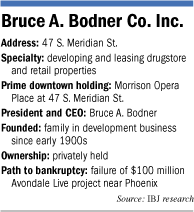 Bodner perhaps is best known locally for his ownership of two of downtown's most prominent buildings: Morrison Opera Place and the King Cole Building.
He was a bit of a downtown pioneer, buying the mostly vacant buildings in 1997 and 1998, a few short years after Circle Centre mall opened. Bodner landed Hard Rock Café for Morrison Opera Place and Qdoba and eventually Jimmy John's for the King Cole. He initially had planned to convert the upper floors of the King Cole from office space into condos, but the project did not materialize.
He sold the King Cole to an entity known as King Cole Investors LLC; who is behind the company is unclear since it was registered by a law firm.
The bankruptcy filing shows Bodner has a home in Zionsville and condo along Lake Shore Drive in Chicago. The Indiana home carries a mortgage of $383,000, against an estimated value of $505,000; the condo is worth $600,000 and is encumbered by two mortgages totaling about $467,000.
Schedules listing Bodner's personal assets and liabilities—including bank and investment accounts and cars—were due June 10, after IBJ's print deadline.
More developers could follow Bodner into bankruptcy as owners and lenders try to reconcile loan balances due for renewal with lower commercial property values, said Charlie Greer, a veteran Indianapolis bankruptcy attorney who is not involved in the Bodner case.
Greer said Chapter 11 bankruptcy can be a good option for an individual with ownership interests in several properties. The filing could stave off foreclosure and force creditors into agreeing to a payment plan.
The filing notes that Inland has filed a judgment lien of $6.9 million against Bodner's condo in Chicago. It was not clear whether the holders of the Avondale Live debt could go after equity in other commercial properties he owns.
A meeting of creditors in the case is scheduled for July 5.•
Please enable JavaScript to view this content.