WTHR-TV Channel 13 retained its position during the May sweeps period as the most-watched station for news in central Indiana, earning top ratings among the four local television newscasters during eight of the 10 time slots in which it airs local news.
General Manager John Cardenas has stopped the news ratings slide at WTHR.
WXIN-TV Channel 59 continued to make gains, especially in the morning, when it led in several categories. WISH-TV Channel 8 lost ground overall but still hung onto No. 2 during several news slots. WRTV-TV Channel 6 continued at No. 3 and 4 during all newscasts.
Under General Manager John Cardenas, who joined the station in June 2010, WTHR stopped the ratings slide the station began experiencing last year. In the February sweeps period, nine of its 10 newscasts had seen a ratings decline compared to the same period a year earlier.
In May, WTHR saw ratings gains in seven of 10 news slots—and held even in another—compared to May 2010.
Most time slots had single-digit percentage gains. But WTHR's 6 p.m. newscast saw a 21.2-percent ratings increase, according to New York-based Nielsen Media Research. Local media buyers attributed part of WTHR's early-evening gains to the swan song of "The Oprah Winfrey Show," which aired from 4 p.m. to 5 p.m. before going off the air late last month.
Nielsen has sweeps periods in February, May, July and November, and ratings during those periods set TV advertising rates. Advertising during local TV newscasts make up 40 percent to 60 percent of a local station's revenue.
"Advertising during the local news is a TV station's most important revenue stream because it's the only inventory affiliates have total control over and don't share with the networks," said Ball State advertising professor Bob Gustafson.
Cardenas said WTHR stopped its slide by "solidifying and improving the product."
Cardenas started to make his mark at WTHR, an NBC affiliate, shortly after taking over for the late Jim Tellus last year. He made several staff changes, including hiring Brian Fields as research director last June; adding Keith Connors, who was hired away from a Houston station, as news director in January; and naming Amy Parrish to the newly created digital media director position in April.
Despite its May gains, WTHR still has concerns, said Rick Doyle, media director of Indianapolis-based MZD Advertising.
"I think there has to be some concerns with Oprah going off the air and the quality of NBC's prime-time shows," Doyle said. "It's been amazing what WTHR has done in the ratings with its late-night news, considering the quality of the lead-in programming."
NBC's prime-time programming from 8 p.m. to 10 p.m. lags all the other major networks, and was more than four ratings points behind Fox and CBS. Each rating point equals 1.1 million households nationally and 10,720 central Indiana households.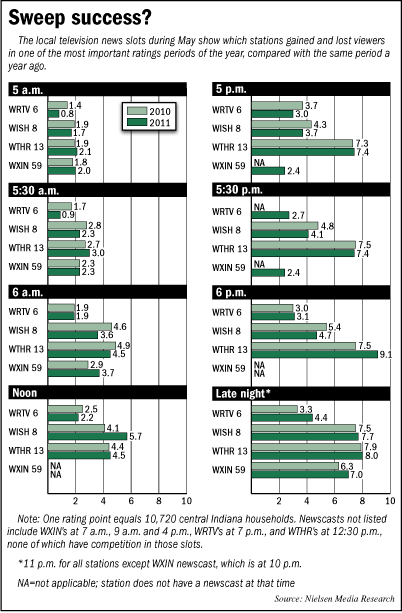 Despite NBC's woes, WTHR earned an 8.0 rating for its 11 p.m. news, ahead of WISH's 7.7 and WRTV's 4.4. WXIN broadcasts a 10 p.m. newscast.
WXIN is turning heads in the morning. In May, the station was either No. 1 or No. 2 in all of its morning news slots, with an 8.5-percent increase at 5 a.m. and 9.2-percent increase at 7 a.m. compared to May 2010. At 9 a.m., when it's the only local station broadcasting news, WXIN saw a 30.5-percent increase from a year ago.
The station hasn't missed a beat since Jerry Martin exited Feb. 25 as general manager and was replaced by Larry Delia in mid-April.
Under Martin, WXIN increased its per-week news programming from 18.5 hours to 50 hours. WXIN News Director Lee Rosenthal said Delia has the same kind of commitment to local news.
"No one can say they're growing like we are," Rosenthal said. "We feel like viewers are clearly saying, 'We want a different option,' and that's us."
WXIN's 4 p.m. newscast increased its ratings 29 percent compared to the same period a year ago, but its 5 p.m. newscast, which was launched last year, still ranks No. 4. WXIN's 10 p.m. newscast earned a 7.0 rating, up 11.5 percent from last May. That's ahead of WRTV's 11 p.m. newscast and closer to WISH and WTHR than it has been in previous months.
"WXIN is programming news when others aren't and they're appealing to a younger audience," Doyle said. "They're gaining market share because of those things."
Despite a less than stellar book, WISH held on to the No. 2 spot during the early and late evening news. One bright spot for WISH came at noon, where its ratings were up 39 percent, from a 4.1 to 5.7 rating.
Of particular concern for WISH were declines of 16.6 percent at 5:30 a.m. and 21.9 percent at 6 a.m.
"It wasn't our best performance in the morning," said WISH General Manager Jeff White. "WXIN is becoming more of a factor, and that's leveling the playing field."•
 
Please enable JavaScript to view this content.