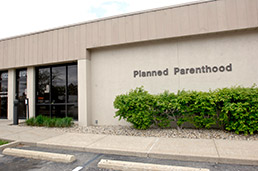 A federal judge received final arguments Tuesday in Planned Parenthood of Indiana's request to block a tough new abortion law that makes Indiana the first state disqualifying the organization from providing general health services under Medicaid and taking away $1.4 million of its public funding.
The arguments set the stage for a ruling by U.S. District Judge Tanya Walton Pratt, possibly within days, that could determine whether Planned Parenthood continues to receive the funding. It says it needs the money to provide cancer screens and other general health services to 9,300 Medicaid clients, both men and women, served by its 28 health centers across Indiana.
Pratt has said she would rule before July 1, but at a hearing June 6 indicated she hoped to rule before Monday, the day Planned Parenthood has said it anticipates running out of donations that have funded care for Medicaid clients since Gov. Mitch Daniels signed the law last month.
A nine-page brief submitted by Planned Parenthood attorney Ken Falk of the American Civil Liberties Union argued the judge should defer to Medicaid Administrator Donald Berwick. Berwick sent a letter to his Indiana counterpart on June 1 saying federal law states beneficiaries can obtain general health services from any qualified provider and the mere fact that Planned Parenthood performs abortions separately does not disqualify it from the state-federal health insurance program for needy and disabled people.
Indiana Solicitor General Thomas Fisher, in his final, eight-page brief filed Monday, said Berwick's letter was "merely the first step" in a lengthy process that could last months over whether Indiana can legally disqualify Planned Parenthood.
Falk has said the law made Indiana the first state to deny Medicaid funds to Planned Parenthood for general health services.
Pratt, during June 6 oral arguments on the injunction, asked Fisher and Falk to file briefs on a legal test known as the Chevron deference that comes from the Supreme Court ruling in Chevron v. Natural Resources Defense Council. Chevron deference generally means that judges do not substitute their own interpretation of agency rules for a reasonable interpretation made by the agency.
Fisher said in his brief that the Berwick letter was not final and authoritative because Indiana can appeal his decision. Indiana opposes the injunction because even though Medicaid doesn't pay for abortions in most cases, the program may provide indirect funding by subsidizing some of Planned Parenthood's overhead costs.
Falk argued in his brief that the letter entitled Berwick to deference.
The law has spurred about $100,000 to donations to Planned Parenthood to cover general health services to Medicaid clients. Once the money runs out, and if Pratt denies the injunction, Planned Parenthood will have to close seven of its 28 health centers that served nearly 21,000 patients of all types last year and lay off 24 employees, Betty Cockrum, president of Planned Parenthood of Indiana, said in an affidavit filed in the case.
While the law cuts off about $1.4 million to Planned Parenthood, Falk and Fisher have agreed that as much as $5.3 billion in total Medicaid funding to the state could be at risk since Berwick rejected changes in Indiana's state Medicaid plan brought on by the law. Indiana had 60 days from June 1 to appeal his decision.
Please enable JavaScript to view this content.