With an economic recovery blowing against their backs, a number of Indianapolis-area companies saw growth slingshot ahead in 2010. Technology was a common field for this year's list of fastest-growing private companies, but some also specialized in mortgages, furniture and home health care.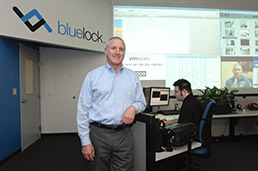 Christopher Clapp, who sold software firm Angel Learning for $95 million in 2009, has joined BlueLock as CEO. BlueLock grew nearly 10-fold in three years. (IBJ Photo/ Perry Reichanadter)
BlueLock LLC
Right place, right time—that's the story behind BlueLock Inc.'s meteoric 939-percent growth over the past three years, CEO Christopher Clapp said.
The company was founded in 2006 when almost no one had heard the term "cloud computing." Now, cloud computing is a burgeoning area of information technology, and BlueLock, which provides IT infrastructure—or servers—for companies to load their software applications onto, is among those at the forefront.
"The founders of the business saw this infrastructure as a service a long time before most of the market was seeing it," said Clapp, who took over from John Qualls in September as CEO after stints with Angel Learning and Made2Manage. "So now there's this intense interest in this particular model, and that's driving enormous activity."
Clapp also attributes the company's growth to landing some important clients, including the remnants of Lehman Brothers.
With the rise of cloud computing, BlueLock now faces what Clapp calls "enormous competition from new entrants into the field as well as other providers who are repositioning themselves to offer cloud services. But we feel like we've been able to take advantage of our innovation story and our experience to create separation."
The company is now positioning itself to work primarily with established midsize and large enterprises and offer technologies appropriate to them that mirror the technologies they use internally.
"I'd suggest that we're in the infancy of this market and there's tremendous excitement," he said. "The vast majority of it is in front of us, so we're positioning ourselves to grow with or ahead of the market and feel like we're in great position to do so."
Although BlueLock would appear to be poised to go public, Clapp said that's not a goal. Rather, its goal is simply to attract and satisfy clients, he said.
Stonegate Mortgage Corp.
With all the travails of the housing market, the idea that a mortgage company would be among the fastest-growing private businesses in Indianapolis—or anywhere—seems counterintuitive. But Jim Cutillo, president and CEO of Stonegate Mortgage Corp., said his company has two advantages: It never offered subprime loans, and two-thirds of the competition in the mortgage business is now gone.
So even though loan-origination volume has slid nationwide, from $1.5 trillion last year to about $1 trillion this year, there's more market share available to Stonegate.
The company Cutillo founded in 2005 after working for GMAC Residential Funding is taking the opportunity to grow. Stonegate now operates in 17 states and is ranked as one of the top 25 independently owned mortgage servicers in the country.
"We see significant opportunity to continue our growth," he said. Its expansion will continue in two ways—by acquiring loan originators in markets where Stonegate doesn't have a presence and by continuing to buy "third-party origination" loans from banks, mortgage companies and credit unions.
"Their choice is to sell the loan to one of the large money-center banks like Wells Fargo, Bank of America, Chase or Citi—or sell to Stonegate," Cutillo said. His pitch to those institutions is this: Stonegate isn't competing for their deposits since it's not a bank, and it can offer more personalized service to their customers.
Cutillo said Stonegate has fueled its growth organically and through small to midsize institutional investors. And expand, Stonegate is: The company plans to hire 300 people in the next five years and move into a new 30,000-square-foot office at the Precedent Office Park on the north side by September.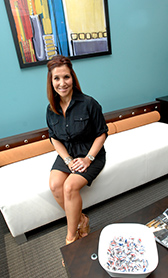 Growth at D2P has doubled every year, and President Rebecca Denison Schultz expects revenue to triple in 2011 as it signs big contracts with such customers as Cummins. (IBJ Photo/ Perry Reichanadter)
D2P LLC
Revenue has been doubling every year at D2P LLC. This year, President Rebecca Denison Schultz said, that will change: It will at least triple.
Schultz, whose Greenwood company offers a range of office design services, credits the growth to a strong partnership with Jasper-based office furniture manufacturer Kimball International Inc., support from a division of investor Cambridge Capital Management Corp. that works with women- and minority-owned businesses (Schultz is Native American), and D2P customers.
In the past couple of years, D2P has won contracts from Cummins Inc. worldwide, Clarian Health (now Indiana University Health) statewide, and Ivy Tech Community College.
The customers "wanted to support an Indiana manufacturer, which is Kimball Office; they wanted to support a minority dealer, which is us; and we came to the table with a service package that met their needs," she said. "That changed the speed of our growth."
D2P, which stands for Design 2 Perform, was founded in 2006 as a commercial design firm. Schultz gave the company the name because "you can have a great slogan, a great marketing package, show a pretty product, but at the end of the day if you don't perform … ."
In 2008, D2P became the Kimball Office select dealer for Indiana and transitioned to a commercial furniture dealership. Schultz is a registered commercial interior designer, and among the services D2P provides is helping companies use space most effectively and finding furniture designs that enhance corporate culture.
Her husband, Bill, a former Indianapolis Colt and president of the NFL Alumni Association's Indianapolis chapter, joined the company at that time as vice president of business relations.
Although D2P made the switch just as the economy bottomed out, Schultz said the timing turned out to be a plus.
"You talk about forcing a new company into best practices," she said. "We were lean and mean and aggressive from Day One. That's the way to run your business all the time."
MMY Consulting Inc.
In mid-2008, William Monachino began to focus his company, MMY Consulting Inc., on three lines of business—state government, health care and Google Apps implementation services (with Google as a partner).
The result has been strong, consistent growth.
"And we can always use more," Monachino said with a laugh.
MMY stands for Monachino, Monachino, You—meaning Monachino, his wife and you, the client or consultant. Monachino said the company has helped the state modernize computer systems.
In health care, MMY is helping clients meet the federal deadline to implement electronic medical records and to streamline the supply chain when big medical groups buy and need to integrate individual physician groups or smaller hospitals.
"Everybody talks about life sciences in this town and state, and that's a pretty broad brush stroke," Monachino said. "We're concentrating on the hospitals in town and helping them be successful."
And MMY works with clients to assist them in moving into the Google environment, which, among other things, will keep them from ever needing to buy hardware or software for their e-mail systems. MMY is the only enterprise level Google Apps partner headquartered in Indiana, Monachino boasts.
MMY plans to add as many as 60 jobs by 2015 and has already leased and equipped 5,000 square feet of office space at Keystone at the Crossing at an anticipated cost of $700,000.
"We need to keep expanding our footprint in Indianapolis and regionally," Monachino said. "The other thing we're going to do is add practice areas, like Google. Cloud [computing] storage is a hot topic in the industry today. So we're going to look for other industry trends we feel make sense to build a practice around."
Home Health Depot Inc.
Home Health Depot Inc. President Nathan Feltman attributes the company's growth to three factors, starting with an infusion of cash from private-equity investors that enabled expansion in Indiana, Illinois and Michigan. Then there was the acquisition of Right at Home Health Care Products, which gave Home Health Depot an e-commerce and catalog presence. And the company started a respiratory products division in 2010.
There's more: Home Health Depot benefited from the new federal health care law by partnering with hospitals.
"There's increased emphasis for hospitals to focus on what they do best—the acute-care side—so we've been able to partner with hospitals in Muncie and Indianapolis to do what we do best, which is the medical equipment side," said Feltman, a former president of the Indiana Economic Development Corp.
Home Health Depot, which more than doubled revenue last year, provides home medical equipment through retail stores and warehouses. Most often, it supplies the equipment, but among its five divisions is one that builds customized wheelchairs for pediatric patients suffering from degenerative diseases, as well as patients with disabilities such as traumatic brain injuries. Another division goes into homes to add accessories such as wheelchair ramps and bathtub access.
In the company's near future are plans to expand into Ohio and Kentucky, and go deeper into the three states where it has a presence. And, of course, "the demographics are in our favor," Feltman said. "We have the baby boomers retiring over the next couple of decades."
Feltman, also a former partner at Indianapolis law firm Baker & Daniels LLP, joined his longtime friend and Home Health Depot CEO David Hartley in business in August. He's enjoying his new career.
"It's incredibly rewarding," Feltman said, "because everything we do, hopefully we're helping somebody live a little bit easier and be a little bit more mobile or safer at home."
Knowledge Services
By adapting to ever-changing times, Julie and Joe Bielawski have built Knowledge Services from the information technology adult education training company Julie started in 1996 to a $57 million operation that helps other businesses deal with project management, contingent labor and related issues.
"Julie focused from the beginning on consistent employee career development and opportunity," Joe said. "So to be able to provide career advancement, you have to have a growth-oriented company, don't you?"
Knowledge Solutions evolved steadily, from providing IT training classes in a rented room to bringing the classes directly to companies (it's still one of the largest IT training partners for Oracle) to providing staff to help businesses work on a project for a few months to helping manage contingent labor.
The real growth has taken place in the last four to five years, the Bielawskis said, as their company moved into a variety of areas. The major ones include helping businesses identify and cut costs while creating efficiencies in their operation, and reducing co-employment risk. The big question they help answer is this: How do companies properly categorize individuals and deal with risk issues when they bring in workers who aren't permanent, full-time employees?
"We've become experts in that field," Joe said, "and that's led to the kind of growth we've had."
Their timing has been excellent: When the economy started to falter, companies shed employees and needed to take a hard look at their expenses. Knowledge Solutions "helped them identify and make decisions to reduce costs in ways they hadn't considered," he said.
Because those issues are here to stay, even as the economy rebounds, the Bielawskis said their company's future looks bright. They said they expect companies to be cautious about bringing back full-time workers, which means they'll need Knowledge Services' help to find the best employees and the proper staffing levels.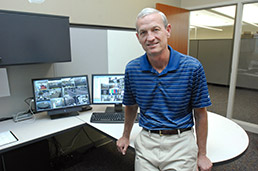 Dave Underwood's Exacq Technologies is benefiting from a boom in surveillance equipment. The firm develops software to manage cameras. (IBJ Photo/ Perry Reichanadter)
Exacq Technologies Inc.
There's technology behind all those video surveillance cameras you see everywhere, and that is what's behind the growth of Exacq Technologies Inc.
President Dave Underwood said the company is in a high-growth industry where the market is changing rapidly—from analog cameras and dedicated digital video recorders to Internet protocol cameras and video management system software.
"We have a very competitive product in that high-growth market," he said. "As that tide rises, we rise as well."
Exacq Technologies develops the software that manages the cameras. With its systems, real-time and recorded video can be viewed, managed and configured from any location on a network. The company sells its products to professional security integrators like Koorsen Security Technology, which then sell to the businesses, schools, hospitals and other enterprises that require surveillance.
Underwood said about 500 integrators around the world sell Exacq's technology to end users such as Coca-Cola, Nike and Apple, as well as locally to Carmel-Clay Schools and Community Health Network, among others.
With concerns prevalent about liability and theft, and businesses wanting to protect people and property, Underwood sees Exacq continuing to grow. The company ranked No. 173 on the Inc. 500 list of fastest-growing companies in 2010, and he said he's been notified that it's back on the list for 2011.
"We're growing in spite of a down economy," Underwood said. "There's tight budgets everywhere. Whether it's state or local dollars, school systems, it's tough out there for the end users to invest in our technology.
"But I don't see any short-term obstacles in terms of continued growth. We're going to grow in spite of the economy, in spite of our competitors."
One Click Ventures
Sunglasses, reading glasses, handbags, neckties, scarves, watches, travel accessories—One Click Ventures sells them all online through separate sites such as abcneckties.com, affordablescarves.com and handbagheaven.com. A combination of sales and acquisitions has led to the company's growth, CEO Randy Stocklin said.
Stocklin and wife, Angie, started their e-commerce company in early 2006 when they acquired sunglasswarehouse.com. They operated the business out of their home for 18 months before renting a small space in Greenwood.
Since then, they've acquired eight additional stores, moved into a 12,000-square-foot facility, and are on their way to employing more than 40 people who handle packaging and shipping, customer service, technology, acquisitions and marketing.
They drive consumers to their site with five tools: search-engine optimization, paid search channels (targeted ads), e-mail marketing, affiliate marketing (paying other sites to drive sales to One Click sites), and social media and public relations.
Stocklin said the company's challenges now are to out-market its competitors and find the right acquisition partners.
"What's nice about this model is, we could be selling sunglasses today and we could be selling [some other product] tomorrow," Stocklin said. "This model doesn't restrict us to one goal or category. We're going to continue to look to add other businesses to the portfolio that make sense. We're going to continue targeting three or four acquisitions a year."
Stocklin said One Click acquires rather than starts most of its stores because established online stores have "age and authority"—that is, better placement in online searches—"which provides real value out of the gate." Another benefit: One Click also owns the customer lists and supplier lists from the businesses it acquires.
"That can be helpful when you're trying to grow rapidly," Stocklin said.
CSCI
Three years ago, after being a longtime technology subcontractor, Creative Solutions Consulting Inc.—better known as CSCI—secured its first prime contract with the federal government. It was a business intelligence contract through the Business Transformation Agency, whose goal is to improve the Department of Defense's business processes, systems and investment governance.
"That helped us," said President and founder Michele Meyer, whose company specializes in IT consulting. "It's given us confidence in ourselves and our own ability, as well as getting our reputation out there. Our biggest marketing tool is our reputation, and all the seeds we've planted in prior years are starting to become viable."
Since CSCI's primary client has been the federal government, the opportunity to branch out couldn't have come at a better time. Although CSCI continues to grow at a rapid rate, Meyer said it could have done even better.
"We are absolutely facing obstacles this year with some of the DOD budget cuts," said Meyer, whose company was No. 1 on IBJ's list of fastest-growing private companies in 2010. "In the last two years, we have been facing these obstacles. Our growth would have been bigger, if not for the insourcing program the federal government did," which took work from contractors and moved it inside the government's own operations.
In the process, Meyer said, the government hired away more than 20 CSCI employees last year.
But Meyer sees reason for optimism. She said CSCI is starting to market to Fort Knox, Wright-Patterson Air Force Base in Ohio and the Crane Naval Surface Warfare Center in southwestern Indiana.
And CSCI now has 21 employees doing consulting work for the state of Indiana, a trend that started in 2010. In January 2011, CSCI earned its first prime contract with the state, working for the Department of Transportation.
Brothers Lenny, Scott and Steve Nahmias have ramrodded Office 360 growth by avoiding the cost of brick-and-mortar retail locations. (IBJ Photo/ Perry Reichanadter)
Office 360
Office 360 is a two-division company—office products and document management—and despite the economy and competition from national chains, both divisions have done well.
The office products division, which provides business supplies and office furniture, has grown organically and increased market share, said Steve Nahmias, a principal in the company with brothers Scott and Lenny.
"We find that, as a local company, we can really improve the service level and also be the low-cost provider compared to the big three—Office Depot, Office Max and Staples—who have most of the business out there," he said.
Office 360 is able to do that because it's not supporting brick-and-mortar retail stores—just a 450,000-square-foot building downtown. It also has no pressure from Wall Street shareholders.
The document-management division also has gained market share, but Nahmias said it's the imaging portion of the business within the division that has "exploded" as medical customers switch from paper to electronic medical records.
What's helped increase business is the Office 360 program that allows medical practices to pay for only images of charts or records that are going to make them money.
Office 360 manages the record retention policy for doctors and hospitals, shredding documents they don't need and converting the paper records they do need to electronic files. That has saved some customers hundreds of thousands of dollars.
Nahmias said he expects the good times to continue, especially now that the worst of the recession aftermath appears to have passed.
"In the past, we've been fortunate because prospects have looked to save money and we've offered them a cost-saving solution," he said. "Now with our customer base, we're optimistic because they're starting to think about spending a little bit of money because their business is getting good again."•
——————————————————–
How Indianapolis' fastest-growing companies were selected
Indianapolis Business Journal compiled its annual list of fastest-growing private companies through the following procedures:
Submissions were solicited through announcements in IBJ; letters to bankers, attorneys and accountants; and telephone calls to various companies reported to be experiencing rapid growth.
Companies are ranked based on their revenue growth over a three-year period.
Companies were eligible if:
• revenue increased each fiscal year;
• revenue exceeded $1 million in fiscal year 2008;
• the company was an independent, privately held corporation, proprietorship or partnership (not a subsidiary or division) through Dec. 31, 2010;
• the company was founded before Jan. 1, 2008;
• the company was based in the Indianapolis area (Marion, contiguous and Madison counties);
Accuracy of entries was verified by letters from the companies' outside accountants or through the companies' submitting their tax returns.
To be notified when IBJ begins soliciting submissions for next year's list of fastest-growing private companies, call Terri Haines at 472-5385 or e-mail her at thaines@ibj.com.
Please enable JavaScript to view this content.