No disrespect intended toward The Original Pancake Houses and IHOPs—or even the Waffle Houses—of the world, but if I've got free time in the morning, I'm either going to get some work done or stay in bed.
"Going out to breakfast" just isn't a willing-to-pay-for priority for me.
Lucky for me, then, that Hotcakes Emporium (8555 Ditch Road, 254-5993) is open until 3 p.m. Housed in what was, briefly, the home of a failed deli, Hotcakes Emporium has the key elements of the breakfast joints I grew up with at the Jersey shore, including the menus that go on and on (and include bad puns like "our 30 years of eggs-perience!!"), the getting-the-job-done service, the take-your-check-to-the-register exit—only with a deck view of Ditch Road instead of the boardwalk or beach.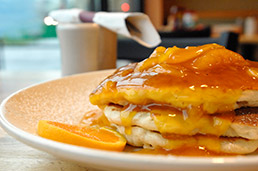 Hotcakes Emporium on Ditch Road serves up the stack of Apple Cinnamon Pancakes until 3 p.m. No syrup needed. (IBJ Photo/ Perry Reichanadter)
Where to start? We should have gone with something more adventurous than the so-so 3-Cheese Omelet ($6.75), which blended American, Swiss and Colby Jack with a trio of eggs into a could-have-done-it-just-as-well-at-home combo. It came with a choice of hash browns or grits and pancakes or toast.
We also went with a Mediterranean Skillet ($7.35), but only because the kitchen was out of the chorizo that distinguishes the Mexican Skillet. In the Mediterranean, ample pieces of gyro meat, feta cheese, onions and green pepper were sandwiched between an undercooked bed of hash browns and a topping of scrambled eggs. A side of rye bread—mandatory for me—came out warm and toasty, something not common
enough in breakfast eateries.
The star of the meal—as it should be in a place with this name—was a plate of big, fluffy hotcakes. There are plenty of choices—pecan, strawberry, silver dollar, Hawaiian, peach, banana nut, and even cheesecake pancakes among them—but we went with the Apple Cinnamon, with the fruit and gooey sauce making syrup unnecessary.
There's a lunch menu, too, with eight salads, an array of sandwiches including clubs, Manhattans, and melts (plus already dated Freedom Fries), but I don't expect to be trying any of them soon. While a Pork Tenderloin Manhattan ($7.75) may tempt, no matter what time of day I return, I know I'll find my bliss in the Frisbee-sized discs of golden goodness. Maybe with blueberry, just to keep it interesting.•
__________
Second in a month-long series of reviews of "heated" eateries.
Please enable JavaScript to view this content.