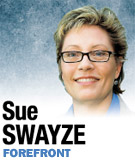 Pro-abortion ideology is one thing. Tying a state's hands in red tape is another. The federal government's threatening all low-income patients in Indiana's Medicaid program because the state Legislature wants to change vendors is off the chain.
The wishes of the recent Indiana General Assembly in House Bill 1210 were to fund women's health vendors that do not also provide abortions. The bill's authors did the legal legwork; this is on solid ground. So why the fuss?
This certainly isn't about health care. Approximately 97 percent of abortions are done on healthy women with healthy babies. Gov. Daniels says Indiana has 800-plus Medicaid providers and other family planning services for low-income women.
To hear Planned Parenthood, you'd think its clients will end up in the streets. Yet those of us with private health insurance are sometimes forced to change providers.
And if an area is truly underserved, watch the private sector fill the need. One can buy contraceptives at Walmart. The entitlement mentality here is unfortunate.
This also isn't about cutting funding. Not one less dollar will be spent on family planning services.
And this isn't about a radical agenda propagated by male legislators. All Republican and two Democratic women voted for HB 1210, negating this tired feminist mantra.
This is really a simple case of pent-up demand: Speaker Pat Bauer wouldn't let pro-life bills be heard. Now the pro-life majority of House and Senate Republicans—plus a few solidly pro-life Democrats—passed HB 1210 with over two-thirds majorities.
Nationwide, Republican victories in 2010 account for nearly 150 abortion-related provisions passing at least one chamber of a state legislature this year. Who put those pro-life legislators in place? Voters who don't want their tax dollars propping up abortion mills.
This is also about the money. Planned Parenthood is in the business of helping women avoid unwanted outcomes of sex. Abortion is cash on the barrelhead, their cash cow.
Otherwise, as Daniels so aptly put it, Planned Parenthood could stop providing abortions to comply with the law and remain a Medicaid provider. So much for women's health.
This is about taxpayer dollars propping up abortion mills. Indiana Planned Parenthood receives government dollars for women's health services in addition to a much larger share of private dollars. The tax dollars are fungible with Planned Parenthood's other funding sources and support abortions in the back.
By my analysis, government funds were about 15 percent of its total revenue in 2008. Planned Parenthood charges fees and gets private donations from nice gods and goddesses (its big fundraiser) like a 501(c)(3) should. Since HB 1210 passed, it reports over $100,000 pouring in from 44 states and several other countries.
Other states are eyeing Indiana to see how this plays out, and then watch the dominoes fall.
"Not on my watch," says President Obama, the most pro-abortion president in history, and his Health and Human Services Director Kathleen Sebelius, an aggressive pro-abortion governor in her day. Now Attorney General Eric Holder has weighed in—three big guns involved in a simple vendor change.
They have threatened to remove Indiana's $4 billion-plus in Medicaid dollars because we want to change a vendor in the $1.3 million family planning area? Really?
Several states have acted to defund Planned Parenthood, including Kansas, New Jersey and North Carolina. Sounds like a growing case of "we dare you"—good, old-fashioned states' rights.
This will keep Obama and his pro-aborts busy trying to underscore that abortion is more important to this administration than the sovereignty of the states, the intent of the their legislatures, and the will of citizens who do not want their tax dollars subsidizing the business of abortion.
If Obama would overreact to a state simply changing its vendors, one wonders how he might use his power to punish a state that balks at Obamacare.•
__________
Swayze leads the Indiana Family Institute's Hoosier Congressional Policy Leadership Series and has held numerous lobbying positions with not-for-profit organizations. Send comments on this column to ibjedit@ibj.com.
Please enable JavaScript to view this content.