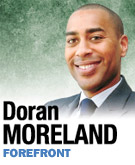 I read a recent study stating that life expectancy in the United States falls behind the healthiest nations, in some cases by 50 years or more. This troubling fact made me think about how my own state of Indiana is doing to promote healthy lifestyles. Upon reflection, I'm afraid it is not going so well.
It is increasingly evident that we can do better on a personal level to improve health and overall quality of living. Unfortunately, most of us know at least one person struggling with complications from obesity, smoking or other unhealthy practices.
We are watching the obesity epidemic spread to even our youngest generations, a situation that seemed hard to imagine less than 15 years ago. Television ads for high-cholesterol drugs like Lipitor, Crestor, Zocor, Provacol and Levacor seem to dominate as much air time throughout the year as toy ads during holiday shopping season.
With so much evidence showing we are losing control of our health, why can we not collectively grab hold of this issue? I believe one reason is that Indiana is not an easy place to be healthy.
Individuals make choices based on the environment in which they live. If a family desires to walk together after dinner but has no sidewalks in their neighborhood, they will probably forgo exercise that day. When people are encouraged to bike to work but see the treacherous environment before them with on-again, off-again bike paths, indifferent drivers and few direct routes into the city from outlying areas, it's no surprise that many choose to skip cycling in the interest of personal safety.
In some cases, Hoosiers have little control over some of the factors hurting their health.
With a long-standing reliance on coal-fired power plants and heavy industry, Indiana ranks among the most polluted states in the nation with regard to air quality. This results in asthma and other respiratory issues for some people after prolonged exposure, not to mention an unpleasant environment for outdoor activities depending on one's proximity to polluters. The effects of our air quality are particularly noticeable during hot summer months.
Perhaps the most obvious sign of Indiana's slow-moving attitude about public health is the lack of definitive support for a smoking ban in our bars and restaurants. Indianapolis, known throughout the nation as a first-rate convention city, is coming into conflict with its own image when visitors unknowingly encounter smoke-filled establishments when they visit. Think about the irony of our sports-loving city's being hooked to smoking, an activity anathema to athletics.
The best thing about this situation is that work is occurring that can give examples for community leaders to follow and build upon. The "Garden on the Go" program—which is a partnership between Green Bean Delivery, Indiana University Health and other community partners—brilliantly addresses the absence of produce and healthy foods in our inner cities by driving directly to communities with good food onboard.
Urban gardening is gaining traction in some communities in the form of casual co-ops residents use to grow and share fresh vegetables, in the end providing healthier alternatives for their families.
And bike paths are being developed alongside roadways throughout Indianapolis. Although one has to wonder if bike path development will continue once federal stimulus monies devoted to road repair have been exhausted.
If done well, all these projects can add up to creation of communities that support healthier choices. I admire the community leaders, entrepreneurs and heads of households who take it upon themselves with ideas big and small to make communities healthier.
We may truly see great progress when great public health ideas are being developed with the support of, instead of in spite of, Indiana's policy makers.•
__________
Moreland, a businessman, has served as a senior aide to former U.S. Sen. Evan Bayh and as a special assistant to former Mayor Bart Peterson. Send comments on this column to ibjedit@ibj.com.
Please enable JavaScript to view this content.