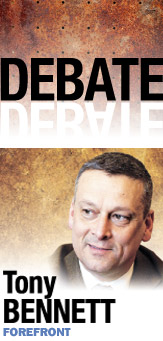 Question: What will be the most difficult aspect of education reform to implement?
Answer: The 2011 legislative session has provided a historic opportunity to transform the way we think about education in this state and what we as citizens expect from our system of schools. Through Gov. Mitch Daniels' leadership and the efforts of forward-thinking state legislators, we are now able to provide educators and families the tools they need to prepare every child for career and/or college success.
From the very beginning, we knew there was no silver bullet to creating world-class schools. This is why we took a comprehensive approach to reform by 1) giving parents more high-quality options for their children; 2) developing, recognizing and supporting great teachers and principals; and 3) providing school leaders the flexibility they need to run their schools and drive student learning.
When asked to point to one reform that will be most difficult to roll out, my response is that we are approaching implementation the same way we approached reform—comprehensively and with a focus on what is best for students.
To successfully implement all these reforms, we must instill them in our education culture. We must remain committed to accountability at all levels, and we must be proactive to avoid the mistakes that could slow reform.
We must drive continued improvement. We must hold steadfast in our belief that all children deserve the opportunity and possess the ability to grow academically—regardless of where they live or their families' income.
Right now, the Indiana Department of Education is working to root the entire reform agenda into our education system in order to create a culture of excellence. From the moment these reforms were enacted and signed into law just weeks ago, we hit the ground running.
Already, we are working with six schools across the state to pilot teacher evaluation systems that fit within the new guidelines set out in law; we are reaching out to non-public schools that are excited to educate children as part of the new voucher program; we have named an executive director to head up the new Indiana Charter School Board and attract high-quality charter schools to Indiana; we are working with school leaders and giving them advice about the practical implications of our teacher contract law.
Meanwhile, the department is fulfilling the requirements of the state's school accountability law (Public Law 221) and moving to help turn around our state's chronically underperforming schools.
Right now, we are holding public hearings at each of the 18 schools currently facing intervention if they fail to demonstrate improvements this fall. The ideas and information gathered in these meetings will help us determine the best ways to help these schools improve.
Our mission is to implement these reforms quickly but thoughtfully and with fidelity. We must take care to maintain the intent and create a strong process that will stand up against those who may try to circumvent or derail these reforms in the future.
That said, we recognize the need for improvement will likely present itself even after reforms are enacted. For this reason, we will continue to engage with the community and all stakeholders throughout the implementation process.
This is an exciting time for our schools. Never before have so many individuals (parents, educators, administrators), governments (local, state and federal), and organizations (chambers of commerce, education advocacy groups, businesses) joined forces to do so much in the name of achieving a single goal—to prepare our students with the skills they need to compete for jobs and seats in our best colleges and universities.
This implementation process is a big lift wrought with challenges—but also filled with the promise of dramatic gains for our children, work force and economy. We will succeed only if everyone remains committed to achieving this goal.•
__________
Bennett is Indiana superintendent of public instruction. Send comments on this column to ibjedit@ibj.com.
Please enable JavaScript to view this content.