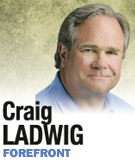 A Danny Shanahan cartoon in The New Yorker shows a businessman at a meeting pointing to a chart matching the garish pattern of his business suit.
That, alas, is the state of business representation in Indiana, a representation tailored to fit specific clients with specific tastes. The director of your local chamber of commerce is as likely to represent free markets and the general business climate as is a yellow-pages lawyer the principles of the U.S. Constitution—only narrowly and incidentally.
We asked an expert on the topic, a founding member of the Indiana Policy Review Foundation, Fred McCarthy, a Statehouse business lobbyist from 1949 through 1988, to explain why that is so—or, more important, whether it must remain so.
McCarthy's life's work has been representing business interests, including building leadership and relationships for Indiana chambers of commerce both large and small. He offers encouragement in that Indiana has a historic model that would restore the legislative committees of hometown chambers of commerce, which until recently were a standard for the nation.
These committees were "tea parties that meant business," McCarthy remembers. They were made up of knowledgeable and principled local businessmen meeting on Saturday mornings so the local legislator could attend and account for himself.
First, though, McCarthy has bad news. The state today, in the midst of a historic economic downturn, has no serious interest at the Statehouse or city hall that sees its job as defining the long-range, ideal vision of Indiana commerce.
Yes, the Indiana Chamber of Commerce would contend that point, but McCarthy's argument in the current Indiana Policy Review is compelling, especially in regard to the weakening of smaller chambers. There, what passes for business representation is more likely to be only the furtherance of certain private-public partnerships. (Crony capitalism might be too strong a term, but it's the way to think about it.)
Consider what business representation meant as recently as the 1970s. Here is McCarthy:
"In many ways, running a chamber was less difficult than it is now. Most businesspeople then opposed government intervention in the economy or in business operations, and many refused to accept subsidies or handouts. Dealing with the government was generally consistent across the business spectrum, with representative organizations opposed to unreasonable spending programs and the interjection of government into day-to-day business decisions."
The chamber in your hometown instead is likely to have accepted government as its senior partner and is pouring its energies into one public-private partnership scheme after another.
At best, many Indiana chambers see themselves as middlemen smoothing the government licensing and regulatory processes. You may remember that in the name of efficiency the Indianapolis chamber put its reputation and influence behind, of all things, the consolidation of local government and, consequently, of union and bureaucratic power.
This would represent an identity crisis if anyone were paying attention to how wealth is actually created or investment attracted. For reasons McCarthy details, chamber leaders—incredulously to my mind—no longer recognize their raison d'être as being the promotion of commerce at all.
"Too many of these groups, in the ill-conceived idea that it is their responsibility to form coalitions for community activity, have become a sort of community club in which all sectors of the community have a voice in policy-making for the chamber," McCarthy writes.
Nice work if you can get it, but the rest of us are left without a voice to defend or restore the principles that would return the Indiana economy to greatness.
We have only a Barney Frank amalgam of corporate and banking interests guided by the presumption that "capitalism works better from every perspective when the economic decision-makers are forced to share power with those who will be affected by those decisions."
How different Indiana's situation would be if legislators every Saturday morning had to face members of McCarthy's gimlet-eyed hometown committees—whatever the pattern of their suits.•
__________
Ladwig edits Indiana Policy Review, a quarterly journal studying local public policy. Send comments on this column to ibjedit@ibj.com.
Please enable JavaScript to view this content.