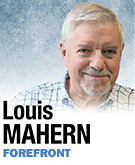 "A prophet is honored everywhere except in his own hometown … "
So spoke Jesus in Mark chapter 6, verse 4.
As one who lists "The Scientific Method" as his religion on Facebook, it is not my habit to quote Scripture, but in this case it fits perfectly. And it applies to a former minister who used to be well-known in these parts.
Bill Hudnut was a one-term congressman and a four-term mayor. For almost a generation, he was The Dude in Indianapolis. Save for a bust in the lobby of the City-County Building, you would never know he had ever been around.
When I was first elected to the state Senate in the mid 1970s, my wife and I, along with friends, would occasionally take the train to Chicago for the weekend. It was great fun but for the fact that when we returned on Sunday afternoon there was no place other than White Castle to get a meal in downtown Indianapolis.
It is hard to believe now, but there was a time 30 or so years ago when the sidewalks downtown were rolled up around 5:30 in the afternoon and remained so through the weekend. Businesses were falling all over themselves to get out of the central business district and flee to the new office buildings being built in the suburbs.
Indianapolis pretty much woke up on May 1 and went back to sleep about 5 p.m. race day. This is when it was known as India-No-Place. Hudnut wanted it to be India-Show-Place.
A number of citizens can rightfully claim to have participated in the rebirth of downtown. Bob Kennedy, Jim Morris, Bill Crawford, Herb Simon, Larry Conrad, David Frick, John Mutz, Ted Boehm and others all contributed. But no one gave greater leadership to the renaissance than Hudnut.
It was Hudnut who championed construction of the Hoosier Dome and then wooed the Colts from Baltimore. It was Hudnut who called for the development of the Natatorium and the Tennis Stadium that eventually brought the likes of Chris Evert, John McEnroe, Jimmy Connors and Martina Navratilova to Indianapolis for a week every summer.
He convinced Herb Simon to buy the Indiana Pacers and keep them in town. He was instrumental in the creation of White River State Park, the restoration of Monument Circle, and bringing the NCAA basketball tournament to Indianapolis.
He laid much of the groundwork for saving Union Station and developing Circle Center mall. The Pan Am Games, National Track and Field Championships, U.S. Skating Championship, National Sports Festival and on and on and on.
The 34-story OneAmerica Tower is downtown instead of the suburbs due to his leadership. He doubled the size of the convention center.
But he is now pretty much a non-person. Back in the day, Soviet officials who fell out of favor were airbrushed out of the annual May Day Parade photographs. So it has been with Hudnut.
It is a nice gesture that Mayor Ballard has asked Hudnut to lead a task force working on the adaptive reuse of the GM stamping plant. But it is a long way from redeeming the debt we owe him for his nearly 20 years of leadership.
I'm not talking about some honorary street sign. Hudnut remade our city and we should honor him in a manner commensurate with his contributions. Various portions of the parkland that runs from St. Clair to Ohio streets between Meridian and Pennsylvania are individually designated. However, the overall area should be officially named "Hudnut Mall."
Shakespeare has Mark Antony say in his funeral oration, "The good men do is oft interred with their bones. So let it be with Caesar."
Let's not let it be with Hudnut. He'll be 79 years old in October. This community should show its gratitude while it still means something.•
__________
Mahern has been an assistant to U.S. Rep. Andy Jacobs and U.S. Sen. Birch Bayh and served in the Indiana Senate. Send comments on this column to ibjedit@ibj.com.
Please enable JavaScript to view this content.