Greetings from California where the question of the week was, "Is L.A. a theater town?"
That question was raised in a panel discussion with Tim Robbins (who runs a small theater here called The Actors Gang), playwright Beth Henley ("Crimes of the Heart") and others. It was raised again at the Theatre Communications Group conference, at the Hollywood Fringe Festival, and at the concurrent Radar L.A. theater festival. Plus, it was a big discussion topic at Engine28.
What's Engine28?
The experimental pop-up newsroom is part of the University of Southern California/Annenberg-organized NEA Fellowship in Theater and Musical Theater (yes, I know that's a mouthful). The 21 of us who received these fellowships met for the first time on June 13. The next day, we launched the Engine28.com website, mixing traditional reviewing and feature writing with experiments in video, podcasting and more.
For me, one goal has been to come back to Indy with a greater understanding of what both theater and theater journalism can be and do. And to find ways to expand and enrich IBJ's coverage of the arts.
Another goal was to see a lot of theater that I wouldn't get a chance to see in Indy.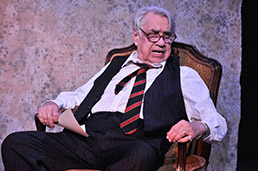 Only in L.A. can you see an actor of Philip Baker Hall's stature perform a play in a 60-seat theater. Above, Hall in "I Never Sang for My Father." (Photo Daniel G. Lam)
For instance, where else but L.A. would it be possible to see an actor as accomplished as Philip Baker Hall (whom you might remember from "Magnolia," "Curb Your Enthusiasm" and a lifetime of other film, TV and stage credits) perform a play as emotionally strong as Robert Anderson's "I Never Sang for My Father" in a space that makes the Phoenix Theatre look like Radio City Music Hall?
With only 60 seats, the New American Theatre puts very little space between audience members and actors, and that intimacy works wonders in Anderson's drama about a man dealing with the declining health of his parents.
An 80-plus-year-old actor playing a nearly-80-year-old man on stage inevitably leads to an uncomfortable adjustment time for those bearing witness. During that uncertain grace(less) period, audience members should be forgiven for trying to sort out whether the hesitant fishing for the next word, the cautious gate and the ache in the eyes come from the actor faltering or from the character's weakness.
Sometimes warm, sometimes fierce, sometimes funny, sometimes embarrassing—sometimes all in the same scene—the role of the father challenges an actor even as credentialed as Hall. But he succeeds beautifully in building a compelling, complex character. When the farthest spot in the house is about 25 feet from stage, the prominent veins on an actor's
hands become relevant, as does the force in which he grips a chair for support and the eye contact he makes or doesn't make when playing one child off the other. Hall's Tom is every inch the former small-town mayor who never achieved anything great nor failed in any large way.
And, particularly in a scene where he and his son must select a casket, Hall offers an acting master class. He understands that we feel his pain more sharply when Tom is working his hardest to deny it. In the process, a question about the relative cost of coffins proves more devastating than a mourner's wail. In his reddened eyes, we not only see the man Tom has become, but also the man he knows he isn't—and doesn't have the time or the drive to be.
As part of my L.A. adventure, I also caught popular "American Idol" contestant Tamyra Gray in "Twist" —a Prohibition-era, New Orleans-set permutation of "Oliver Twist" directed by Debbie Allen at Pasadena Playhouse. And Tate Donovan in Kenneth Lonergan's play "Lobby Hero" at L.A. Theatre Works. The former was still in previews, though, and the latter wasn't really open to critics, so you'll have to ask me privately what I thought (or check out some of what I was able to write on Engine28.com).
Later, I visited the nightclub-turned-theater Largo, long a hotbed for alternative comedy, where Paul F. Tompkins ("Best Week Ever"), gave a contemporary tweak to radio conventions with a live version of his popular podcast. With actress Judy Greer ("Arrested Development," "The Village"), an ever-present onstage pianist and more, he, well, I can't really opine on that either because I've known Tompkins since my days in Philadelphia and have slept on his couch on past visits. Journalistic ethics, you know.
What can I talk about? Well, even further off the beaten theatrical path, "Brewsie and Willie" by Gertrude Stein offered a challenging, compelling introduction to the Radar L.A. international festival of contemporary theater. Here, a group of CalArts grads producing under the name Poor Dog Group turned a downtown loft—complete with open windows and questionable air-conditioning—into a verbal and physical battlefield of light, sound and ideas. The play concerns a group of soldiers, awaiting their return home, but I found myself caught up less in the specifics of the dialogue and more in the rhythm and energy of the performances. Imagine Indy's No Exit theater with greater resources and access to international influences and you'll start to get an idea of what Poor Dog Group is up to.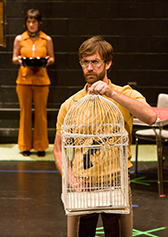 The title weapon is revealed in Rude Mechs' "The Method Gun." (Photo/ Craig Schwartz/Craig Schwartz Photography)
Equally impressive was "The Method Gun," presented by Rude Mechs at the Kirk Douglas Theatre. A high-spirited, sneakily melancholy look at an acting company inexplicably continuing to rehearse a production of "A Streetcar Named Desire" without the four leading roles, the show was packed—actually, overpacked—with creative ideas.
It starts with a cast member asking audience members to use the pencils and paper provided to write down the name of a mentor—someone who had a strong influence. I won't say how those are movingly used at the end of the show, but between those two, Rude Mechs manages to work in some oddball acting exercises, a talking tiger, a gun in a bird cage, and a balloon scene no one in attendance will soon forget.
Crowd-pleasing experimental theater? Large-scale musicals in development? Familiar stars in script-in-hand readings? Great actors up close and personal?
Yeah, I love L.A. And, yes, it's a great theater town.•
__________
This column appears weekly. Send information on upcoming arts and entertainment events to lharry@ibj.com.
Please enable JavaScript to view this content.