Two years after regional carrier Republic Airways Holdings made a gutsy move into the branded airline business, its stock price is down nearly 60 percent from a $10.39 high shortly after buying Frontier Airlines and Midwest Airlines.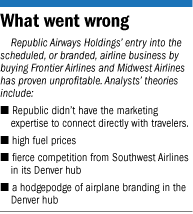 Often blamed are rising jet fuel prices and competition in Denver from rival Southwest Airlines. But some industry observers question whether Indianapolis-based Republic's management—brilliant at making money in the fixed-fee, contract flying business—suffers from a lack of experience competing in the brutal realm of branded flying.
One analyst pointed to gaffes in aircraft deployment. For example, Frontier at times used aircraft with the Midwest Airlines logo at Frontier's Denver hub, a "balkanizing" effect on brand loyalty in an airport where bigger Southwest and United Airlines are omnipresent. Or moves like a just once-daily flight to Provo, Utah, using a $35 million Embraer E-190 jet, arguably too much airplane for the job.
Such aircraft utilization issues might not be as big a deal when flying on contract for major airlines that bear the burden of fuel-cost volatility. But they can be significant in the branded airline business, which operates on razor-thin margins.

"Quite frankly, this deal was flawed from the start," said another observer, former Midwest Airlines executive Jay Sorensen.
"Republic did not have the management expertise to run an airline that marketed its product to the public. They have always demonstrated great operational expertise. But marketing was not an in-house skill," added Sorensen, now president of Shorewood, Wis.-based marketing firm Idea Works Co.
Republic Airways executives could not be reached for comment.
Snakebitten, Republic appears to be slowly backing away from branded flying.
On June 10, Republic reached an agreement with pilots, as part of a $120 million restructuring plan, that would grant pilots a stake in Frontier in return for pay freezes and other concessions. Republic agreed to attract other equity investors in the airline and to reduce its stake below 50 percent by 2015.
"We view this news as a positive for the stock as we believe it puts in place a time line for Republic to extract itself from a business that has become a major distraction for management," Deutsche Bank analyst Michael Linenberg said in a June 13 report.
Although Frontier had a 13.9-percent increase in unit revenue in the first quarter, he estimated its operating margin "is likely to be one of the industry's worst."
Frontier, into which Midwest was merged, lost $55.2 million in the first quarter, while Republic's traditional, contract-flying business, had income of $17.6 million. With Frontier now about 60 percent of its business, Republic in the first quarter lost $22.4 million.
"Bold moves come with risks, and this is a case study example," said Joseph Schwieterman, a professor of transportation economics at DePaul University. "This [branded service] is more than a little side-show right now."
Republic "is likely to incur earnings losses greater than previously anticipated in its Frontier Airlines branded operations," Raymond James analyst James D. Parker said in a report earlier this month. He raised his loss estimates for this year and next and has an underperform rating on the company.
"Moreover, if fuel prices remain or rise above current levels, we believe Republic Airways could experience a liquidity squeeze."
Sounded good at time
This isn't what Republic's CEO, Bryan Bedford, had in mind in June 2009, when he announced plans to buy Frontier and Midwest.
Bedford pointed to limited growth potential in the regional airline business and the need to diversify income. Many of Republic's major carrier customers were merging and pressing regionals for concessions to their once-lucrative contracts.
Bedford also had a stake in seeing that Frontier and Midwest survived, as both held contracts with Republic to feed their hubs using Republic's Embraer fleet. Republic, a year earlier, had even lent Midwest $25 million to help it avoid bankruptcy.
It also had a stake in Frontier's survival. When Denver-based Frontier filed for Chapter 11 reorganization, Republic was its largest unsecured creditor, claiming it was owed $260 million.
Two years ago this month, Republic bought Milwaukee-based Midwest for $31 million. It also bid $109 million to acquire Frontier, countered by a $170 million offer from Frontier's arch rival in Denver, Southwest Airlines. Southwest's deal fell apart, however, because it was contingent on reaching terms with Frontier's pilots group, which didn't happen.
In the last two years, Republic executives have been busy integrating its two branded carriers. Management has been immersed in a complicated integration that includes numerous labor unions representing pilots and other employees.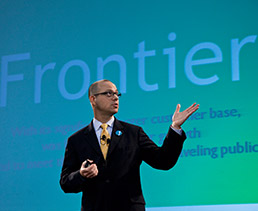 Republic CEO Bryan Bedford at a news conference in 2010. (AP Photo)
Along the way, it lost some of the core talent in its newfound branded segment. This included the departure in January 2010 of Sean Menke, Frontier's former CEO, who was hailed for helping grow the carrier and for whipping Southwest in Denver.
Wall Street was spooked.
"We believe the management issue … will be a big one for Republic. The senior management at [Republic] is very capable of running a regional airline, but it has never run an airline where scheduling, pricing and fuel buying is critical to success," industry analyst Helane Becker opined at the time.
Meanwhile, Sorensen said the planning skills inherited from Midwest "were woefully inadequate."
Still potential
Others say the picture in branded flying might not be so bleak.
Evercore Partners analyst Duane Pfenningwerth said in a recent report that he believes Republic management will work to reduce Frontier's losses over time. Moving 70-seat regional jets out of Frontier and back to Republic's fixed-fee contract flying business "is a modest first step."
And industry expert Michael Boyd, president of airline consultancy Boyd Group International, said he doesn't buy into the doom scenario that says Frontier can't survive sandwiched between Southwest and United in Denver.
Boyd said Frontier has shown it can achieve higher load factors and higher yields in virtually every market where it's competed with Southwest.
But, said Schwieterman: "They're at the end of the [branded service] honeymoon. They need to show some positive results fairly soon."•
Please enable JavaScript to view this content.