Imagine Ford offering an engine-upgrade kit that would make the 1970s Torino more fuel-efficient and reliable.
That wouldn't happen in the automotive world, of course, but it's a tactic jet-engine maker Rolls-Royce Corp. is pursuing for the T56, a decades-old engine that still powers hundreds of military planes around the world.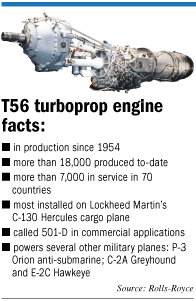 Rolls-Royce's Indianapolis plant assembles few T56s in whole, but cranking out spare parts for overhauls is a large business. The last contract modification, issued by the U.S. Air Force in 2007, is worth up to $789 million and is still active.
Most T56 engines power the C-130 Hercules, a Lockheed Martin cargo plane. More than 1,200 of the C-130Hs, which were introduced in the 1970s, still fly in the United States and other countries.
"That fleet is very, very large," said Joe Katzman, editor-in-chief at Defense Industry Daily in San Jose, Calif. "You have
to assume they're going to be around for a long time."
One reason so many of the C-130Hs continue to fly is that foreign militaries put off buying new planes for as long as possible, Katzman said.
"They'll go with the bailing-wire-and-binding-twine solution until stuff drops out of the sky," Katzman said.
Rolls-Royce is targeting a potential market of about 3,200 T56 engines with the Series 3.5 enhancement kit, which the company touted during last month's Paris Air Show. The kits are for the C-130H, a commercial version of that plane called the L-100 and the P-3 Orion surveillance plane, all made by Lockheed Martin.
Each C-130H and P-3 uses four engines. Lockheed says the total number of C-130Hs, P-3s and L-100s still in service is 1,687, and three-quarters of that fleet is the Hercules.
The enhancement kit includes parts and technology that Rolls-Royce created for modern engines, so it could bring a higher profit margin than regular spare parts.
Rolls-Royce is emphasizing a 9-percent gain in fuel efficiency and "significant" improvement in turbine life.
"We are dedicated to supporting our legacy C-130 and P-3 aircraft that continue to provide outstanding service to the armed forces of the United States and its allies," Jim Grant, a Lockheed vice president, said in a press release. "This level of service is accomplished through long-standing collaborations, such as we have with Rolls-Royce."
Rolls-Royce would not make anyone available for an interview, though the company issued a press release June 22 highlighting its collaboration with Lockheed Martin on the upgrade kit.
It's unclear what the agreement entails, but it comes as Rolls-Royce begins preparing for flight tests and certification by the FAA and Air Force. The test flights are to confirm that the new set of parts works with a plane's existing systems.
"We have worked closely with Lockheed on the plans so that both companies benefit from the 3.5 upgrade program," a Rolls-Royce spokesman said.
All the parts for the kit would come from the Indianapolis plant, but they would be installed at overhaul facilities around the world. Rolls-Royce would not comment on what portion of its local business revolves around making engine components, rather than assembly.
Most of the manufacturing labor, about 1,000 out of 1,700 union-represented workers, makes or inspects engine components.
One retired executive, who declined to be named out of concern for ruffling feathers among Rolls-Royce's tight-lipped managers, said the U.S. military might be too shortsighted to buy the upgrade kit.
Instead of spending more money upfront to save fuel over time, buyers could continue doing cheap overhauls and hope the cost of fuel goes down.
"It's not a slam dunk by any stretch of the imagination," he said.
Air Force concerns about fuel scarcity are what drove Rolls-Royce to start working on the T56 enhancements four years ago. The company first announced the Series 3.5 kit during the 2009 Paris Air Show and expected it to be available in September of this year.
With flight tests still pending, Rolls-Royce has not provided a new estimated rollout date.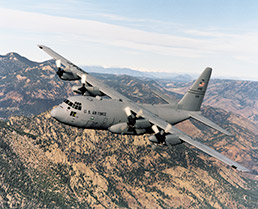 Lockheed Martin's C-130 Hercules cargo plane. (Photo Courtesy Lockheed Martin)
Dennis Jarvi, then the president of Rolls-Royce Defense North America, told Aviation Week magazine two years ago that the expected fuel efficiency could save the Air Force $80 million a year.
The trick to selling upgrades for aging C-130Hs will be to avoid cannibalizing the business for new planes and engines, Defense Industry Daily's Katzman said.
Lockheed Martin has a backlog of orders for its C-130J Super Hercules. That, too, is a large source of business for Rolls-Royce, which supplies the AE2100 engine and is working under a $203 million ongoing-services contract, awarded in February.
The upgrade kit could tide customers over for a few years until they can afford the C-130J, but then they'll have other choices from competitors, such as Embraer's KC-390, Katzman said.
"In a few years, the competitive market for their Hercules will be much more crowded," he said. "It's a bit of a high-wire act."
Rolls-Royce says it is "exploring opportunities" to incorporate the Series 3.5 engine enhancements into all the T56 applications, including Navy shipping.
The T56 engines that Indianapolis currently assembles go into Northrop Grumman's E-2D Hawkeye, a Navy carrier support plane.
Different versions of the T56 have been in production since 1954. Rolls-Royce calls it an "unrivaled" success and expects it to be in use beyond 2020.
But Katzman said demand for spare parts will inevitably shrink as militaries retire their old C-130Hs and P-3s. The engine-enhancement kit could be a way to extend that business, he said.
"If you can't get the uptake, then you've got sand dropping out of the hourglass and your business with it."•
 
Please enable JavaScript to view this content.