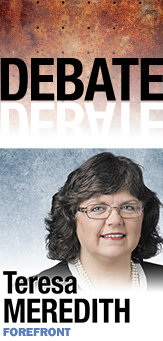 Question: Some Indiana politicians believe schools should begin to guarantee the knowledge of their graduates. Do you agree?
Answer: A high school diploma is a crucial step toward the next chapter of life, showing that an individual has completed an educational foundation upon which to build a chosen future. It does not, however, come with a guarantee. Diplomas are simply an assurance that a student has successfully passed the state-required courses and exams, all built around mastery of certain standards—not a demonstration of work or life skills such as collaboration, perseverance, determination and self-motivation.
Elected officials in Indiana are toying with the idea of having public high schools guarantee that their graduates have acquired the knowledge and skills necessary for college-level or post-secondary work. Although educators and policymakers agree that high school graduation is a crucial milestone, a diploma cannot guarantee commendable performance in college, respectable employment or even success in life.
If a guarantee were offered, what would it look like—what would it guarantee? What knowledge or skill would be most important? How long would the guarantee last? Would a high school diploma guarantee a minimum-wage job, admittance into trade school, or acceptance into the best universities? Would there be a guarantee of successful post-secondary education completion followed by a high-paying job?
Indiana's public schools play an integral part in preparing more than 1 million Hoosier students for college and for the 21st century work force. Educators know that their students begin their school journeys from different starting points.
Students bring different family structures, diverse goals and varied expectations to our schools every day. For some children, an educational foundation was established early in life before the first day of preschool, with the family demonstrating the importance of education. For others, that foundation does not begin until the first day of formal schooling, either in kindergarten or first grade.
As a parent, I have made certain that my children understand the value of a solid education and that they work hard, seek out challenges and accept responsibility for their actions. As an educator, I do everything in my power to offer my students opportunities to learn, practice and apply new skills. However, at some point, the learner must be self-motivated enough to engage in the process and be responsible enough to ask questions, follow through with assignments, and work to improve his or her knowledge base.
So how can Indiana schools guarantee success to so many children with such varied life experiences?
Instead, Indiana should guarantee the availability of affordable preschool opportunities to every Hoosier child. If policymakers are serious about improving learning for all children, they must start with preschool and early-education programs in order to create a stronger educational foundation. Early learning experiences set the stage for future years and help children develop social skills and study habits, as well as many life skills—all of which are common threads among well-prepared students.
In the end, I see it in this way: As an educator, I must do everything possible to support a student's learning. But ultimately, the learner bears some responsibility for owning the information, for applying it, and for recalling it as needed in the future.
It is time for our policymakers to step up to the challenge and guarantee a strong foundation for our youngest Hoosiers, one that includes early education opportunities for everyone. When that happens, more children will arrive for kindergarten and first grade with stronger skills and be prepared to learn more than ever before. That I can guarantee.•
__________
Meredith is vice president of the Indiana State Teachers Association and has taught for more than 18 years in Indiana schools. Send comments on this column to ibjedit@ibj.com.

Please enable JavaScript to view this content.