Zak Brown's eyes light up as he scours the client list of marketing and advertising behemoth WPP Group.

It reads like a who's who of corporate giants: Ford, Dell, Nestle, HP, Microsoft. WPP's customers include 340 of the companies that make up the Fortune 500.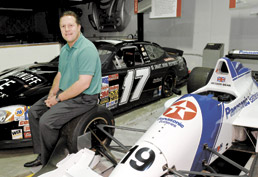 There's been speculation that Zak Brown could replace Bernie Ecclestone as F1 boss. (IBJ Photo/ Perry Reichanadter)
In the wake of selling about a fourth of his Zionsville-based Just Marketing International to WPP, Brown has reason to be excited about the London-based firm's clients. He considers many of them perfect candidates to sponsor Formula One racing enterprises, bolstering Just Marketing's already impressive results selling motorsports sponsorships on the famous international circuit.

"There's never been any single independent sponsorship [company] bring in as much money in the history of F1 as Just Marketing," said Max Mosley, the former president of Paris-based FIA, the governing body for Formula One. "Zak has been absolutely relentless."

And now he's poised to pick up the pace. After finalizing the deal July 11, WPP officials promised to open the firm's little black book, introducing Brown and his lieutenants to those companies' executives.

It's the second time in three years Just Marketing has taken on a major investor. New York-based Spire Capital Partners, which took a majority stake in the firm in 2008, remains the principal shareholder and Brown the second-largest shareholder.

Brown, who is still three months shy of his 40th birthday and never attended college, is confident his staff of 130 will make lucrative connections between WPP's clients and F1.

The deal also should funnel more business to other series Just Marketing works in, said Brown, including the locally based IndyCar Series.

"We were projecting our company would double in size in four or five years," Brown said. "I think this deal could cut that [time] in half."

If he is right, Just Marketing could have $600 million in motorsports sponsorship deals by 2015.

Brown is already honing in on certain WPP clients.

"Look at CitiGroup," Brown says of the global banking goliath. "They're the perfect fit for what we offer. Motorsports, with a global reach and high-end audience, is the perfect marketing vehicle for them."

His eyes scan further down WPP's seemingly endless client roster.

"This list is full of companies like that," Brown said. "I think we're going to see an immediate impact from this deal."

Turbocharged growth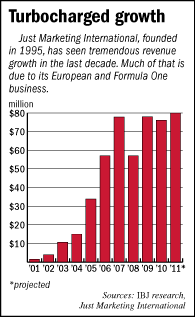 Brown isn't a man who makes hollow promises. He grew his firm from a $67,000 enterprise in 1995—its first year—to a company with projected revenue of $80 million this year. In 2011, Just Marketing will handle $300 million in motorsports deals globally, with its fastest-growing markets in Europe and Asia.

Currently, NASCAR and F1 each represent 40 percent of Just Marketing's revenue, with the rest coming from the IndyCar Series, National Hot Rod Association and various sports car circuits. F1, which is a $6-billion-plus annual enterprise, represents the largest growth potential, Brown said.

Revenue from international business has increased 250 percent in the last three years.

Since 2009, the firm has expanded its international-business staff 125 percent, while its domestic employee count has increased just 4 percent.

To grow his company, Brown has moved even faster than the race cars his company profits from.

In 2010, Brown was on the road a mind-numbing 295 days. His travel budget was $750,000; he flew about 3 million miles, traveled to 15 countries, attended 35 races, and spent 250 nights in a hotel. He bought his own jet because commercial airline delays made him miss too many meetings.


Brown's formula for success—beyond endless travel—is simple, said motorsports broadcaster and former F1 racer Derek Daly.

"Zak Brown not only knows how to sell a deal, he knows how to maximize a return on investment for corporate sponsors in motorsports better than just about anyone else," Daly said.

What wasn't a simple matter for Brown was learning European business nuances and penetrating the tightly cloistered world of F1.

"When I first met him, he was 100 percent American," said Ron Dennis, chairman of McLaren Group, which operates one of the most powerful F1 teams. "Now he has a profound understanding of the European way of doing business."

No bull

There's more to that than getting the hang of European culture, said Dennis, widely recognized as one of the most powerful people in F1.

"Some people in his line of business try to push hard like a bull in a China shop. Zak comes in more measured, well researched and better informed," he said. "Zak demonstrates the validity of what he says and shows the potential return on investment. That level of detail is sadly lacking in his line of work and gives Zak and Just Marketing an edge."

Brown's story is better known back in his adopted home state. After a failed attempt to become an F1 racer, he realized he was better at selling motorsports sponsorships than driving a car.

After hanging up his racing helmet, the native Californian moved to Indianapolis to be "at the heart of motorsports" and launch his company.

But instead of representing race teams, tracks or sanctioning bodies, Brown decided to work for the best interests of corporations interested in raising their brand and increasing sales through auto racing.

"Simply put, he makes sure sponsors get everything they're paying for," Daly said. "And he finds new ways to make sponsorships work through activation."

With U.S. open-wheel racing struggling in the late 1990s, Brown made in-roads in NASCAR, inking deals for Subway, DeWalt Tools and DirecTV and ushering brands like Crown Royal into the stock-car series.

But from his racing days on the F1 feeder circuit in Europe, Brown knew there was even more money to make overseas.

"The budgets there are just astronomical," said Daly, who raced in F1 from 1978-1982. A single primary team sponsorship can cost $50 million annually.

Even in the early days of his company, Brown targeted F1, which races in almost every corner of the world. He made $20,000 in F1 his first year.

"From my days in racing, I had a foot in England, but getting deep into the commercial side of F1 takes a fair bit of work," Brown said. "You have to gain people's trust as someone who can not only bring deals to the table, but who can execute them successfully."

Brown made his first big overseas splash by ushering Johnnie Walker and Hilton Hotels into F1 in 2002 and 2003. Those deals represented more than $10 million in sponsorships.

Just Marketing now represents the likes of LG, UBS and Singapore Exchange, one of Asia's largest securities trading firms. Since 2002, Brown said, the company has brought in $600 million in sponsorship money to F1.

Replacing the Iron Dwarf?

Brown has made inroads into F1 because he "shoots straight," McLaren's Dennis said.

That approach won Brown a rare endorsement from F1 czar Bernie Ecclestone, known widely as the Iron Dwarf.

"I know firsthand the determination and drive Zak Brown delivers to the commercial side of Formula One," Ecclestone told The Guardian, a British national daily newspaper, earlier this year, adding that Brown brings "focus and intensity to any enterprise."

Winning Ecclestone's confidence is key to success in F1.

"Say what you will about Bernie Ecclestone, but he's proven by the overall success of Formula One that he's a very astute businessman," Daly said. "And he doesn't give out compliments freely. So if he believes in Zak, that's saying something."

To succeed in F1, Brown used a formula he perfected in NASCAR and other U.S. circuits—one that goes far beyond slapping logos on cars and track walls.

Just Marketing plans and hosts sponsor events, from driver and car appearances to corporate hospitality and business-to-business functions, aimed at showing different sponsors how they can do business with one another. He also helps plan marketing and advertising events away from the track.

"When we started in [NASCAR], we were doing business with about 40 percent of the official partners, and now we're doing business with more than 90 percent of them and that's obviously no accident," said Doug Gibeaut, sponsorship director for UPS, one of Just Marketing's biggest domestic clients.

Zurich-based UBS, a global bank, hired Just Marketing last year to help it navigate the F1 sponsorship landscape.

"We appreciate that the top guy [at Just Marketing] is still involved," said Bjoern Waspe, head of global sponsorship for UBS. "He's not just globetrotting having lunch and coffee with people. He's still very much involved and knows what he's talking about.

"What's special about this story is this U.S.-based company is so very strong in F1, and there are very, very few Americans that have succeeded in F1 on any level. It's extremely unusual."

Brown's European success has some speculating that he could be the next F1 boss. The headline on a story about Brown in The Guardian this year asked, "Is this failed Formula One driver the next Bernie Ecclestone?"

It's not the first time Brown has been mentioned for another job. Before Randy Bernard was hired as CEO of the IndyCar Series last year, Brown was approached by an intermediary of the Hulman-George family about replacing Tony George at the helm.

"Right now, I really like what I'm doing," Brown said. "I'm not sure I can give 24/7 to any one form of motorsports. That's where I am today."

But Brown admits he'd like to have a bigger role in F1. And if the call to replace Ecclestone ever comes?

"First, I don't think any one person can replace Bernie," Brown said. "But if I was asked, I wouldn't give a quick answer."•