Out with the fitness, in with the stuffed breadsticks.
Kilroy's Bar n' Grill has applied for zoning approval to take over the Broad Ripple building occupied by Cardinal Fitness, IBJ first reported July 11 on the real estate blog Property Lines at ibj.com.
The plans call for the restaurant and bar to take the entire 7,750-square-foot building at 831 Broad Ripple Ave. Kilroy's would convert a parking lot between the building and a Jimmy John's sandwich shop into a 4,800-square-foot outdoor seating area, complete with a fire pit.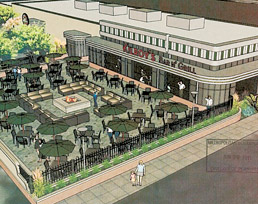 Kilroy's plans to fill the entire 7,750-square- foot building at 831 Broad Ripple Ave. (Rendering Courtesy City of Indianapolis)
The Broad Ripple Village Association is expected to oppose the proposal, but the group has not yet weighed in formally, said city planner Melanie Mullens. The group is wary of another large bar and concerned the outdoor dining area will remove too many scarce parking spaces.
The city's Board of Zoning Appeals was scheduled to consider the proposal July 19, but that hearing will be continued to Aug. 16, Mullens said. The 1950s building is owned by BR Associates Inc. of Jasper.
 
Please enable JavaScript to view this content.