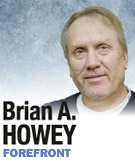 When I think of B. Patrick Bauer, somehow the word "delusional" comes to mind.
On Nov. 2, 2010—Election Day—Speaker Bauer was convinced his worst-case scenario was a 50/50 split in the Indiana House. This was despite the fact that the Gallup national congressional generic had Republicans with a 15-point lead, which would project to a 77-seat Republican gain in Congress (it ended up at 63). Fox News had it at 13 percent. CNN at 10 percent.
Much as Howey Politics Indiana forecast a day earlier, Indiana Republicans ended up with 60 seats. Democrats lost two southern Indiana congressional seats, two state Senate seats, along with five House seats in the region, and six others scattered elsewhere. It was an epic drubbing.
Bauer had switched out his pollster and media consultants after the 2008 elections when Democrats maintained control of the House despite Gov. Mitch Daniels' landslide re-election. Democratic sources say that it was about Bauer's desire for control.
The impact? The lurid district-by-district campaigns Bauer directed in 2010 contributed to the loss of 11 seats, ultimately resulting in the legislative disaster Democrats experienced during the 2011 Indiana General Assembly.
Bauer's decision to lead a five-week Democratic walkout to Urbana, Ill., when faced with the sprawling Republican agenda played right into new Republican Speaker Brian C. Bosma's wheelhouse, resulting in titanic victories on education reform, the new congressional and legislative maps, and historic abortion restrictions.
During the walkout, Bauer was treated as a hero to the gathered labor "volunteers" who held noisy Statehouse rallies day after day. But organized labor makes up about 8 percent of the Hoosier population these days. Many other Democrats came to this conclusion: Bauer as the Indiana Democratic poster boy and chief party voice is a disaster, particularly now with the Evan Bayh dynasty concluded.
Thus, out of this blood, sweat, angst and smoke, we learned that this past spring, Bauer actually contemplated a run … for governor!
Mike Pence, Eric Holcomb and all the stars in the GOP universe couldn't have come up with a better strategy for retaining the governorship.
When former Democratic House Speaker John Gregg—who, during this period, essentially secured the Democratic gubernatorial nomination imprimatur— heard about the Bauer dream lust, his reaction was something akin to a giddy, "Bring him on."
A Gregg-Bauer primary would have allowed the presumed nominee from Sandborn to earn universal accolades from independents and Democratic progressives who view Bauer as a throwback to a bygone era. Gregg could have bashed Bauer and seen his polling approval skyrocket.
A modicum of sense prevailed over Bauer, and he appears to be poised for re-election to a 21st term.
A lot has changed since 1970 when Bauer entered the House. Two sitting speakers were upset in general elections. And perhaps the two most powerful legislators in state history—Senate President Pro Tem Robert Garton and Senate Finance Chairman Larry Borst—were upset in Republican primaries.
Republican voters in two Senate districts essentially stood up, deciding that long-term incumbent pork power could be sacrificed for the greater good of the state. The Indiana Senate has gone from an elderly good ol' boys network to a reformist, gender-inclusive super majority.
Such a dynamic should give progressive Hoosier Democrats something to think about: What would the Indiana House be like without the delusional Bauer?
Already, Democratic lawmakers Bischoff, Stilwell, Robertson and soon Bill Crawford are passing from the scene, either in defeat or retirement.
Bauer will never lose a general election battle in heavily Democratic South Bend. But Republican House mapmakers—with a little help from their friends in Washington—have given Indiana Democrats a new tool. Bauer's new district combines the African-American voting blocs from two districts into one. Therein tills the ground for seeds to sow—for perhaps a primary challenge to a 41-year veteran whose modern traits appear to be delusion, and a pervasively paranoid, stasist mentality.•
__________
Howey is a third-generation Hoosier journalist who publishes Howey Politics Indiana. Send comments on this column to ibjedit@ibj.com.

Please enable JavaScript to view this content.