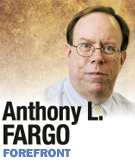 Keynote speeches at professional meetings and similar gatherings are a mixed bag. Many sound like bad graduation speeches or the late Chris Farley's imitation of a motivational speaker ("I live in a van down by the river").
But there are exceptions. I heard one in Rhode Island recently that I later realized carried an important message for Indiana officials.
Every spring, representatives of various state and national organizations dedicated to transparent government meet to compare notes about the ongoing struggle to get local, state and national officials to make more information about how we are governed available to us. The National Freedom of Information Coalition Summit was in Providence this year, and I was there representing the Indiana Coalition for Open Government.
The keynote speaker at lunch was Gary Bass, a founder of OMB Watch, an organization dedicated to transparency and accountability, and until recently its executive director. Bass had learned the fine art of getting people's attention by promising to list things, thus enticing the audience to count along.
First, Bass listed five principles that should guide transparency advocates as they develop priorities and strategies. Some were fairly predictable, but two caught my attention.
First, Bass said that government at all levels should be thought of as having an "affirmative obligation" to make information available. In other words, relying on access laws to pry information from government should be "a last resort," because government agencies should already be making many types of information public, such as employee lists, budgets and expenditures, calendars of top officials, and inspector general reports.
Also, Bass said, transparency advocates should acknowledge that some things need to be secret and help to define that category of information. This way, advocates can help keep secrecy from creeping beyond the places where it is legitimate.
I wasn't startled by what Bass said because I disagreed with him but because groups of this type don't like to use the S-word in a positive way. There are slippery slopes, camels' noses under tents, etc., that we fear will become too common if we budge on our opposition to secrecy. But secretly (oops), we also know that government has to keep some things quiet to keep us safe.
Bass' point, if I understood it correctly, was that transparency advocates need to be part of the discussion on how to reform government's secrecy fetish, but they can't be part of the discussion if they publicly demand that nothing be secret.
Secrecy also played a role in Bass' second list, his five ideas for transparency advocates going forward. He urged the assembled to help address the fact that too much government information was being classified for bogus "national security" reasons.
On this list of five, however, the item that most captured my attention concerned not the quantity of information available to the public but the quality. Bass said there was a need to improve the quality of information through better "linkages" and the use of "intelligent sources."
To translate, what he meant was that it isn't enough just to toss information on the Web and walk away. Information should be linked to related material so it makes better sense, and it should be handled intelligently so people can easily find the sources of data and the meaning of what they see. Putting an agency's budget spreadsheet on the Web is helpful, but not everyone knows how to read a spreadsheet or understands all the terminology of government budgeting.
Shortly after I returned from New England, my attention was directed to the Indiana Transparency Portal (www.in.gov/itp), our state's attempt to meet that "affirmative obligation" of which Bass spoke. As the state continues to develop this valuable and promising resource for keeping government accountable, I hope those in charge of it will keep Bass' words in mind.
It isn't just having the information that is important—it's being able to understand and use it.•
__________
Fargo is an Indiana University journalism professor and member of the Indiana Coalition for Open Government. Send comments on this column to ibjedit@ibj.com.

Please enable JavaScript to view this content.