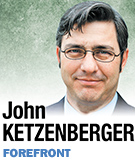 Hoosiers know their miracles.
St. Theodore Guerin, a 19th century nun, performed them here. The boys of Milan's basketball team pulled one off in 1954.
Heck, it's a small miracle I hit a couple of shots in the recent Youthlinks golf scramble that my fivesome actually used.
The fact that Indiana's budget shows a decent surplus does not count as a miracle, however, despite what many would have you believe.
Have you seen the headlines? Columnists far and wide would practically cast Gov. Mitch Daniels as some character out of Harry Potter who, with a wave of the wand, can dispel red ink and balance the budget—all without raising taxes!
(A quick aside: I thought this veneration of the governor would end when he decided against a run for president. Silly me. America loves a good hero story, so at a time when fiscal sanity is scarce, Indiana and the governor look pretty good.)
Let's dispense, though, with the miracle myth. The governor, legislative fiscal leaders and their fiscal staffs deserve a lot of credit, but their effort to put Indiana on sound fiscal footing is not miraculous. They did it the old-fashioned way—with a lot of hard work, tough decisions and a little luck.
It's like I recently told Chicago Tribune columnist Eric Zorn: "The governor is happy to talk about the 'Indiana miracle,' and [Rep. Pat] Bauer is happy to say the miracle is not real. I'm here to tell you it's a little of both. The surplus is real, but it didn't come without a lot of pain."
Pain. State agencies returned more than $1 billion in unspent appropriations in the last fiscal year, money that was budgeted but wasn't spent on education, social services, natural resources, state police, economic development—you name it.
More pain. The current budget spends less on education than the last one. That's because Daniels made the difficult choice to cut money for public schools when the recession gouged the state's revenue.
The new budget used that lower spending level as the basis for the school formula. While lawmakers, heeding the governor, added $150 million more during the session's waning moments, that amount is about half of what was cut from the previous budget.
A little more pain. Several other critical agencies are funded at lower levels. The Family and Social Services Administration's budget is $212 million less, including $163 million less for Medicaid. The Department of Corrections is off by $46 million while the state has $33 million less to spend on economic development.
These were policy decisions directed by Daniels, who was responding to problems wrought by the recession. Agree or disagree with these cuts, this is one thing that clearly separates Indiana from other states and is part of the "miracle" commentators now see.
Now here's a point that's often overlooked: These cuts were possible because there is good cooperation among fiscal analysts in the Office of Management and Budget, Legislative Services Agency and those who staff both Republicans and Democrats in the General Assembly. While their bosses may quarrel over policy, the staffers do a good job of providing sound fiscal analysis without the overt intrusion of politics.
Finally, the state's tax revenue has started to show modest recovery. Indiana's sales and personal income tax collections are slightly ahead of forecasts, which showed annual growth over the next two fiscal years of 3.5 percent to 4 percent.
Put all of this together and you have a state with a budget surplus, a superior bond rating and a flexible balance sheet. Hardly miraculous, really; it's just the result of many tough policy decisions and collective common fiscal sense.
Then again, when I watch Congress succumb to political extremism and see members ignore their more sensible impulses, I can understand how others see miracles in the Hoosier State.•
__________
Ketzenberger is president of the Indiana Fiscal Policy Institute, a not-for-profit dedicated to nonpartisan research into the state's tax policies and budget practices. Send comments on this column to ibjedit@ibj.com.

Please enable JavaScript to view this content.