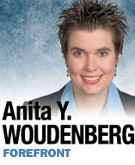 As one of the lawyers representing Charlie White in the election contest that concluded in June, the experience has been eye-opening to me, politically. Both parties leave much to be desired.
To recap, the Democratic Party challenged White's eligibility to run for secretary of state. Of principal concern was whether he was illegally registered to vote in the precinct he lived in, and whether he was engaged in some underlying fraud that made his candidacy invalid. A bipartisan commission ruled that no evidence of either existed and dismissed the challenge. On July 28, the Democratic Party appealed that ruling.
Now, I take no issue with enforcing rules for candidate residency requirements. Those rules are there for a reason, and it's a good one—to make sure Hoosiers are represented by their own in government, whether locally, statewide or even nationally.
But the timing of the Democrats' concerns about White's residency leaves a bad taste in my mouth. They waited until late September, barely more than a month before the November general election, to bring to light evidence of his possible ineligibility. Perhaps that's the first they heard of it (though given the power and resources political parties in this state have or at least should have, I have my doubts).
But the case turned on where White was registered to vote, and that's public record that can be reviewed at any time. Once his nomination form was filed in July, the Democrats could have been ready to go with a challenge. It's not like his nomination was in doubt. And the rules allow for candidate eligibility challenges through mid-August, after which ballots start getting proofed and finalized.
I can understand a political party's preference to wait and see the outcome of an election before litigating. If their candidate loses, they can then bring up concerns about the winner's qualifications for office in the first place. But this benefits only the party. Given all the time, effort and state money that go into preparing for elections, and all the campaign materials voters are bombarded with, it's a loss for all Hoosiers when a challenge is not raised until after an election.
Not to be left out, the Republicans' response was equally disappointing. Despite White's landslide victory at the polls, as soon as the Democrats' allegations were formalized in legal ink, the party disavowed their candidate-elect, some suggesting he resign without pause or consideration for whatever facts or truth might be behind the claims.
I can understand not wanting to go down with a sinking ship (the Weiner debacle in New York comes to mind), but in this case, it seemed most of the party's leadership failed to check if the hull was even breached before launching themselves into safety rafts and paddling feverishly away.
Last I checked, innocence is presumed in this country. But you'd not know it here.
Such a response is hardly inspiring. For the candidate, incumbent or otherwise, it makes party affiliation ring hollow. The party will take credit for your win, but you're on your own if a lawsuit against you—guilty or not—arises.
Party membership means nothing if it does not at least mean some solidarity when times get tough. And for the voter, Republican or otherwise, it suggests an irresolute moral character that makes at least this conservative think twice about why she's involved in a party that apparently can't be bothered to look after its own.
So I ask our political parties to do us all a favor: Enforce the rules, but do it respectably, in a way that's conscientious of the voters. You have the resources to raise these issues in a timely way. Use them.
And give those we elect—the candidates you've nominated and supported—the benefit of the doubt and defend our vote. Believe in your candidate. The voters did.•
__________
Woudenberg practices constitutional law at Bopp Coleson & Bostrom in Terre Haute. Send comments on this column to ibjedit@ibj.com.

Please enable JavaScript to view this content.