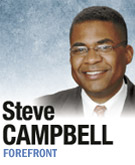 The demise of the GM stamping plant shone a bright light on empty and blighted spaces in Indianapolis. As just about everyone understands, this presents an enormous opportunity for the city for decades to come, and hopefully some of the brightest minds in the city and the country can help chart a course for this site.
But we can't let our understandable excitement over the GM plant cloud the fact that dozens of sites like this around the city are in need of the same attention. Few have the sheer acreage and real estate as GM, but added together, they present a serious challenge for the city.
One area that has been on my mind recently is Lafayette Square Mall. When my family moved here in 1976, Lafayette Square was less than 10 years old. It was a quick drive from our Washington Township home, and it was a popular destination for shopping, movies and some rather nice disco roller-skating.
When I graduated from college in 1992, I moved to an apartment in Pike Township about 20 blocks north of the mall. The shopping opportunities had declined a bit, and public safety was starting to become a slight issue, but by and large, it was still a decent destination, and I was a frequent shopper.
A few weeks ago, I was leaving a meeting near the mall, and I dropped in to see what was going on. Of course, I had memories of buying popcorn while my mom shopped or checking out the latest Jackson 5 release.
Instead, I was met with mostly empty storefronts, a handful of shoppers, and a few senior citizens just trying to escape the heat.
The mall was a product of the suburbanization of Indianapolis (and America) in the 1960s and 1970s. New neighborhoods popped up outside the downtown core, attracting people who wanted peace and quiet, rather than hustle and bustle.
The mall's demise mirrors the fate of those first-ring suburbs across the country. Most of the area homes were designed for families and lifestyles of the 1960s and 1970s and are harder to renovate and market today. As such, the first suburban pioneers kept moving into even more distant suburbs, or "exurbs." Others, like me, moved downtown, leaving the first-ring suburbs starving for life and attention.
Likewise, our shopping habits have changed. We prefer a Costco where we can buy everything—from motor oil to sweatpants to baking soda—at the same place and in bulk. And anyone under 25 is more likely to be online than in a department store.
All this leads me to believe that, just as the GM stamping plant will likely never again be a factory, and Bush Stadium will never again see pro baseball, Lafayette Square Mall will never be a mall again.
So what to do?
One bright spot is the Lafayette Square Area Coalition, a group of tireless local business leaders and activists who have never stopped believing in the area. The city also has promoted the area as an international cuisine district, which has promise.
But safe, traditional options won't work here; we have to get aggressive. As I see it, there are only two options.
One is to tear down the mall and make it green space. Although it would be of great value to the community, it wouldn't directly contribute to our economy.
My favorite idea is to repurpose the entire mall as a logistics center and business park. One of Indiana's economic advantages is our central location, which makes us a natural for all types of logistics and transportation enterprises. It's close to Interstate 65 and Interstate 465 and is not a terrible drive to downtown or the airport. With a major economic driver in place, restaurants, shopping and other amenities would follow in droves.
I'm sure there are other ideas and possible uses, but right now, I can't think of one.•
__________
Campbell, president of Campbell Strategies, was a deputy mayor under former Indianapolis Mayor Bart Peterson. Send comments on this column to ibjedit@ibj.com.

Please enable JavaScript to view this content.