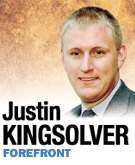 For the past three months, I, like many other students from Indiana's universities, have spent my time at an internship in downtown Indianapolis. As a lifelong resident of Hamilton County, I have become accustomed to insidious Interstate 69 and Interstate 465 traffic.
However, for the first time in as long as I can remember, traffic on downtown's city streets was even more onerous than that on our highways—traffic caused largely as a result of street construction and maintenance, part of Mayor Greg Ballard's Rebuild Indy campaign.
While stuck in one of these traffic jams during the Indy's "Heat-pocalypse of 2011," I found myself quite angry that, despite my futile efforts to avoid a holdup by diverting to side streets, construction crews were everywhere! However, after resistant reflection, I realized that, while this construction annoyed commuters across our great city, the benefits constitute a renewal of our city's streets.
And, it seems, that is just a small piece of Ballard's foresight. I firmly believe that, in 20 years, Ballard will be thought one of our most farsighted and creative municipal leaders—crafting a clear vision for what our city can be and maintaining the stamina to fulfill that vision.
In an era when it seems that political leaders maintain a more constant focus on the next election than on the next generation (as evidenced by Washington's unremitting inability to reform our broken entitlement programs and the nationwide resistance to reforming America's education system), Ballard has proven that he is willing to challenge traditional practices and tackle tough problems to ensure that this city continues to improve.
Four years ago, instances of violent crime in Indianapolis were on the rise, the city's infrastructure was decaying, and a restless economy threatened countless Indianapolis-area jobs. Ballard threw himself—at great political risk—into the fray to create solutions.
He reacquired control of the Indianapolis Metropolitan Police Department, voluntarily opening himself to a series of attacks from potential Democratic challengers who would surely blame him for any hiccup in the city's policing practices. Despite the impending political risk, he restored accountability to the department, and crime rates have declined as a result of more police officers on our streets.
His innovative approach to infrastructure improvements funded one of the city's largest transportation transformations without financing projects off the backs of Indy's taxpayers. In spite of a federal government whose fiscal mismanagement threatens the solvency of the Highway Trust Fund—and whose idea of a creative approach to infrastructure redevelopment involves shoveling out billions of taxpayer dollars for superficial, "shovel-ready" projects intended to score political points rather than fix underlying structural problems—Ballard offset Rebuild Indy's price tag by turning over water and sewer utility liabilities to the management of a private entity, which now shoulders the burden of administration—and administrative costs.
He has proven that he cannot accept mediocrity in our city's educational system, and his bold, reform-minded attitude toward school takeovers could have lasting positive implications in Indianapolis' work force and economy.
Few political leaders truly inspire me. Ballard—with his keen acumen, his visionary outlook and his lifelong commitment to service and sacrifice—is a veritable diamond in the rough.
As a young person jaded by countless politicians' broken promises to "ensure a better future for our children and grandchildren," it is refreshing to see a political leader actually enact policies and programs that deliver on those promises.
Ballard is a candidate that young people are, and should be, proud to support. Ballard has proven that he is unswervingly and unapologetically committed to building tomorrow.•
__________
Kingsolver is a senior at IU majoring in political science, international studies and business management. He also is the former state chairman of the Indiana Federation of College Republicans. Send comments on this column to ibjedit@ibj.com.

Please enable JavaScript to view this content.